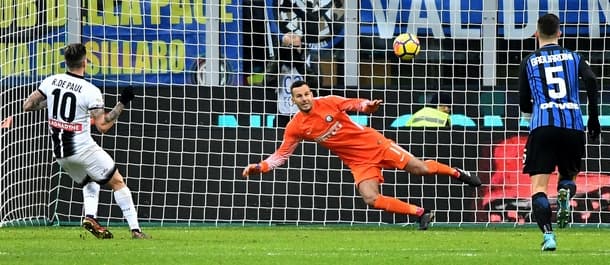 Udinese was responsible for the upset of the 17th Italian Serie A round and one thinks that the Little Zebras are worth backing to back up their away league victory over Internazionale with a home divisional defeat of Verona.
Eleventh on the Italian Serie A ladder, Udinese has lost more matches than it has won but there are decent grounds for supporting the Little Zebras to register their eighth league success at the expense of 19th-ranked Verona on Saturday in the final pre-Christmas round. That is because, according to one's Italian Serie A collateral form analysis, Udinese enjoys a 9-0-6 advantage over Verona. But that is not all. If one limits one's Italian Serie A collateral form analysis to games featuring at least one team in the top seven, Udinese's edge over Verona stands at 5-0-0.
Verona is, itself, coming out an Italian Serie A win that defied the global betting market – Hellas beat Milan 3-0 – but there is much more substance to Udinese's form and odds of 1.67Bet €100 to win €16767/100Bet £100 to win £167-149Bet $100 to win $1670.67Bet HK$100 to win HK$167-1.49Bet Rp100 to win Rp1670.6700Bet RM100 to win RM167 with BetVictor about the Little Zebras are very reasonable.
Saturday's Italian Serie A match between Genoa and Benevento pitches two of the bottom four sides against each other and, consequently, one thinks that the game will not be on the must-see list of many neutral viewers. But one thinks that Genoa are worthy of interest at 1.40Bet €100 to win €1402/5Bet £100 to win £140-250Bet $100 to win $1400.40Bet HK$100 to win HK$140-2.50Bet Rp100 to win Rp1400.4000Bet RM100 to win RM140 with 888Sport for value-conscious punters.
Even though Genoa is 17th on the Italian Serie A ladder with 14 points to show for their efforts in the first 17 rounds, the Red and Blues rate much higher than bottom-of-the-table Benevento, which has earned just one draw and racked up a goal difference of minus 31 across the same period. Genoa boasts a 12-1-3 Italian Serie A collateral form lead over Benevento based on one's number crunching and surely it is only a matter of time before the Red and Blues break their home duck having won at Cagliari, Crotone and Verona. And because Benevento is 13 points adrift of safety at the foot of the Italian Serie A ladder, surely the team that entered the top flight via the second division play-offs cannot afford to play defensively versus a lowly ranked rival.
For one's third and final Italian Serie A selection one is going with Internazionale to bounce back from its home loss to Udinese with an away triumph over Sassuolo on Saturday at odds of 1.73Bet €100 to win €17373/100Bet £100 to win £173-137Bet $100 to win $1730.73Bet HK$100 to win HK$173-1.37Bet Rp100 to win Rp1730.7300Bet RM100 to win RM173 with BetVictor.
Two weeks ago, Internazionale earned a 0-0 draw at Italian Serie A champion Juventus. One is willing to put a pen through Inter's 1-3 Italian Serie A home loss to Udinese and mark it down as a rare bad day at the office for the Black and Blues. According to one's Italian Serie A collateral form analysis, Inter holds a healthy 12-2-2 advantage over Sassuolo and it would be accurate to say that the Black and Blues have outperformed the Black and Greens against all levels of opponents so there is no fluke in those numbers.
Below are one's Italian Serie A collateral form figures for all 10 matches in the 18th round of the championship so you can see the raw data for yourself and bet accordingly.
Chievo 6-4-6
Cagliari 6-2-8
Lazio 10-2-3
Genoa 12-1-3
Napoli 8-2-5
Sassuolo 2-2-12
SPAL 4-3-9
Udinese 9-0-6
Milan 6-4-6
Juventus 10-1-4
Tips Summary
Udinese to beat Verona
Saturday 23rd December, 14:00 GMT
Odds: 1.67Bet €100 to win €16767/100Bet £100 to win £167-149Bet $100 to win $1670.67Bet HK$100 to win HK$167-1.49Bet Rp100 to win Rp1670.6700Bet RM100 to win RM167
Genoa to beat Benevento
Saturday 23rd December, 14:00 GMT
Odds: 1.40Bet €100 to win €1402/5Bet £100 to win £140-250Bet $100 to win $1400.40Bet HK$100 to win HK$140-2.50Bet Rp100 to win Rp1400.4000Bet RM100 to win RM140
Inter to beat Sassuolo
Saturday 23rd December, 14:00 GMT
Odds: 1.73Bet €100 to win €17373/100Bet £100 to win £173-137Bet $100 to win $1730.73Bet HK$100 to win HK$173-1.37Bet Rp100 to win Rp1730.7300Bet RM100 to win RM173
Genoa
Inter Milan
Serie A
Udinese