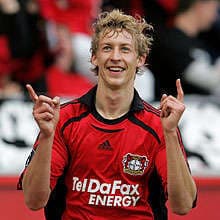 It is not often that one gets the chance to back a highly ranked side that won the reverse fixture 4-1 on the road to do the league double on home soil at odds of 1.80 but that is the opportunity that presents itself on Saturday.
Leverkusen beat Mainz 4-1 away from the home in the German Bundesliga sixth round and yet Coral is offering odds of 1.80 that the Bayer-backed team, second on the ladder and nine points ahead of its ninth-placed visitor, makes it six points out of six from its league matches versus Mainz.
One should note a couple of things before steaming into what looks like an overly generous Coral offer. First, Leverkusen is without a win in any of its last four games, including an extra-time German DFB Pokal home loss to Kaiserslautern. But in Leverkusen's spirited defence, its German Bundesliga and UEFA Champions League losses have occurred against Paris Saint-Germain, Schalke and Wolfsburg. And second, Robbie Kruse was the destroyer-in-chief when Leverkusen crushed Mainz 4-1. Kruse, who scored two goals and set up one more, is likely to miss the rest of the season through injury.
However, even taking all that into consideration, Leverkusen is worth supporting at odds of 1.80. It is impossible to get away from the long-term statistics and it does not hurt that Mainz has failed to score in each of its last two German Bundesliga away matches. Leverkusen should be trading at odds of around 1.65, at which point the bet would vanish.
Augsburg is attractively available at odds of 1.80 with many bookmakers, including 888sport, Totesport and Unibet, to get three points of its German Bundesliga home game versus the division's worst away side, Hannover, which has won one and lost the other 10 of its road trips. So one does not care about Hannover winning the German Bundesliga reverse fixture 2-1 five months ago because the equation was very different.
Hannover's German Bundesliga away record really is terrible. The only German Bundesliga road match that Hannover did not lose was its local derby against Wolfsburg so that is almost a special case. And Hannover's away blues have not appeared out of nowhere. They have been an issue for quite some time.
Augsburg is three places and 10 points ahead of Hannover on the German Bundesliga ladder and, since the resumption of the competition following the winter break, Augsburg has collected 10 points out of a possible 15, whereas the 96ers have picked up just six points from the same opportunities.
Finally, the German Bundesliga game between Hoffenheim and Wolfsburg represents a chance to bet on over two and a half goals at odds of 1.62 with BetVictor. One can almost bank on goals, goals, goals when Hoffenheim and Wolfsburg meet.
Nineteen of Hoffenheim's 22 German Bundesliga matches have gone over two and a half goals. That is a truly remarkable statistic, as is the fact that Hoffenheim's league games are averaging 4.18 goals. More than half of Hoffenheim's league matches have gone over three and a half goals. Wow.
Wolfsburg's 22 German Bundesliga games do not have a really high average goal count (2.91) but the Wolves have featured in only one league match with fewer than two goals. Also, Wolfsburg's German Bundesliga over-two-and-a-half-goals record is 15-7. And Wolfsburg beat Hoffenheim 2-1 in September so the head-to-head numbers stack up as well.
All up, Hoffenheim and Wolfsburg have played 43 exclusive German Bundesliga games this term and punters who have bet on two and a half goals have celebrated success 33 times. Thirty-three out of 43 equals 76.74 per cent and that equates to betting odds of 1.30. So BetVictor can expect plenty of enquiries from punters wanting to have a bet.