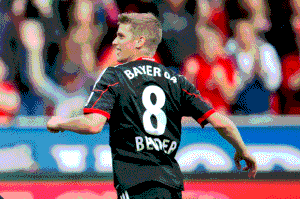 The greatest friend of over-two-and-a-half goals punters, German Bundesliga side Hoffenheim, travels to Leverkusen but, for once, it makes more sense to bet on a mainstream market relating to 1899 than one of the exotic lines.
Leverkusen has fallen from second to fourth on the German Bundesliga ladder and now its objective must be to qualify for the UEFA Champions League rather than finish runner-up to Bayern Munchen. While there have been several occasions this season when sides have exposed Leverkusen as being a little bit short of top class – the UEFA Champions League Group A game between the Bayer-backed team and Manchester United that the Red Devils won 5-0 springs to mind – Sami Hyypia's men are more than capable of beating Hoffenheim.
One knows that because Leverkusen beat Hoffenheim 2-1 in round nine of the German Bundesliga season in a game that will be remembered for the phantom goal scored by Stefan Kiessling to put Leverkusen 2-0 to the good and in complete control. Hoffenheim forward Sven Schipplock scored with a couple of minutes remaining resulting in a nervous final few moments but, once again, Hoffenheim gave away too many 'goals' to chase.
That is the key to the suggested bet. Hoffenheim has given up four goals in each of its last two German Bundesliga matches and at least two goals in each of its last four league games. Hoffenheim has not kept a German Bundesliga away clean sheet this term. Indeed, one has to go back to March 2013 for the last one of them in any event. Hoffenheim is great to watch for the neutral observer but its fans are sick and tired of being on the end of multi-goal thrillers.
Leverkusen is trading at odds of 1.80 with Ladbrokes. For all its shortcomings, Leverkusen remains one of the top four German Bundesliga teams and, provided that Hyypia's side do not leak more than one goal, it is highly likely to prevail.
Another decent German Bundesliga play is backing Schalke to defeat bottom-of-the-ladder Braunschweig. BetVictor has got odds of 1.45 on offer about Schalke, which won the reverse German Bundesliga fixture 3-2 thanks to a last-minute goal, doing the double and keep the pressure on Ruhr Valley rival Dortmund in the battle to be the best ohne Bayern Munchen.
Maybe BetVictor is taking a chance with Schalke because it has copped a few floggings in recent weeks but, come on, it is not a crime to lose heavily to Bayern Munchen (1-5 away) and Real Madrid (9-2 on aggregate). Schalke has won six of its seven German Bundesliga home matches since losing 1-3 to Dortmund in one of the world's great derbies, winning four of those games to nil. Schalke is in pretty good form.
Braunschweig is three points adrift at the bottom of the German Bundesliga ladder and, although its performances have improved since the post-winter break resumption, the fact is that it has seven points to show for its efforts in its last eight matches. Schalke should be shorter odds than 1.45.
Finally, Stuttgart and Hamburg shared six goals when they met in the German Bundesliga five months ago and one should bet on another exciting encounter when they clash again on Saturday. Ladbrokes is offering odds of 1.60 that both teams score and, given the numbers of Stuttgart and Hamburg, one does not understand why the Magic Sign wants to lay them.
Stuttgart and Hamburg are third and second respectively on the German Bundesliga goals-per-game chart, with only the aforementioned Hoffenheim ahead of them. Stuttgart's 25 German Bundesliga matches have produced an average of 3.64 goals, while Hamburg's 25 German Bundesliga games have had a mean of 3.80 goals. And incredibly, both sides have scored in each of Stuttgart's last 11 German Bundesliga matches.
Ladbrokes is offering odds of 1.70 about Stuttgart and Hamburg's German Bundesliga clash going over two and a half goals and one could make a strong case for that as well. Stuttgart's over/under German Bundesliga statistics are 18-7, while Hamburg's equivalent numbers are the same.