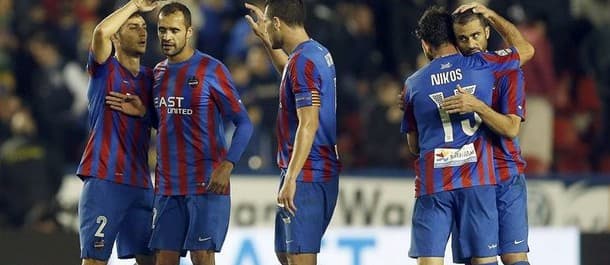 There are four home outsiders in betting on the 16th round of Spanish Primera Division matches and, while one can see why bookmakers do not rate the prospects of Bilbao, Eibar and Elche highly, one cannot fathom why the odds compiling brethren is down on Levante's chance of beating Sociedad.
First, there is the Spanish Primera Division ladder after 15 rounds that has 15th-placed Levante adjacent to 14th-placed Sociedad, each with a record of three wins, five draws and seven losses, although the latter's goal difference is 13 superior to that of the former. But still, punters who are fans of betting based on league ladders would be interested in Levante as a home outsider against Sociedad on Saturday.
Second, the Spanish Primera Division ladder may not be a true reflection of the relative strengths of Levante and Sociedad because the competition is less than 40 per cent complete and their respective league rankings may have as much to do with the fixture list as their ability levels.
Levante and Sociedad have had 12 common Spanish Primera Division opponents, with both teams having played versus Almeria, Bilbao, Celta, Cordoba, Eibar, Espanyol, Getafe, Malaga, Real Madrid, Sevilla, Valencia and Villarreal.
Numerous statistical studies have tried to put a figure on the value of home advantage in football and, while it can vary from ground to ground, it would be fair to say that there is a groundswell of opinion that half a goal is a reasonable value. So one has reviewed the results of the Spanish Primera Division games in which Almeria, Bilbao, Celta, Cordoba, Eibar, Espanyol, Getafe, Malaga, Real Madrid, Sevilla, Valencia and Villarreal has lined up against either Levante and Sociedad, producing a crude rating for each match based on home advantage being worth half a goal. So, for example, one rated Levante's 2-1 Spanish Primera Division home win over Valencia as being worthy of plus half a goal, while one rated Sociedad's league 1-1 home draw versus the same opponent as being worthy of minus half a goal. It is not that complicated.
One's Spanish Primera Division collateral form analysis of those 24 games suggests that Levante is much better than Sociedad and that Lucas Alcaraz's side should be odds on rather than the outsider for Saturday's match. One's view is that eight of the collateral form lines (those featuring Almeria, Eibar, Espanyol, Getafe, Malaga, Sevilla, Valencia and Villarreal) favour Levante, three of them (those featuring Bilbao, Celta and Real Madrid) favour Sociedad and the one featuring Cordoba favours neither team.
And if head-to-head Spanish Primera Division results have a bearing on Saturday's game then there are even more reasons to back Levante as a home outsider. Levante has won four and drawn four of its eight Spanish Primera Division matches against Sociedad since the former joined the top flight, including three wins and one draw at its home stadium.
Finally, the jury on new Sociedad manager David Moyes is out considering its verdict. Sociedad has taken five points from its first four Spanish Primera Division games under Moyes but, worryingly, it slumped to a 0-4 loss at Villarreal and it did not deserve more than a draw from its home derby versus Bilbao last time out. Time may show that Moyes is unable to recover from his Manchester United nightmare.
Levante is trading at odds of 3.12Bet €100 to win €31253/25Bet £100 to win £312+212Bet $100 to win $3122.12Bet HK$100 to win HK$3122.12Bet Rp100 to win Rp312-0.4717Bet RM100 to win RM312 with BetVictor to beat Sociedad in their Spanish Primera Division clash. One really cannot understand why Levante is a home outsider because one thinks that there is a case for the Frogs being worthy of odds-on lines. Value is everywhere so by all means consider supporting Levante on the double-chance and no-draw-bet markets at shorter odds.
Tips Summary
Levante to beat Sociedad
20th December 17:00 GMT
Odds: 3.12Bet €100 to win €31253/25Bet £100 to win £312+212Bet $100 to win $3122.12Bet HK$100 to win HK$3122.12Bet Rp100 to win Rp312-0.4717Bet RM100 to win RM312
Where to Bet: BetVictor
BetVictor
David Moyes
La Liga
Levante
Sociedad
Spanish Primera