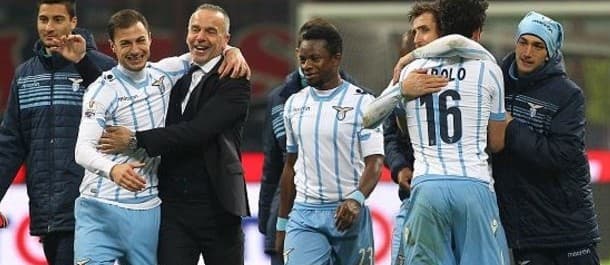 There are several lop-sided collateral form matches in the 21st round of Italian Serie A games and none is skewed more in favour of a team than the clash between Cesena and Lazio.
Juventus and Roma may have two of Italian Serie A's three UEFA Champions League berths locked up but Lazio is pushing for the league's third spot, two points off third-placed Napoli just after the halfway point of the competition.
Lazio's Italian Serie A opponent on Sunday is Cesena, which posted only its second league win of the season when it won 2-1 at fellow struggler Parma last time out. Cesena netted an 89th-minute goal to beat Parma but one does not think that the Seahorses will get close to beating Lazio. Cesena and Lazio have played every other Italian Serie A side and one's view is that 14 of those 18 collateral form lines favour the White and Sky Blues, plus the reverse fixture resulted in a 3-0 home victory for Stefano Pioli's team.
Boylesports is offering odds of 1.53Bet €100 to win €15353/100Bet £100 to win £153-189Bet $100 to win $1530.53Bet HK$100 to win HK$153-1.89Bet Rp100 to win Rp1530.5300Bet RM100 to win RM153 that Lazio completes the Italian Serie A double over Cesena, a side that has not kept a clean sheet in any of its last 20 matches across all competitions. That level of defensive incompetence takes some doing and one is tipping that, once again, Cesena will pay the price for being unable to stop opposition attacks.
Juventus boasts the same collateral form edge over Udinese as Lazio enjoys over Cesena so one is keen to back Juve at odds of 1.45Bet €100 to win €1459/20Bet £100 to win £145-222Bet $100 to win $1450.45Bet HK$100 to win HK$145-2.22Bet Rp100 to win Rp1450.4500Bet RM100 to win RM145 with Bwin to accrue three points from its 21st Italian Serie A game on Sunday and maintain its title push.
Udinese and Juventus have had 18 common Italian Serie A opponents and one's view is that 14 of those collateral form lines favour Juve, with two favouring the White and Blacks and two favouring neither team – the same as the numbers between Cesena and Lazio in another weekend fixture. Also, Juventus beat Udinese 2-0 in Turin earlier this season and Juve have won each of the last six meetings of the sides.
One was quite surprised to see the odds on the Italian Serie A match between Roma and Empoli so the Yellow and Reds are one's third and final pick. Boylesports is offering odds of 1.47Bet €100 to win €14747/100Bet £100 to win £147-213Bet $100 to win $1470.47Bet HK$100 to win HK$147-2.13Bet Rp100 to win Rp1470.4700Bet RM100 to win RM147 that second-placed Roma wins on Saturday at home to an Empoli team that is sliding towards the Italian Serie A relegation zone because it has forgotten how to win.
Each of Empoli's last eight games across all competitions have resulted in either a draw or defeat, including a 2-1 extra-time loss at Roma in the Italian Coppa Italia. One is inclined not to read too much into the result of the last match between Roma and Empoli because neither side was at full strength. A better guide is the Italian Serie A match between Roma and Empoli in September that the Yellow and Reds won 1-0 on the road thanks to Luigi Sepe's own goal.
With regards to Italian Serie A exotics, one should look out for odds on Lazio having more corner kicks than Cesena in Sunday's game. Lazio is Italian Serie A's corner-kick champion, averaging 5.65 corner kicks for and 3.05 corner kicks against to have the division's most positive ratio. Cesena is Italian Serie A's corner-kick loser, averaging 3.30 corner kicks for and 6.25 corner kicks against. So Cesena is Italian Serie A's lowest accumulator of corner kicks and only Chievo (6.95), Udinese (6.63) and Verona (6.50) give away more corner kicks on average.
Tips Summary
Lazio to beat Cesena
1st February 14:00 GMT
Odds: 1.53Bet €100 to win €15353/100Bet £100 to win £153-189Bet $100 to win $1530.53Bet HK$100 to win HK$153-1.89Bet Rp100 to win Rp1530.5300Bet RM100 to win RM153
Where to Bet: Boylesports
Juventus to beat Udinese
1st February January 14:00 GMT
Odds: 1.45Bet €100 to win €1459/20Bet £100 to win £145-222Bet $100 to win $1450.45Bet HK$100 to win HK$145-2.22Bet Rp100 to win Rp1450.4500Bet RM100 to win RM145
Where to Bet: Bwin
Roma to beat Empoli
31st January 19:45 GMT
Odds: 1.47Bet €100 to win €14747/100Bet £100 to win £147-213Bet $100 to win $1470.47Bet HK$100 to win HK$147-2.13Bet Rp100 to win Rp1470.4700Bet RM100 to win RM147
Where to Bet: Boylesports
Juventus
Lazio
Roma
Serie A
Stefano Pioli