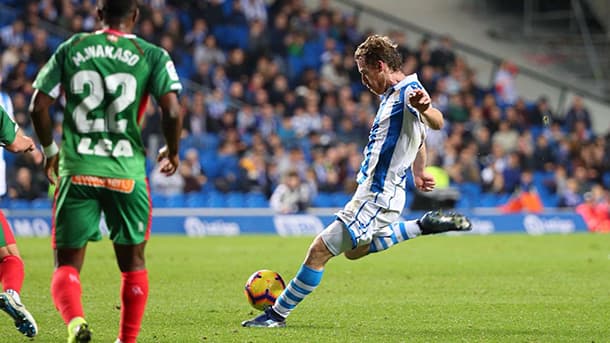 Sociedad v Espanyol – 14th January – 20:00 BST
The Spanish Primera Division reaches its halfway point this weekend and the best bet on the card is Sociedad to back up its shock road defeat of Real Madrid last time out with a home victory over Espanyol in San Sebastian on Monday.
Sociedad's 2-0 Spanish Primera Division away win over Real Madrid snapped its four-game league losing streak and one is willing to bet on La Real kicking on from one of the upset results of the season. Sociedad is below Espanyol on the Spanish Primera Division ladder after 18 rounds but that is primarily because La Real have let down themselves on their home pitch, winning just one of their eight San Sebastian matches. The opposite is true of Espanyol, which has won six of its nine Spanish Primera Division home games but has been on the losing side of every argument it has had against the league's top seven teams. According to one's Spanish Primera Division collateral form analysis, Sociedad and Espanyol are tied on 7-4-7 but La Real have outperformed the Budgerigars versus most of the league's heavyweights, hence why they are on the right side of a 6-1-2 progressive count. According to Spanish Primera Division expected points, Sociedad should be positioned above Espanyol on the ladder and, if La Real gets the job done on Monday at 2.00 with Bet365, they will leapfrog their guests.
TOP TIP! – Sociedad to beat Espanyol @ 2.00
Get the best odds in La Liga with our selected bookmakers below.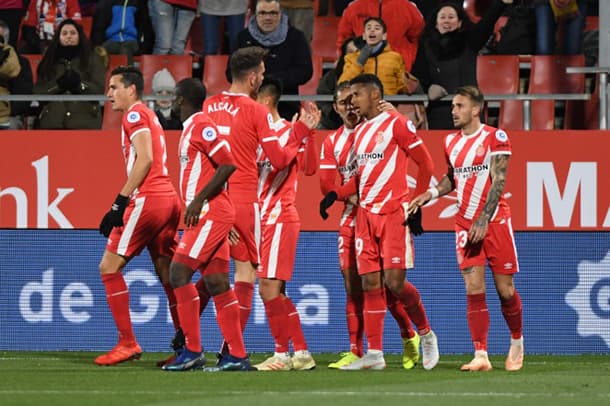 Girona v Alaves – 12th January – 17:30 BST
TOP TIP! – Girona and Alaves to draw @ 3.20
Given the Spanish Primera Division match markets, Sociedad is the only team that rates as a value option and that is why La Real are one's headline selections. For one's other two Spanish Primera Division picks, one is going with Girona and Alaves to draw and Betis at 3.20 with BetVictor and Real Madrid to draw.
Girona has drawn each of its last three games across all competitions and another winnerless match featuring the White and Reds is probable. According to one's Spanish Primera Division collateral form analysis, Girona trails Alaves 6-4-8 overall but the White and Reds have fared better than Deportivo against most of the league's top outfits – they enjoys progressive counts of 2-0-0 and 4-1-3.
There is not much to choose between Girona and Alaves and we have empirical data to support that assessment because they clashed in the Spanish Copa del Rey late last year. Alaves and Girona drew 2-2 before Girona came from behind to win the second leg 2-1 and the tie 4-3 on aggregate. Bookmakers are betting on Saturday's Spanish Primera Division game as though Alaves is a few notches better than Girona but one rates them as being almost of identical strength so the obvious play is to bet on them sharing the spoils.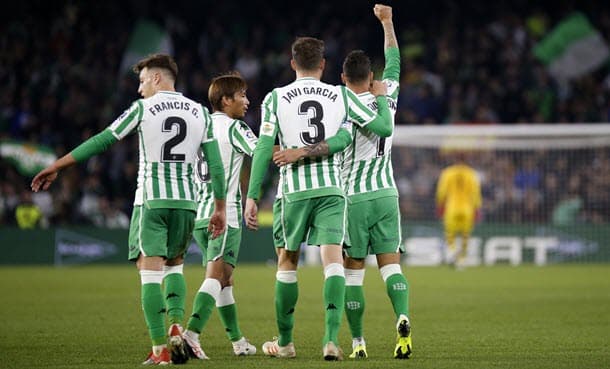 Betis v Real Madrid – 13th January – 19:45 BST
TOP TIP! – Betis and Real Madrid to draw @ 4.00
Betis and Real Madrid occupy adjacent rungs of the Spanish Primera Division ladder and that is one of the reasons why one is recommending backing them to draw on Sunday at 4.00 with Betway.
According to one's Spanish Primera Division collateral form analysis, Betis trails Real Madrid 7-1-10 overall but, in the big matches versus the big guns, the Whites and Greens have performed with more distinction than the Meringues, racking up progressive counts of 3-1-0, 4-1-1 and 5-1-3.
COLLATERAL FORM FIGURES
Vallecano 4-5-9
Leganes 10-2-6
Valencia 7-6-5
Girona 6-4-8
Villarreal 6-2-10
Atletico Madrid 11-2-5
Athletic 4-3-11
Barcelona 13-2-3
Betis 7-1-10
Sociedad 7-4-7
Let us know what you think of our tips. Click the button below and Share on Facebook or Twitter and tell us if you agree or disagree with our selections!
Alaves
Espanyol
Girona
Real Betis
Real Madrid
Real Sociedad
Spanish Primera Division