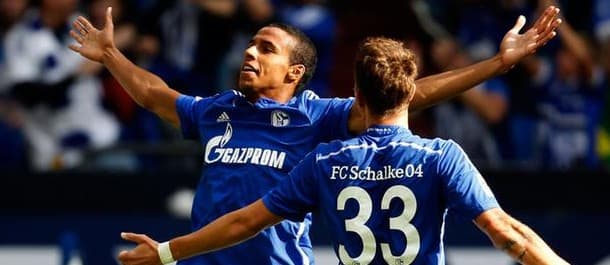 Koln's German Bundesliga raw away record is the second best in the division but seven games is a small sample size and one thinks that bookmakers are slightly overestimating its chance of avoiding defeat versus Schalke in Gelsenkirchen.
Three wins, one draw and three losses from seven German Bundesliga road matches means that Koln's away record is inferior to only Bayern Munchen but one prefers to dig deeper before suggesting bets and one's collateral form analysis favours Schalke strongly over its opponent.
Schalke and Koln have had 12 common German Bundesliga foes and only two of those collateral form lines – Hoffenheim and Monchengladbach – favour Peter Stoger's side when one rates home-ground advantage as being worth half a goal. One thinks that Koln should be trading at odds of around 6.00 to accrue three German Bundesliga points from its game at Schalke and that is not close to being the case so Schalke is appealing.
Schalke has won each of its last five German Bundesliga home matches. Indeed, since losing 1-3 to deadly rival Dortmund in October 2013, Schalke has played 19 home games for 15 wins, three draws and one loss. And it is worth noting that Koln's three German Bundesliga road victories have been over eighth-placed Hoffenheim thanks to an 83rd-minute goal, 17th-placed Bremen and bottom-of-the-ladder Stuttgart.
Bwin is offering the large odds of 1.85Bet €100 to win €18517/20Bet £100 to win £185-118Bet $100 to win $1850.85Bet HK$100 to win HK$185-1.18Bet Rp100 to win Rp1850.8500Bet RM100 to win RM185 that Schalke, whose five German Bundesliga home victims have included Augsburg, Dortmund and Wolfsburg, defeats Koln in Gelsenkirchen.
Before moving on to other German Bundesliga head-to-head bets one would like to flag the corner-kick data of Schalke and Koln that could lead to an exotic wager. Schalke (31 corner kicks) and Koln (41 corner kicks) have taken the fewest corner kicks in the first 14 German Bundesliga rounds, with their games averaging 7.46 corner kicks and 8.92 corner kicks respectively. Getting short of corner kicks in the German Bundesliga match between Schalke and Koln at a line of, say, 10 and a half corner kicks would be attractive. Some bookmakers do not do their exotic homework.
Update – It seems some bookies are more clued in than we had hoped, with the line at Under 9.5 corners, and Bet365 giving us the best price of 1.73Bet €100 to win €17373/100Bet £100 to win £173-137Bet $100 to win $1730.73Bet HK$100 to win HK$173-1.37Bet Rp100 to win Rp1730.7300Bet RM100 to win RM173. It's backable, but I wouldn't go crazy on it.
Wolfsburg has dropped just two German Bundesliga home points and one does not like promoted Paderborn's chance of getting anything from its match at the Volkswagen Arena on Sunday.
The momentum that Paderborn carried over from its German 2. Bundesliga promotion-winning campaign into its top-flight debut is petering out, with Andre Breirenreiter's side earning only two points from its last four games and its last five away matches gleaning one draw and four losses.
Wolfsburg, which has won nine and drawn three of its last 12 German Bundesliga home games since copping a 1-6 hammering from Bayern Munchen in March, has met 12 of the same teams that Paderborn has faced in the current league season. One's view of those collateral form lines is that just three of them favour Paderborn and it is the away side on Sunday,
Bwin is listing Wolfsburg at odds of 1.42Bet €100 to win €14221/50Bet £100 to win £142-238Bet $100 to win $1420.42Bet HK$100 to win HK$142-2.38Bet Rp100 to win Rp1420.4200Bet RM100 to win RM142 to beat Paderborn and strengthen its grip on second place on the German Bundesliga ladder as the winter break approaches.
Finally, Bayern Munchen has kept 10 clean sheets in its 13 German Bundesliga matches and one likes the odds about it shutting out and defeating Augsburg in their Bavaria derby.
BetVictor is offering odds of 2.25Bet €100 to win €2255/4Bet £100 to win £225+125Bet $100 to win $2251.25Bet HK$100 to win HK$2251.25Bet Rp100 to win Rp225-0.8000Bet RM100 to win RM225 that Bayern Munchen wins to nil away to an Augsburg team that has made the most of a very soft schedule to occupy third position on the German Bundesliga ladder after 14 rounds. Augsburg's eight German Bundesliga wins have been over the sides ranked seventh, 10th, 12th, 13th, 15th, 16th, 17th and 18th, while its six league losses have occurred when it has encountered the teams ranked second, fourth, fifth, eighth, 11th and 14th.
Only Dortmund, Schalke and Wolfsburg have scored against Bayern Munchen in the German Bundesliga and there is a good chance that they will end up being three of the top five sides at the end of the championship. Like Dortmund, Augsburg is in a false position on the German Bundesliga ladder after 14 rounds. Things are about to get tougher.
Tips Summary
Schalke to beat Koln / Under 10.5 corners
13th December 14:30 GMT
Odds: 1.85Bet €100 to win €18517/20Bet £100 to win £185-118Bet $100 to win $1850.85Bet HK$100 to win HK$185-1.18Bet Rp100 to win Rp1850.8500Bet RM100 to win RM185 / TBC
Where to Bet: Bwin
Wolfsburg to beat Paderborn
14th December 16:30 GMT
Odds: 1.42Bet €100 to win €14221/50Bet £100 to win £142-238Bet $100 to win $1420.42Bet HK$100 to win HK$142-2.38Bet Rp100 to win Rp1420.4200Bet RM100 to win RM142
Where to Bet: Bwin
Bayern to beat Augsburg to nil
13th December 14:30 GMT
Odds: 2.25Bet €100 to win €2255/4Bet £100 to win £225+125Bet $100 to win $2251.25Bet HK$100 to win HK$2251.25Bet Rp100 to win Rp225-0.8000Bet RM100 to win RM225
Where to Bet: BetVictor
bayern
Bundesliga
Bwin
Koln
Paderborn
Schalke