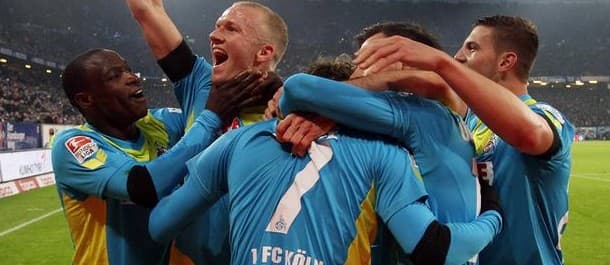 Bookmakers must think that there are insane punters if they think that anyone is going to back German Bundesliga cellar dweller Dortmund at odds on to beat Freiburg on the road.
And while one expects Bayern Munchen to post its first win of the German Bundesliga ruckrunde, one thinks that it would not be hard to find a better bet at its prohibitive odds.
Fortunately, there are more appealing German Bundesliga bets than Dortmund and Bayern Munchen, with one's short list for the weekend containing Koln, Wolfsburg and Augsburg.
Koln and Paderborn entered the German Bundesliga together at the start of the season and, for a short while, it appeared that the latter was going to make a better fist of the top flight than the more illustrious former. However, the wheels have come off Paderborn's German Bundesliga campaign and it is locked in a downward spiral, whereas Koln has climbed to 10th position on the ladder after 19 championship rounds.
One is more keen to oppose Paderborn than support Koln but the odds available about the away team siding to its sixth loss in what would become a 10-match run without a German Bundesliga win are too big to ignore. Paderborn is trading at odds of 1.95Bet €100 to win €19519/20Bet £100 to win £195-105Bet $100 to win $1950.95Bet HK$100 to win HK$195-1.05Bet Rp100 to win Rp1950.9500Bet RM100 to win RM195 with WilliamHill to taste defeat at Koln.
Paderborn's German Bundesliga season kicked off with two wins and two draws but it has been downhill pretty much since it lost 0-4 at Bayern Munchen. Hannover is the only German Bundesliga top-12 team over which Paderborn has registered a victory and its 0-0 home draw versus Koln occurred in just the third round of the competition.
Koln will not get a better opportunity to drag its German Bundesliga home record into line with its away one. Koln boasts the German Bundesliga's second finest away numbers but it has failed to take its chances at home, winning only once in front of its own supporters even though it has let in just eight goals in nine low-scoring games on its pitch.
Hoffenheim is seventh on the German Bundesliga ladder but that serves only to disguise its relatively poor recent form. Hoffenheim slumped to a 1-2 home loss to Bremen on Wednesday, making it seven defeats in its last 10 German Bundesliga matches. Next up for Hoffenheim is Wolfsburg in the city that Volkswagen built and, while the Wolves failed to back up their incredible Bayern Munchen performance when they tackled Frankfurt on Tuesday, they earned a valuable German Bundesliga point on the road. Wolfsburg is unbeaten in its last eight games across all tournaments and the Wolves did not lose at Hoffenheim five months ago.
When an in-form German Bundesliga side with an 8-2-0 home record hosts an out-of-form German Bundesliga side with a 2-3-4 away record one thinks that the visitor should be shorter odds than 1.62Bet €100 to win €16231/50Bet £100 to win £162-161Bet $100 to win $1620.62Bet HK$100 to win HK$162-1.61Bet Rp100 to win Rp1620.6200Bet RM100 to win RM162 with Bet365 and BetVictor to lose.
On Wednesday Augsburg became the latest German Bundesliga team to humble Dortmund and one thinks that the Fuggers – yes, that is its nickname – are overpriced to get the better of a team heading in the opposition direction, Frankfurt.
Augsburg is fifth on the German Bundesliga ladder after taking nine points from its last three matches. Also worth nothing is that Augsburg has won seven of its last eight German Bundesliga home games and there was no shame in the Fuggers going down 0-4 to a then rampant Bayern Munchen.
Frankfurt can score goals but it cannot keep a clean sheet for love nor money, denying its opponents at least one goal in just two of its 19 German Bundesliga matches and both of those were home games. Coral is offering odds of 1.95Bet €100 to win €19519/20Bet £100 to win £195-105Bet $100 to win $1950.95Bet HK$100 to win HK$195-1.05Bet Rp100 to win Rp1950.9500Bet RM100 to win RM195 that Frankfurt's defence lets in more goals than its attack scores in the final match of the German Bundesliga round.
With regards to German Bundesliga exotics, keep an eye out for cards points markets on the game between Bremen and Leverkusen, two of the division's worst behaved sides. Bremen is averaging 26.05 cards points in the German Bundesliga, while Leverkusen's cards points mean is 24.74. There were six second-half yellow cards in the reverse German Bundesliga fixture between Leverkusen and Bremen.
Tips Summary
Koln to beat Paderborn
7th February 14:30 GMT
Odds: 1.95Bet €100 to win €19519/20Bet £100 to win £195-105Bet $100 to win $1950.95Bet HK$100 to win HK$195-1.05Bet Rp100 to win Rp1950.9500Bet RM100 to win RM195
Where to Bet: WilliamHill
Wolfsburg to beat Hoffenheim
7th February 14:30 GMT
Odds: 1.62Bet €100 to win €16231/50Bet £100 to win £162-161Bet $100 to win $1620.62Bet HK$100 to win HK$162-1.61Bet Rp100 to win Rp1620.6200Bet RM100 to win RM162
Where to Bet: Bet365, BetVictor
Augsburg to beat Frankfurt
8th February 16:30 GMT
Odds: 1.95Bet €100 to win €19519/20Bet £100 to win £195-105Bet $100 to win $1950.95Bet HK$100 to win HK$195-1.05Bet Rp100 to win Rp1950.9500Bet RM100 to win RM195
Where to Bet: Coral
Bundesliga
Fuggers
Koln
Paderborn
Volkswagen