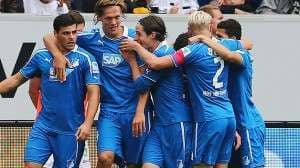 German Bundesliga games featuring Hoffenheim keep delivering profits for punters who bet on goals, goals, goals and one sees no reason to jump off the bandwagon when 1899 travels to another team that is entertaining to watch, Schalke.
Forget betting on the result of the German Bundesliga match between Schalke and Hoffenheim and stick to a punt on over two and a half goals at odds of 1.53 with Boylesports and Ladbrokes. The statistics supporting the bet are plentiful.
Hoffenheim's 23 German Bundesliga games have featured 100 goals at an average of 4.35, with 20 of them going over two and a half goals. Incredibly, 14 of Hoffenheim's 23 German Bundesliga matches have gone over three and a half goals and only one of its games has featured fewer than two goals.
And Schalke is no slouch in the goals-per-game department, either. Schalke's 23 German Bundesliga matches have averaged 3.35 goals and 16 of them have gone over two and a half goals. The clincher for the recommended bet on over two and a half goals in Saturday's German Bundesliga game between Schalke and Hoffenheim in Gelsenkirchen is that the reverse fixture ended 3-3 and there were three goals in the first 16 minutes. One could make a statistical case for the true odds being closer to 1.33 than the 1.53 that is available.
That Nurnberg has climbed out of the German Bundesliga drop zone is not surprising when one considers that The Club was unlucky to find itself in the bottom three going into the winter break. Nurnberg had not lost many German Bundesliga matches but it has failed to convert any of its 11 draws into wins. It was only a matter of time before Nurnberg's luck changed and it won one, two or three games.
Nurnberg has won four of its six German Bundesliga matches since the competition resumed and its two losses have come against Bayern Munchen at home (0-2) and Dortmund away (0-3) so The Club has nothing about which to be ashamed. Nurnberg is trading at odds of 1.85 with many bookmakers, including 888sport and Bwin, to get the better of Bremen and that looks like a decent play in the circumstances.
Bremen broke its 2014 duck with a 1-0 German Bundesliga home victory over 16th-placed Hamburg last week but it was far from convincing and, apart from upsetting Leverkusen 1-0 prior to Christmas, its form has been awful for the last five months, including a 0-7 home loss to Bayern Munchen.
Nurnberg drew 3-3 at Bremen when the sides met in the German Bundesliga in September, Nurnberg's home record is superior to Bremen's away record and, most importantly, the two teams are heading in opposite directions. One would be surprised if Nurnberg finished the season below Bremen on the German Bundesliga ladder. Indeed, Bremen may find itself in the bottom three given its alarming decline in performances.
Finally, Dortmund has got the bit between its teeth in the battle for second spot behind champion-elect Bayern Munchen in the German Bundesliga and it is worth supporting at odds of 1.35 with Youwin to triumph on the road at Freiburg.
Many punters shy away from odds-on away favourites and one appreciates that but Dortmund did thrash Freiburg 5-0 in the reverse German Bundesliga fixture and the sides are in very contrasting mental states. Dortmund is on a high because it has one foot in the UEFA Champions League quarter-finals and now it is short odds to finish runner-up in the German Bundesliga, whereas Freiburg has gone five games without success since coming from behind not once but twice to beat Leverkusen 3-2, a result that does not look as good now as it did then because of Leverkusen's ongoing problems.
Dortmund has a terrific recent record versus Freiburg – BVB have won each of the last seven meetings, with the aggregate score being 25-3 – so include Jurgen Klopp's in-form team in multiple wagers if odds of 1.35 are too short for a single.