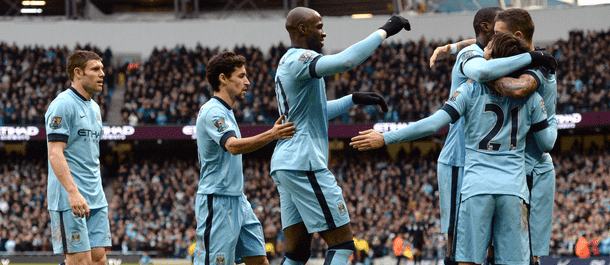 The smart way to attack betting on the Boxing Day program of English Premier League games is to do what one should do with cooking dinner on Christmas Day – keep it simple.
Some punters have a rule whereby they refuse to back odds-on teams away from home and, while one does not like to bet on many road sides at short odds, one does not have a hard and fast rule. One judge's every betting option on its merits.
Thirteen places and 22 points separate Manchester City and West Bromwich on the English Premier League ladder but one thinks that the gap between the Citizens and the Baggies is actually larger than even those two numbers suggest. One has conducted collateral form analysis on the English Premier League campaigns of Manchester City and West Bromwich and Baggies fans should look away know if they are squeamish.
Manchester City and West Bromwich have had 16 common English Premier League opponents and, in one of the most remarkable collateral form analysis results that has seen in a while, 15 of those lines favour the Citizens and the other one favours neither team. For those who are interested, the English Premier League side against which Manchester City and West Bromwich have performed equally well is Leicester, with the Foxes losing 0-1 at home to both the Citizens and the Baggies. That said, though, West Bromwich's winner at the King Power Stadium was an Esteban Cambiasso own goal.
One knows that Manchester City is likely to be without all its senior strikers for its English Premier League match at West Bromwich but that did not stop the Citizens defeating Crystal Palace 3-0 at Etihad Stadium on Saturday and the Eagles have been in better form than the Baggies lately.
Manchester City has been victorious in each of its last five English Premier League games against West Bromwich and one cannot get away from the 15-1-0 collateral form edge that the Citizens enjoy over the Baggies so Ladbrokes should expect to do business at its market-leading odds of 1.53Bet €100 to win €15353/100Bet £100 to win £153-189Bet $100 to win $1530.53Bet HK$100 to win HK$153-1.89Bet Rp100 to win Rp1530.5300Bet RM100 to win RM153.
Manchester United is equally attractive at odds of 1.44Bet €100 to win €14411/25Bet £100 to win £144-227Bet $100 to win $1440.44Bet HK$100 to win HK$144-2.27Bet Rp100 to win Rp1440.4400Bet RM100 to win RM144 with Ladbrokes to get the better of injury-ravaged Newcastle in their English Premier League clash at Old Trafford.
An English Premier League championship challenge is out of the question for Manchester United – Chelsea and Manchester City would have to drop too many points for it to get back on terms – but the Red Devils are bound for the UEFA Champions League unless something remarkable happens.
Manchester United was nowhere near its best at Aston Villa on Saturday but the Red Devils had two-thirds of the ball and extended their unbeaten English Premier League run to six games. Newcastle, on the other hand, deservedly lost its third match in a row across all competitions, losing 0-1 at home to its biggest rival, Sunderland. It took until the 90th minute for Sunderland to score but the Black Cats were good value for their win, crafting three or four excellent opportunities, including striking the Newcastle crossbar.
Regarding English Premier League collateral form, 10 of the 16 lines favour Manchester United, four favour Newcastle and two favour neither team. Newcastle has been blowing hot and cold under Alan Pardew for several years now and the Magpies are going through one of their barren spells currently.
Finally, there is strong English Premier League collateral form support for Arsenal being far too good for Queens Park Rangers at the Emirates Stadium and that punters should be all over the Gunners at odds of 1.29 with Ladbrokes and William Hill even though it is a London derby clash.
Arsenal and Queens Park Rangers have had 16 common English Premier League opponents and only one of those collateral form lines favours the Super Hoops. Furthermore, Queens Park Rangers has lost each of its eight English Premier League away matches, scoring three goals and conceding 20 goals.
Tips Summary
Man City to beat West Brom
26th December 15:00 GMT
Odds: 1.53Bet €100 to win €15353/100Bet £100 to win £153-189Bet $100 to win $1530.53Bet HK$100 to win HK$153-1.89Bet Rp100 to win Rp1530.5300Bet RM100 to win RM153
Where to Bet: Ladbrokes
Man Utd to beat Newcastle
26th December 15:00 GMT
Odds: 1.44Bet €100 to win €14411/25Bet £100 to win £144-227Bet $100 to win $1440.44Bet HK$100 to win HK$144-2.27Bet Rp100 to win Rp1440.4400Bet RM100 to win RM144
Where to Bet: Ladbrokes
Arsenal to beat QPR
26th December 17:30 GMT
Odds: 1.29Bet €100 to win €12929/100Bet £100 to win £129-345Bet $100 to win $1290.29Bet HK$100 to win HK$129-3.45Bet Rp100 to win Rp1290.2900Bet RM100 to win RM129
Where to Bet: Ladbrokes, William Hill
Baggies
Boxing Day
Cambiasso
Citizens
Ladbrokes
Premier League
Red Devils