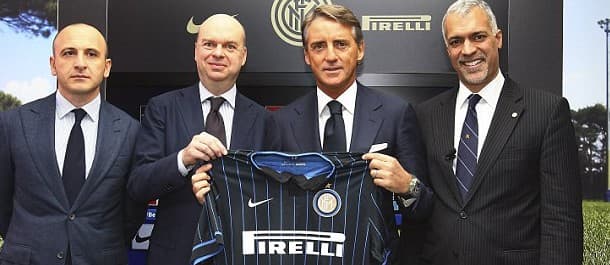 Internazionale overcame an early red card to win its first home game since the return of Roberto Mancini to the San Siro and one rates it as the best bet on the Italian Serie A coupon as the competition enters its 14th round of matches.
There is no escaping the fact that Mancini is back on deck at Internazionale because the team that he managed to three Italian Serie A titles in a row and four knockout trophies has performed below expectations in recent times. But one expects Internazionale to raise its game under Mancini, climbing above Udinese on the Italian Serie A ladder by virtue of accruing three points from Sunday's match.
As disappointing as Internazionale has been in Italian Serie A – one should acknowledge that it is unbeaten in the UEFA Europa League through seven games – its home record is not all that bad with its only loss being its 1-4 shocker versus Cagliari in which everything that could go wrong went wrong.
Each of Internazionale's three performances under Mancini have had merit – 1-1 away to Milan, 2-1 at home to Dnipro and 2-4 away to Roma – which is more than can be said for Udinese's recent Italian Serie A efforts. Udinese has gone five Italian Serie A matches without a win and increasingly it seems that its relatively high position on the ladder is a consequence of its early schedule more than its ability.
Internazionale and Udinese have had eight common Italian Serie A opponents this season and, with Inter enjoying home advantage for Saturday's showdown, one's detailed analysis of those collateral form lines is that only two of them support betting on anything other than the revitalised San Siro side at odds of 1.53Bet €100 to win €15353/100Bet £100 to win £153-189Bet $100 to win $1530.53Bet HK$100 to win HK$153-1.89Bet Rp100 to win Rp1530.5300Bet RM100 to win RM153 with Bwin and Ladbrokes.
The second Italian Serie A bet of interest is under two and a half goals in Saturday's game between Torino and Palermo.
If you want to buy a Christmas present for someone you hate then a season ticket to Torino's remaining Italian Serie A matches would be a perfect gift. Torino cannot score goals on a regular basis, netting a pitiful eight times in its 13 Italian Serie A games, games that have had an average of 1.77 goals with eight of them going under two and a half goals and none of them featuring more than three goals.
Most of Palmero's 13 Italian Serie A matches have gone under two and a half goals, including each of its last three away games. Torino has scored and conceded three goals in its seven Italian Serie A home matches so backing under two and a half goals at odds of 1.67Bet €100 to win €16767/100Bet £100 to win £167-149Bet $100 to win $1670.67Bet HK$100 to win HK$167-1.49Bet Rp100 to win Rp1670.6700Bet RM100 to win RM167 with BetVictor is a done deal.
Finally, with regards to Italian Serie A exotic markets, it may pay to go high on corner kicks in the game between Napoli and Empoli if bookmakers enable punters to bet on over 10 and a half corner kicks at close to even money.
Napoli has taken 96 corner kicks in its 13 Italian Serie A matches, which is 13 more than any other team. Normally, Napoli does not concede many corner kicks but it gave up 10 against Sampdoria in Monday's Italian Serie A game and, on Saturday, it faces an Empoli side that likes a corner kick or two. Empoli has taken 82 corner kicks in its 13 Italian Serie A matches, enough to rank it third behind Napoli (96) and Fiorentina (6.38). Empoli concedes corner kicks quite frequently also so most of the ingredients are present.
In terms of averages, Napoli's 13 Italian Serie A games have had a mean of exactly 12 corner kicks, while Empoli's 13 top-flight matches have had a mean of 11.38 corner kicks.
Update – Bwin are going 1.62Bet €100 to win €16231/50Bet £100 to win £162-161Bet $100 to win $1620.62Bet HK$100 to win HK$162-1.61Bet Rp100 to win Rp1620.6200Bet RM100 to win RM162 on over 10.5 corners which is a little short on the price we wanted. The bet still should come in, so you can take it, because it's better value than the 1.95Bet €100 to win €19519/20Bet £100 to win £195-105Bet $100 to win $1950.95Bet HK$100 to win HK$195-1.05Bet Rp100 to win Rp1950.9500Bet RM100 to win RM195 on offer with Boylesports for over 11.5 corners.
Tips Summary
Inter to beat Udinese
7th December 19:45 GMT
Odds: 1.53Bet €100 to win €15353/100Bet £100 to win £153-189Bet $100 to win $1530.53Bet HK$100 to win HK$153-1.89Bet Rp100 to win Rp1530.5300Bet RM100 to win RM153
Where to Bet: Bwin, Ladbrokes
Torino v Palermo Under 2.5 goals
6th December 19:45 GMT
Odds: 1.67Bet €100 to win €16767/100Bet £100 to win £167-149Bet $100 to win $1670.67Bet HK$100 to win HK$167-1.49Bet Rp100 to win Rp1670.6700Bet RM100 to win RM167
Where to Bet: BetVictor
Napoli v Empoli Overs Corners
7th December 11:30 GMT
Odds: 1.62Bet €100 to win €16231/50Bet £100 to win £162-161Bet $100 to win $1620.62Bet HK$100 to win HK$162-1.61Bet Rp100 to win Rp1620.6200Bet RM100 to win RM162
Where to Bet: Bwin
Bwin
Inter Milan
Ladbrokes
Palermo
Roberto Mancini
Serie A
Torino