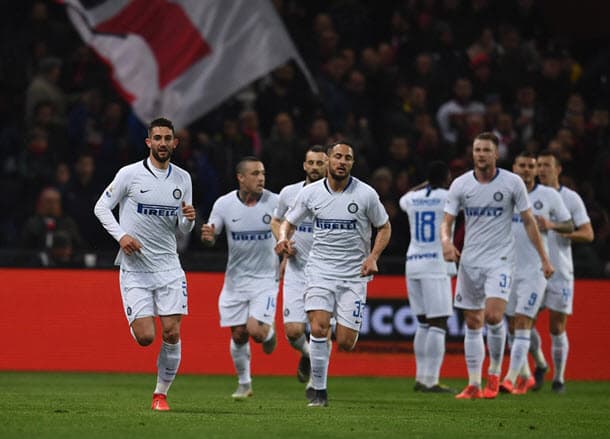 Internazionale v Atalanta – 7th April – 17:00 BST
The best games of Italian Serie A's 31st round are the ones that throw up the best betting opportunities, with the pick of them being Internazionale to beat Atalanta on Sunday.
Mauro Icardi is back in the Internazionale fold and, versus Genoa on Wednesday, he had an assist and scored from the penalty spot in his team's 4-0 road triumph. Internazionale is third on the Italian Serie A ladder with eight rounds to go and, if Icardi continues to not only bury the hatchet with his club but also bury chances with efficiency, the Black and Blues are likely to qualify for the UEFA Champions League, quite possibly at the direct expense of Atalanta.
Like Internazionale, Atalanta bagged four Italian Serie A goals in its midweek win and there are no sides which one likes watching more than the attack-minded Goddess. But Atalanta's Italian Serie A top goal scorer, Duvan Zapata, picked up an expensive caution against Bologna on Thursday and it means he is suspended for Sunday's massive match.
According to one's Italian Serie A collateral form analysis, Internazionale holds an 11-1-7 advantage over Atalanta and, while November's reverse fixture resulted in a 1-4 away defeat for the Black and Blues, there is sufficient data across the entire season for one to rate them superior to the Goddess. For example, Internazionale's progressive Italian Serie A collateral form counts include 7-1-1, 9-1-2 and 10-1-3, which means the Black and Blues have been much better than Atalanta versus most of the league's big guns.
TOP TIP! – Internazionale to beat Atalanta @ 2.10 with BetVictor
Get the best odds in the Italian Serie A with our selected bookmakers below.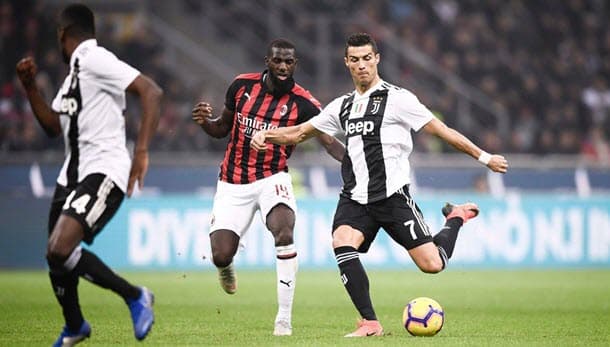 Juventus v Milan – 6th April – 17:00 BST
TOP TIP! – Juventus to beat Milan @ 1.80
Juventus could clinch its eighth consecutive Italian Serie A title this weekend but, while one suspects Juve will have to wait to celebrate their latest scudetto, one thinks the Old Lady will get the better of Milan in Saturday's blockbuster at 1.80 with Black Type.
Cristiano Ronaldo remains on the sidelines but Juventus boss Massimiliano Allegri can still call upon a host of talented players and, even though Juve have a UEFA Champions League assignment against Ajax next week, they are likely to take this weekend's Italian Serie A engagement very seriously.
Juventus hates Milan and, according to one's Italian Serie A collateral form analysis, the Old Lady boasts a 12-4-3 lead over the Red and Blacks, including progressive counts of 3-0-0, 5-0-1, 7-2-1 and 9-4-2. Juventus beat Milan 2-0 in November's reverse Italian Serie A fixture and the Old Lady are 13-2-0 at home whereas the Red and Blacks are 5-6-3 on their travels. Furthermore, Milan has accrued only one point from its five Italian Serie A games versus the three teams above it on the ladder, firing blanks in three of them. Juventus has been Italian Serie A's class act throughout the competition and one believes it will prove it yet again.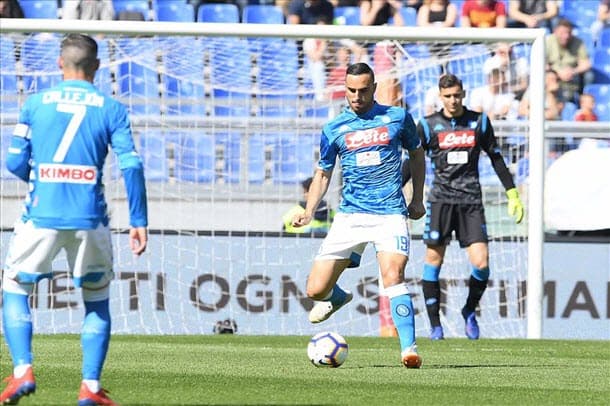 Napoli v Genoa – 7th April – 19:30 BST
TOP TIP! – Napoli to lead Genoa at half time and full time @ 1.83
Italian Serie A's second-ranked side, Napoli, seems to have a relatively straightforward task against lowly Genoa and one is willing to wager the Partenopei will hit the front early in Sunday's match @ 1.83 with Black Type and hold on until the final whistle. According to one's Italian Serie A collateral form analysis, Napoli enjoys a 14-3-2 edge over Genoa, including a 2-1 win in November's reverse fixture. Cristiano Romero and Ervin Zukanovic are suspended for Genoa and Napoli will be keen to get the job done quickly so it can rest some of its starters ahead of tackling Arsenal in the UEFA Europa League.
COLLATERAL FORM FIGURES
Parma 4-4-11
Juventus 12-4-3
Sampdoria 7-6-6
Fiorentina 14-2-3
Cagliari 6-2-11
Udinese 9-3-7
Internazionale 11-1-7
Lazio 11-5-3
Napoli 14-3-2
Bologna 10-2-7
Feel free to us know what you think of our tips. Click the button below and Share on Facebook or Twitter and tell us if you agree or disagree with our selections!
Atalanta
Genoa
Internazionale
Italian Serie A
Juventus
Milan
Napoli