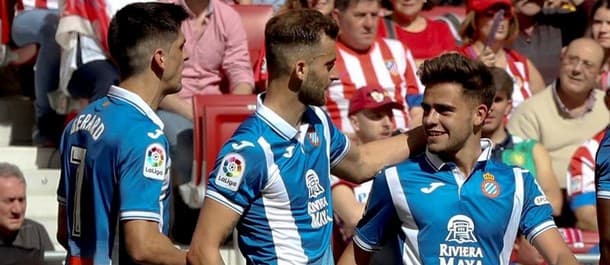 The Spanish Primera Division has run out of steam with most of the important positions decided so one is left with an uninspiring program of fixtures in the penultimate round.
Barcelona is the Spanish Primera Division champion, Atletico Madrid, Real Madrid and Valencia will join Barca in the UEFA Champions League and Deportivo, Las Palmas and Malaga will compete in the Spanish Segunda Division. The UEFA Europa League berths are up for grabs but, basically, most of the Spanish Primera Division's 20 teams have run their race and, therefore, their respective motivations may be suspect.
One's idea of the best bet in the 37th round of Spanish Primera Division action is 15th-ranked Espanyol to record a home victory over bottom-of-the-ladder Malaga on Sunday.
It has been a Spanish Primera Division competition to forget for Espanyol but at least the Budgerigars will get to play the likes of Barcelona, Atletico Madrid and Real Madrid next term. Malaga will be slumming it in the Spanish Segunda Division next season as a consequence of an abject campaign in which the Anchovies have won only five Spanish Primera Division games and collected just five points on their travels. Espanyol has been strong at home in the Spanish Primera Division – the Budgerigars are 7-6-5 in front of their own fans, including defeats of Atletico Madrid and Real Madrid – plus, according to one's collateral form analysis, the RCDE Stadium side enjoys a 13-3-3 lead over Malaga, including progressive counts of 5-0-1 and 7-1-1.
The reverse set of Spanish Primera Division fixtures took place in January and the match between Malaga and Espanyol ended in a 1-0 road triumph for the Budgerigars. Disciples of head-to-head statistics will be interested to know that Espanyol is 6-5-0 in its last 11 meetings with Malaga, with five of its six successes occurring in southern Spain. Diego Gonzalez Polanco is suspended for Malaga and one expects the Anchovies, bereft of confidence, to lose without him. Back Espanyol at odds of 1.65 with Betway.
Usually one steers clear of derbies but one cannot help but tip Betis to beat Sevilla at 2.62 with BetVictor in Saturday's battle for Spanish Primera Division bragging rights in the city of Seville.
Betis will guarantee qualification for next season's UEFA Europa League if it avoids defeat but such is the state of the Spanish Primera Division ladder and one's collateral form analysis that the Green and Whites are overpriced to beat Sevilla for the second time this term. Betis is fifth on the Spanish Primera Division ladder – two rungs and five points above Sevilla – and, according to one's collateral form analysis, the Green and Whites boasts a 10-3-6 edge over the White and Reds, including progressive counts of 4-0-1 and 8-1-3. January's Spanish Primera Division derby was one for the ages, Betis prevailing 5-3 but only after Sevilla equalised twice in the opening 39 minutes.
Unoriginal it may be but surely Barcelona, seeking to wrap up an unbeaten Spanish Primera Division campaign and not concerned with the upcoming UEFA Champions League final, will end Levante's four-game winning streak. Barcelona's Spanish Primera Division collateral form advantage over Levante is 16-3-0 and Barca accounted for the Frogs 3-0 when they went head to head at Camp Nou four months ago. The banker bet is 1.33 with Betway.
Tips Summary
Espanyol to beat Malaga
Sunday 13th May, 15:15 GMT
Odds: 1.65
Real Betis to beat Sevilla
Saturday 12th May, 17:30 GMT
Odds: 2.62
Barcelona to beat Levante
Sunday 13th May, 19:45 GMT
Odds: 1.33
Barcelona
Espanyol
La Liga
Real Betis