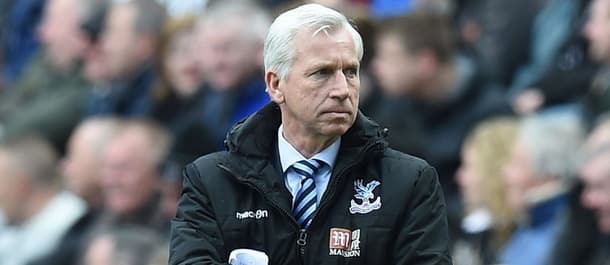 Alan Pardew is a Crystal Palace legend but football is a ruthless sport and his managerial record in recent months reads like that a boss who should be worried for his job.
West Bromwich coach Tony Pulis is the universal favourite to be the first English Premier League manager to leave his post because the Baggies have a new Chinese owner, fans of the Black Country club do not like the style of football that the Welshman espouses and it would be something of a shock for Albion to avoid being in the relegation mix.
But Pulis gets results – for example, West Bromwich kicked off its English Premier League campaign with a 1-0 away win over Crystal Palace – and Albion's new foreign paymaster is unlikely to turn the Baggies upside down overnight. English Premier League football is almost guaranteed with Pulis at the helm and, therefore, one suspects that West Bromwich will stand by the former Stoke supremo for some time yet.
According to bookmakers, the English Premier League bosses under the most pressure are Pulis, Pardew, Walter Mazzarri, Francesco Guidolin, Aitor Karanka and Sean Dyche. Mazzarri and Guidolin drew and won their respective English Premier League debuts, with the pre- and early season form of the latter's Swansea surprising many odds compilers. Karanka should receive ample time from Middlesbrough owner Steve Gibson, while Dyche has plenty of credits at Burnley.
Pardew is part of Crystal Palace folklore – he scored its 1990 English FA Cup semi-final winner – but the mood at Selhurst Park has swung against the former Eagles star. Saturday's 0-1 English Premier League home loss to West Bromwich meant that Crystal Palace's top-flight numbers since Boxing Day deteriorated to 2-7-13, with the Eagles only posting narrow home victories over Norwich and Stoke.
Aston Villa was one of the worst English Premier League teams in the competition's history but it was not far off matching Crystal Palace's abysmal effort over the second half of last term. Aston Villa's nine points from its last 19 English Premier League games was just two points fewer than Crystal Palace's 11-point tally over the same period and, if the Eagles had not made the English FA Cup final, surely the knives would have been out for Pardew back then.
Crystal Palace's home support is the envy of many English Premier League sides and that is why one thinks that it is significant that the various Eagles message boards are full of negative comments about Pardew and his management skills. Pardew's critics are saying that their disillusionment has not appeared overnight and that it has built up over nine months in which Crystal Palace has barely won an English Premier League match. They say that Pardew's tactics are poor and that he should have been much more active in the transfer market before the English Premier League began.
BetVictor is offering odds of 7.00 that Pardew is the first English Premier League managed to leave his post. Those odds are more than acceptable when one considers that Pardew's managerial record includes being shown the door by West Ham, Charlton, Southampton and, most famously, Newcastle. Falling out of the English Premier League is something that no sane owner can afford to stand by and watch happen and the fact is that Crystal Palace will drop out of the top flight if the Eagles start their campaign with anything close to a 2-7-13 record. Currently one finds it hard to see Crystal Palace scoring enough goals to be anything other than an English Premier League struggler under Pardew this term.
Tips Summary
Alan Pardew to be the first Manager to leave his post
Premier League 2016/17
Odds: 7.0
Alan Pardew
Crystal Palace
Premier League