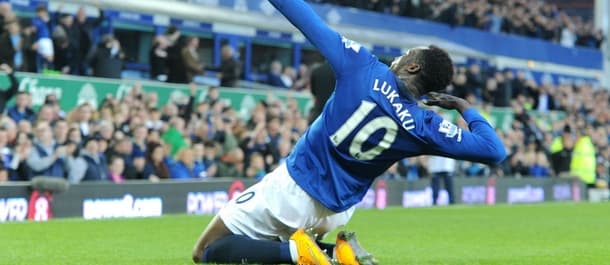 Everton has qualified for next season's UEFA Europa League so, with two English Premier League assignments remaining, the Toffees can devote their energies to assisting Romelo Lukaku in his quest to win the division's Golden Boot.
Lukaku has scored 24 English Premier League goals this term so he is three goals ahead of Harry Kane and another goal in front of Diego Costa. Lukaku is justifiably short odds to become the first Everton player to win the Golden Boot in the English Premier League era and one more goal ought to ensure that the Belgium international makes history.
Without wishing to knock Lukaku's efforts, it is noticeable that the Everton striker has scored most of his goals versus the English Premier League's lesser lights. Lukaku has only netted three goals versus the six teams positioned higher on the English Premier League ladder than Everton and two of them came against defensively deficient Manchester City.
Luckily for Lukaku, Everton's English Premier League guest on Friday is 15th-placed Watford, which is almost assured of maintaining its top-flight status even though it has lost its last three matches without scoring a goal. Watford has conceded 34 goals in its 17 English Premier League away games, keeping road clean sheets at just two of the bottom four – Swansea and Middlesbrough. Watford has nothing obvious for which to play and, in December's reverse English Premier League fixture, Lukaku bagged a brace for Everton.
Paddy Power is offering odds of 1.73Bet €100 to win €17373/100Bet £100 to win £173-137Bet $100 to win $1730.73Bet HK$100 to win HK$173-1.37Bet Rp100 to win Rp1730.7300Bet RM100 to win RM173 that Lukaku scores at least one goal for the 17th time in an English Premier League match this season. Lukaku has scored in nine of Everton's 18 English Premier League home games, including two versus Leicester and Hull and four against Bournemouth.
This weekend's biggest match in terms of the English Premier League relegation equation is undoubtedly Saturday's game between Crystal Palace and Hull that one thinks will go to the Eagles at odds of 2.05Bet €100 to win €20521/20Bet £100 to win £205+105Bet $100 to win $2051.05Bet HK$100 to win HK$2051.05Bet Rp100 to win Rp205-0.9524Bet RM100 to win RM205 with Paddy Power.
According to one's English Premier League collateral form analysis, Crystal Palace boasts a 11-2-6 advantage over Hull. Furthermore, Crystal Palace's English Premier League collateral form edge over Hull is 6-0-2 when one only counts the matches featuring the top eight sides on the ladder.
A draw will be sufficient for Crystal Palace to secure its English Premier League safety but Hull has lost 14 of its 18 divisional away games and, according to one's collateral form analysis, the Eagles should be odds on to take out what their escapologist boss, Sam Allardyce, is calling bigger than a cup final. December's reverse English Premier League fixture, which took place before Big Sam succeeded Alan Pardew, ended in a 3-3 draw after Crystal Palace led 2-1 with 20 minutes left on the clock. It was around the time that Crystal Palace was making a habit of losing leads.
Saturday's English Premier League match between Bournemouth and Burnley may have an end-of-season feel about it, which is one reason why one is picking it to go over two and a half goals at odds of 1.84Bet €100 to win €18421/25Bet £100 to win £184-119Bet $100 to win $1840.84Bet HK$100 to win HK$184-1.19Bet Rp100 to win Rp1840.8400Bet RM100 to win RM184 with Marathonbet.
Other reasons relate to the goals statistics of Bournemouth and Burnley. Twenty-two of Bournemouth's 36 English Premier League games have gone over two and a half goals, including 11 of its 18 home matches. Only 17 of Burnley's 36 English Premier League games have gone over two and a half goals but, significantly, 11 of its 18 away matches have beaten that mark. Burnley beat Bournemouth 3-2 in December's reverse English Premier League fixture and there were three goals before Martin Atkinson blew his whistle for half time.
Tips Summary
Lukaku to score at any time
Friday 12th May, 19:45 GMT
Odds: 1.73Bet €100 to win €17373/100Bet £100 to win £173-137Bet $100 to win $1730.73Bet HK$100 to win HK$173-1.37Bet Rp100 to win Rp1730.7300Bet RM100 to win RM173
Crystal Palace to beat Hull
Sunday 14th May, 12:00 GMT
Odds: 2.05Bet €100 to win €20521/20Bet £100 to win £205+105Bet $100 to win $2051.05Bet HK$100 to win HK$2051.05Bet Rp100 to win Rp205-0.9524Bet RM100 to win RM205
Bournemouth v Burnley – Over 2.5 goals
Saturday 13th May, 15:00 GMT
Odds: 1.84Bet €100 to win €18421/25Bet £100 to win £184-119Bet $100 to win $1840.84Bet HK$100 to win HK$184-1.19Bet Rp100 to win Rp1840.8400Bet RM100 to win RM184
Bournemouth
burnley
Crystal Palace
Everton
Premier League
watford