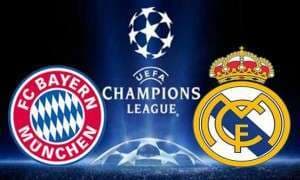 It is inconceivable that Bayern Munchen and Real Madrid will not make the Allianz Arena scoreboard operator work harder than they made his Santiago Bernabeu counterpart toil when the teams meet in the UEFA Champions League once again.
That the UEFA Champions League semi-final first leg between Real Madrid and Bayern Munchen produced only one goal flew in the face of pretty much every statistic known to man. One does not expect the second leg to be so low scoring because it sets up brilliantly for a wide-open game. Bayern has to score at least one goal if it wants to retain its title and, if Real catches the champion on the break, Pep Guardiola's team will have to score at least three goals in normal time.
One expects Bayern Munchen to dominate possession, which is what it did at the Santiago Bernabeu last week, and probe for holes in Real Madrid's defence. One expects Real to commit bodies forward on lightning-fast breaks whenever opportunities to counter attack present themselves. Real coach Carlo Ancelotti is a realistic bloke who knows that his side's strength lies in its attacking third and trying to keep a clean sheet would be tantamount to suicide. It does point to a match in which Real fights fire with fire because surely it would be asking too much for Ancelotti's side to stop Bayern scoring in three hours of football.
The statistical argument for taking a punt on both teams to score in the UEFA Champions League semi-final second leg between Bayern Munchen and Real Madrid is compelling.
One will start with Bayern Munchen. It has played 23 games across all competitions at the Allianz Arena this season and it has scored in 22 of them, the exception being its 0-3 loss to German Bundesliga rival Dortmund in the midst of its worst run in two and a half years. One could argue that losing to Dortmund was not the end of the world considering that the German Bundesliga title was wrapped up. Indeed, one could argue that Bayern has scored in every meaningful home match since drawing 0-0 against Mainz in April 2012.
And now for Real Madrid. It has played 26 games across all competitions away from the Santiago Bernabeu this term and it has scored in 24 of them, the exceptions being its UEFA Champions League quarter-final second-leg 0-2 loss to Dortmund and its Spanish Copa del Rey round-of-32 first-leg draw versus Olimpic de Xativa. Real took both matches far from seriously and almost paid the price, particularly at Dortmund where its 3-0 first-leg lead almost evaporated.
So Bayern Munchen and Real Madrid nearly always score at home and away respectively when they are in the mood to play. Ladbrokes is offering odds of 1.60 that neither Bayern nor Real keeps a clean sheet at the Allianz Stadium and that seems like a fair bet. Real is trading at odds of 1.73 with BetVictor to qualify and that is an option that will appeal to some punters who fancy the visiting team to find the back of the net at least once. However, one prefers to stick with the both-sides-to-score play and have Real's rickety defence working in one's favour rather than the other way round.
Chelsea and Atletico Madrid meet in the other UEFA Champions League semi-final second leg and it would be tremendous if the two sides from the Spanish capital faced off in the final. If ever there was a no-bet game, this is it. Chelsea has kept clean sheets in nine of its last 10 home matches across all competitions, while Atletico has scored in each of its last six away games around Europe. One cannot find an edge in the various common markets, with bookmakers right to favour Atletico by the tiniest of margins. Rarely is it a good thing to come away from an away first leg without a goal and Chelsea may end up regretting parking its bus at the Vicente Calderon. But one does not want to have a bet.