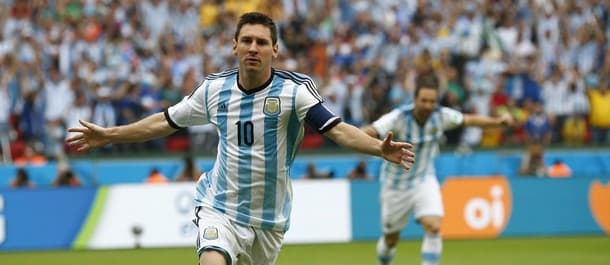 The Copa America gets underway tonight, and with the Women's World Cup, the Under-20 World Cup and the Euro Under-21 Championship all being contested, it's a summer treat of international football. The 2015 Copa America is being held in Chile, and as ever, Argentina and Brazil are making the headlines as the teams to beat. Both will play their first matches this weekend, as will Colombia, Uruguay and hosts, Chile.
We'll be following this competition closely, and we've already made our predictions for the outright winner, and for the winners of groups. Now we're on the eve of the tournament, it's time to turn our attention to betting opportunities in the opening matches.
As ever with the Copa America, it pays to keep a close eye on kick off times, as many of the matches will be played late at night or in the small hours on UK time. Let's look at the opening games over the first few days, complete with BST kick off times:
Friday 12th June
Chile v Ecuador 00:30 (BST)
The opening game will be played on Thursday evening in Chile, but that's half past midnight in the UK, so any bets on this match should be placed on Thursday evening. Chile are worth backing to get off to a good start with home advantage and a fervent support at their backs.
Chile – 1.53Bet €100 to win €15353/100Bet £100 to win £153-189Bet $100 to win $1530.53Bet HK$100 to win HK$153-1.89Bet Rp100 to win Rp1530.5300Bet RM100 to win RM153 with Bet365, Skybet and Betvictor
Chile have been touted as dark horses for many recent tournaments, and their attacking brand of football has earned them many admirers. That style eminates from Marcelo Bielsa, the current Marseille coach, who has been credited with developing a football philosophy for the country. They play with devastating speed and attack in numbers, and with the likes of Vidal and Sanchez they have the quality to play that way.
Ecuador are a decent team, and can boast the talents of Valencia, Martinez and Montero. However, they are much more at home in their own country where the stadium is at high altitude and gives them a significant advantage. They've beaten Chile on each of their last three visits to Ecuador, but away from home it's a different story. They've lost 16 of the last 20 games they've played in Chile, drawing the other four, and that's a telling statistic. Chile aren't the biggest price in the world, but on home soil they should get us off to a good start.
Saturday 13th June
Uruguay v Jamaica 20:00 (BST)
Saturday evening's games are much more reasonable kick off times, and Uruguay take on Jamaica in their opening match of group B. They will have to make do without the suspended Luis Suarez, but one suspects that will have a greater effect in the latter stages of the competition. They still have enough quality to get through the group, and they are expected to get three points against Jamaica. However, they are a very short price to win the game at 1.29Bet €100 to win €12929/100Bet £100 to win £129-345Bet $100 to win $1290.29Bet HK$100 to win HK$129-3.45Bet Rp100 to win Rp1290.2900Bet RM100 to win RM129 and there may be a little more value in backing over 2.5 goals.
Uruguay won their last outing againt Guatemala 5-1, with Cavani notching a brace, and three of their last four have gone over 2.5 goals. Jamaica are liable to concede against the top sides, as a recent 8-0 friendly defeat to France shows, but they are also more than capable of finding the net at the other end.
Over 2.5 Goals – 1.67Bet €100 to win €16767/100Bet £100 to win £167-149Bet $100 to win $1670.67Bet HK$100 to win HK$167-1.49Bet Rp100 to win Rp1670.6700Bet RM100 to win RM167 with Skybet
Argentina v Paraguay 22:30 (BST)
We're also taking the same bet in the late game between Argentina and Paraguay. Argentina are also fancied to get off to a flyer and bag the three points, but they are quoted at 1.33Bet €100 to win €13333/100Bet £100 to win £133-303Bet $100 to win $1330.33Bet HK$100 to win HK$133-3.03Bet Rp100 to win Rp1330.3300Bet RM100 to win RM133 to win the game. The odds on over 2.5 goals are much better, and there should be plenty of opportunity for Messi & Co. to fill their boots. The last three fixtures between these two countries have ended 5-2, 3-1, and 4-2, all in Argentina's favour.
Over 2.5 Goals – 1.70Bet €100 to win €1707/10Bet £100 to win £170-143Bet $100 to win $1700.70Bet HK$100 to win HK$170-1.43Bet Rp100 to win Rp1700.7000Bet RM100 to win RM170 with Bet365, and Betvictor
Sunday 14th June
Colombia v Venezuela 20:00 (BST)
On Sunday it's the turn of Colombia and Brazil, who shared that memorable quarter-final in the 2014 World Cup. Both sides are worth backing despite the short prices, and in both cases we expect a victory but not necessarily a hat-full of goals.
Colombia are on a run of seven straight victories, and they have also welcomed back Falcao, who sadly missed out on the World Cup. He's back among the goals and scored the winner in their recent 1-0 warm-up game against Costa Rica. Venezuela don't have the class to worry Colombia too much, but they can be competitive and make life difficult. Of the last five meetings between the two, only one has gone over 2.5 goals, and honours have been pretty much even in terms of victories. Another tight match could be on the cards here, with Colombia just edging it.
Colombia – 1.40Bet €100 to win €1402/5Bet £100 to win £140-250Bet $100 to win $1400.40Bet HK$100 to win HK$140-2.50Bet Rp100 to win Rp1400.4000Bet RM100 to win RM140 with Ladbrokes
Brazil v Peru 22:30 (BST)
Brazil are also easy to back against Peru, and should make light work of their opponents. Brazil have now won the last ten games on the trot, but six of those have been under 2.5 goals. They are fancied to win this at a canter, but are not expected to concede, and with their recent record in mind we wouldn't want to back them to score three or more. In fact, six of the last seven meetings between the two have seen less than three goals, so a narrow Brazil win is the call in this game.
Brazil – 1.22Bet €100 to win €12211/50Bet £100 to win £122-455Bet $100 to win $1220.22Bet HK$100 to win HK$122-4.55Bet Rp100 to win Rp1220.2200Bet RM100 to win RM122 with Ladbrokes, Betvictor and Paddy Power
With both sides expected to win comfortably, a Sunday double on the pair is more than appealing. It won't pay out fortunes, but it's hard to see either side letting us down, and we should be collecting our winnings by the end of Sunday night.
Colombia & Brazil double – 1.68Bet €100 to win €16817/25Bet £100 to win £168-147Bet $100 to win $1680.68Bet HK$100 to win HK$168-1.47Bet Rp100 to win Rp1680.6800Bet RM100 to win RM168 with Ladbrokes
Tips Summary
Copa America, 11th June – 14th June Matches
Chile – 1.53Bet €100 to win €15353/100Bet £100 to win £153-189Bet $100 to win $1530.53Bet HK$100 to win HK$153-1.89Bet Rp100 to win Rp1530.5300Bet RM100 to win RM153 with Bet365, Skybet and Betvictor
Uruguay v Jamaica Over 2.5 goals – 1.67Bet €100 to win €16767/100Bet £100 to win £167-149Bet $100 to win $1670.67Bet HK$100 to win HK$167-1.49Bet Rp100 to win Rp1670.6700Bet RM100 to win RM167 with Skybet
Argentina v Paraguay Over 2.5 goals – 1.70Bet €100 to win €1707/10Bet £100 to win £170-143Bet $100 to win $1700.70Bet HK$100 to win HK$170-1.43Bet Rp100 to win Rp1700.7000Bet RM100 to win RM170 with Bet365, and Betvictor
Colombia & Brazil double – 1.68Bet €100 to win €16817/25Bet £100 to win £168-147Bet $100 to win $1680.68Bet HK$100 to win HK$168-1.47Bet Rp100 to win Rp1680.6800Bet RM100 to win RM168 with Ladbrokes
Argentina
Brazil
Chile
Colombia
copa america
Uruguay