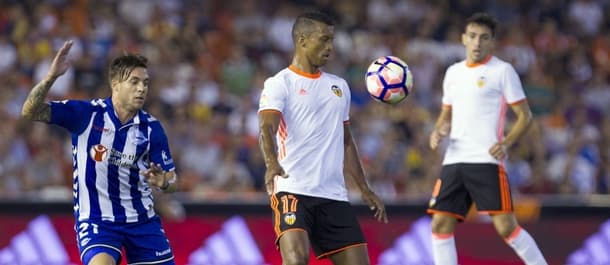 Valencia has won each of its last three matches against Espanyol and the Bats represent the best bet on a Spanish Primera Division coupon full of appealing wagers when they tackle the Budgerigars in Barcelona on Sunday.
A single goal has separated Valencia in each of its most recent three games versus Espanyol but the Bats have ended up on the right side of the argument every time, including when 1-0 away winners in the Spanish Primera Division six months ago. Valencia has strung together eight victories across all competitions and, according to one's Spanish Primera Division collateral form analysis, it has got Espanyol covered and by a significant margin as well.
Real Madrid, Sevilla, Sociedad, Betis, Leganes, Levante and Alaves are the seven Spanish Primera Division sides which have encountered both Valencia and Espanyol this term and the results of those 14 matches are absolutely damning for the Budgerigars. Espanyol has performed poorer than Valencia against Real Madrid, Sevilla, Sociedad, Betis, Leganes, Levante and Alaves so the Bats boast a 7-0-0 Spanish Primera Division collateral form advantage over the Budgerigars.
Valencia is available at odds of 2.29Bet €100 to win €229129/100Bet £100 to win £229+129Bet $100 to win $2291.29Bet HK$100 to win HK$2291.29Bet Rp100 to win Rp229-0.7752Bet RM100 to win RM229 with Bet365 to get the better of Espanyol for the fourth time in a row and, in light of the data presented above, the Bats are genuinely overpriced.
Another Spanish Primera Division team that enjoys a 7-0-0 collateral form edge over its weekend opponent is Betis, which is not the favourite for its Monday game at Eibar.
Both Betis and Eibar have faced Barcelona, Real Madrid, Villarreal, Sociedad, Celta, Levante and Deportivo in the first 11 rounds of the Spanish Primera Division and the results do not make for pretty reading for the Gunners because they have fared worse than the Green and Whites in each head-to-head clash. Betis has won just one of its five Spanish Primera Division road matches but its success did occur at Real Madrid and the overall strength of its form merits greater respect in comparison to that of Eibar.
Betis let one down when it failed to beat Getafe in the previous Spanish Primera Division round but Eibar has not won any of its last nine games across all competitions so the Green and Whites have nothing to fear on their travels at 3.00Bet €100 to win €3002/1Bet £100 to win £300+200Bet $100 to win $3002.00Bet HK$100 to win HK$3002.00Bet Rp100 to win Rp300-0.5000Bet RM100 to win RM300 with Bet365.
It was a difficult choice to pick one's third and final Spanish Primera Division bet and, after including Atletico Madrid and Levante on one's long list, one opted to go with Getafe at 1.83Bet €100 to win €18383/100Bet £100 to win £183-120Bet $100 to win $1830.83Bet HK$100 to win HK$183-1.20Bet Rp100 to win Rp1830.8300Bet RM100 to win RM183 with BetVictor to defeat Alaves on Saturday.
Getafe and Alaves have run into nine of the same Spanish Primera Division teams – Barcelona, Real Madrid, Villarreal, Sociedad, Betis, Leganes, Celta, Levante and Deportivo – and, according to one's collateral form analysis, the Deep Blues hold a convincing 6-2-1 lead over the Babazorros.
This is a classic example of a ladder not telling the truth, the whole truth and nothing but the truth. One thinks that the six-rung, seven-point gap between Getafe and Alaves on the Spanish Primera Division ladder following 11 rounds of action underplays the difference in quality between the sides. For example, Getafe has posted Spanish Primera Division home victories over fifth-placed Villarreal and seventh-placed Sociedad, whereas Alaves is 0-0-8 in its eight league matches versus team ranked higher than 13th.
Even though Atletico Madrid did not end up making one's Spanish Primera Division cut one would not contemplate diving into Real Madrid at favourite odds as the away side in Saturday's match of the round, the first capital derby of the season. There is some data that supports rating Atletico above Real and, while the sample size is small, it should be enough to dissuade favourite backers from supporting the Meringues in one of their toughest assignments.
Tips Summary
Valencia to beat Espanyol
Sunday 19th November, 15:15 GMT
Odds: 2.29Bet €100 to win €229129/100Bet £100 to win £229+129Bet $100 to win $2291.29Bet HK$100 to win HK$2291.29Bet Rp100 to win Rp229-0.7752Bet RM100 to win RM229
Real Betis to beat Eibar
Monday 20th November, 20:00 GMT
Odds: 3.00Bet €100 to win €3002/1Bet £100 to win £300+200Bet $100 to win $3002.00Bet HK$100 to win HK$3002.00Bet Rp100 to win Rp300-0.5000Bet RM100 to win RM300
Getafe to beat Alaves
Saturday 18th November, 12:00 GMT
Odds: 1.83Bet €100 to win €18383/100Bet £100 to win £183-120Bet $100 to win $1830.83Bet HK$100 to win HK$183-1.20Bet Rp100 to win Rp1830.8300Bet RM100 to win RM183
Getafe
La Liga
Real Betis
valencia