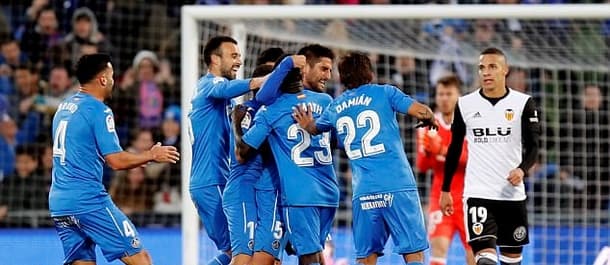 There is a compelling argument that Getafe should be odds-on to beat Eibar in the Spanish Primera Division on Saturday so one cannot resist headlining the Deep Blues at odds against.
Fourteen rounds into the Spanish Primera Division season and the draw has pitched Getafe and Eibar versus 13 of the same opponents, which makes it relatively simple to line up the two teams by using their respective results. According to one's Spanish Primera Division collateral form analysis, Getafe enjoys a 10-1-2 advantage over Eibar and, based on matches featuring the seven highest ranked of their common foes, the Deep Blues boast an emphatic 7-0-0 edge.
Getafe is eighth on the Spanish Primera Division ladder and it is a mark of the Deep Blues playing better than Eibar that they have a goal difference of plus five whereas the Gunners are on minus 11 after copping a handful of hammerings, most of them on the road to sides in the top 10. Getafe, available at odds of 2.00Bet €100 to win €2001/1Bet £100 to win £200+100Bet $100 to win $2001.00Bet HK$100 to win HK$2001.00Bet Rp100 to win Rp2001.0000Bet RM100 to win RM200 with BetVictor, is set to be without fewer squad members than Eibar this weekend and the Deep Blues are coming off a confidence-boosting 1-0 Spanish Primera Division home victory over Valencia.
Speaking of Valencia, one is willing to back the Bats to bounce back to winning ways at 1.70Bet €100 to win €1707/10Bet £100 to win £170-143Bet $100 to win $1700.70Bet HK$100 to win HK$170-1.43Bet Rp100 to win Rp1700.7000Bet RM100 to win RM170 with 888Sport when they host Celta on Sunday.
Valencia tasted Spanish Primera Division defeat for the first time this term when they lost 0-1 at Getafe last time out and the Deep Blues had the disadvantage of playing with 10 men for roughly three-quarters of the game. Valencia has been one of the Spanish Primera Division's favourite teams for punters this season so the Bats have a fair amount of goodwill in the bank and one's collateral form numbers suggest that they are even more superior to Celta than bookmakers think based on the global betting market.
According to one's Spanish Primera Division collateral form analysis, Valencia holds a 8-1-3 lead over Getafe. Valencia is 5-2-0 in its seven Spanish Primera Division home matches, whereas Celta is 1-2-3 against higher ranked opponents at any venue – the Bats are second on the ladder and the Sky Blues are 10th with only one success over a top-12 side.
Atletico Madrid's midweek UEFA Champions League engagement at Chelsea was sufficient for one to look beyond it for the third Spanish Primera Division selection so one has landed upon Leganes, which is overpriced at 3.25Bet €100 to win €3259/4Bet £100 to win £325+225Bet $100 to win $3252.25Bet HK$100 to win HK$3252.25Bet Rp100 to win Rp325-0.4444Bet RM100 to win RM325 with BetVictor to get the better of Deportivo away from home in one of Saturday's games.
Leganes is seventh on the Spanish Primera Division ladder and, according to one's collateral form data, the Cucumber Growers are definitely better than 17th-ranked Deportivo. Leganes and Deportivo have had 10 common Spanish Primera Division foes and, according to one's collateral form analysis, the Cucumber Growers enjoy a 6-2-2 advantage over Super Depor. Bookmakers are betting as though Leganes is a little bit stronger than Deportivo but one thinks that the odds do not reflect the latter's chance of an away win.
Last term, Leganes vanquished Deportivo 4-0 at home and 2-1 on the road so the recent head-to-head history between the teams favours the Cucumbers Growers quite significantly.
Below are one's Spanish Primera Division collateral form figures for all 10 matches in the 15th round of the championship so you can see the data for yourself.
Alaves 5-2-3
Getafe 10-1-2
Real Madrid 6-2-2
Deportivo 2-2-6
Valencia 8-1-3
Sociedad 7-2-2
Betis 1-1-8
Levante 3-3-4
Villarreal 2-3-7
Espanyol 5-2-4
Tips Summary
Getafe to beat Eibar
Saturday 9th December, 12:00 GMT
Odds: 2.00Bet €100 to win €2001/1Bet £100 to win £200+100Bet $100 to win $2001.00Bet HK$100 to win HK$2001.00Bet Rp100 to win Rp2001.0000Bet RM100 to win RM200
Valencia to beat Celta Vigo
Sunday 10th December, 14:00 GMT
Odds: 1.70Bet €100 to win €1707/10Bet £100 to win £170-143Bet $100 to win $1700.70Bet HK$100 to win HK$170-1.43Bet Rp100 to win Rp1700.7000Bet RM100 to win RM170
Leganes to beat Deportivo
Saturday 9th December, 17:30 GMT
Odds: 3.25Bet €100 to win €3259/4Bet £100 to win £325+225Bet $100 to win $3252.25Bet HK$100 to win HK$3252.25Bet Rp100 to win Rp325-0.4444Bet RM100 to win RM325
Getafe
La Liga
Leganes
valencia