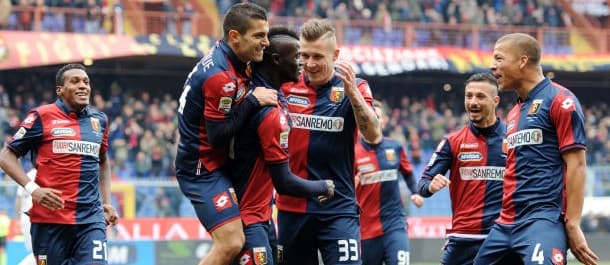 One rates Genoa as the best value investment in the 27th round of the Italian Serie A championship when it hosts a Chievo team that has not scored for more than 320 minutes.
Many bookmakers, including Betfred and William Hill, are listing Genoa at odds of 1.95Bet €100 to win €19519/20Bet £100 to win £195-105Bet $100 to win $1950.95Bet HK$100 to win HK$195-1.05Bet Rp100 to win Rp1950.9500Bet RM100 to win RM195 to accrue maximum points from its Italian Serie A home match against Chievo on Sunday. Those offers strike one as fair in light of the Italian Serie A ladder that sees Genoa nine places and 11 points ahead of Chievo having fulfilled one fewer fixture. And one is much more enamoured with Genoa's recent results than those of Chievo, with one finding it relatively simple to poke holes into even the underdog's positive outcomes.
One has a major problem with Chievo's failure to score in each of its last three Italian Serie A games, one of which was at home to a Milan side that is not covering its famous colours in glory. Since committing highway robbery to win 1-0 at Napoli in Round Two, Chievo has played 24 Italian Serie A matches for six more victories, only two of which have come against teams above it on the ladder – Sampdoria in sixth and city rival Verona in 15th. And one knows that the form of big local derbies is notoriously unreliable.
Parma's postponement of its Italian Serie A game against Genoa two weeks ago means that Gian Piero Gasperini's side is fully rested and over most of its minor injury niggles. Genoa is unbeaten in its last five Italian Serie A matches and one would have to go back nine league games for the last time that Gasperini's team performed below expectations.
Genoa defeated Chievo 2-1 in the eighth round of the Italian Serie A season, although one should disclose that the score was 1-1 when both sides were playing with 11 men. Mauricio Pinilla netted Genoa's winning goal after Ivan Radovanovic had been sent off and placed Chievo at a disadvantage.
One mentioned Milan in passing a few paragraphs and one is keen to oppose Filippo Inzaghi's ordinary team when it travels to tackle Fiorentina in Florence on Sunday.
Fiorentina slumped to a 0-4 Italian Serie A loss at Lazio last weekend but one defeat, albeit a heavy one, does not entitle several bookmakers, including Bwin, PaddyPower and William Hill, to post odds of 2.00Bet €100 to win €2001/1Bet £100 to win £200+100Bet $100 to win $2001.00Bet HK$100 to win HK$2001.00Bet Rp100 to win Rp2001.0000Bet RM100 to win RM200 about Vicenzo Montella's side getting back on track with a home win over Milan.
There is no comparison between the recent form of Fiorentina and Milan, with the former having eliminated Tottenham from the UEFA Europa League and risen to fifth on the Italian Serie A ladder and the latter having defeated only Cesena and Parma in its last nine matches across all competitions. Inzaghi is clinging to his job as Milan manager and one more embarrassing loss may see him join the unemployment queue.
Finally, one does not care that Sassuolo has lost each of its last four Italian Serie A games – none of them was at home to Parma and, if the cellar dweller turns up to play, one fancies that the result will be another loss for the team marooned nine points away from its nearest rival.
Sassuolo smashed Parma 3-1 in their Italian Serie A clash five months ago. SkyBet are offering odds of 1.67Bet €100 to win €16767/100Bet £100 to win £167-149Bet $100 to win $1670.67Bet HK$100 to win HK$167-1.49Bet Rp100 to win Rp1670.6700Bet RM100 to win RM167 about Sassuolo completing an Italian Serie A double over Parma on Sunday and, while one's selection has been off colour in recent weeks, it should perk up versus a side that is not of top-flight standard and not in the mood to excel.
Tips Summary
Genoa to beat Chievo
15th March 14:00 GMT
Odds: 1.95Bet €100 to win €19519/20Bet £100 to win £195-105Bet $100 to win $1950.95Bet HK$100 to win HK$195-1.05Bet Rp100 to win Rp1950.9500Bet RM100 to win RM195
Where to Bet: Betfred, William Hill
Fiorentina to beat Milan
16th March 18:00 GMT
Odds: 2.00Bet €100 to win €2001/1Bet £100 to win £200+100Bet $100 to win $2001.00Bet HK$100 to win HK$2001.00Bet Rp100 to win Rp2001.0000Bet RM100 to win RM200
Where to Bet: Bwin, PaddyPower, William Hill
Sassuolo to beat Parma
15th March 14:00 GMT
Odds: 1.67Bet €100 to win €16767/100Bet £100 to win £167-149Bet $100 to win $1670.67Bet HK$100 to win HK$167-1.49Bet Rp100 to win Rp1670.6700Bet RM100 to win RM167
Where to Bet: SkyBet
Chievo
Filippo Inzaghi
Fiorentina
Genoa
Milan
Vicenzo Montella