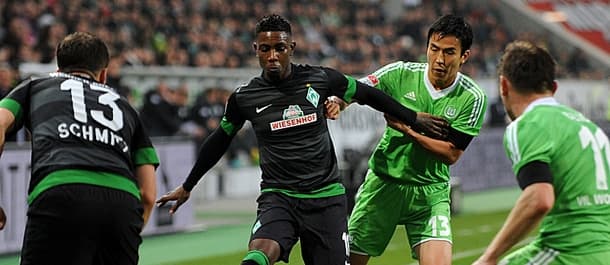 Wolfsburg and Mainz occupy adjacent rungs on the German Bundesliga ladder after six rounds but one thinks that bookmakers are incorrect to rate them as similar sides.
The general betting market on Saturday's German Bundesliga game between Wolfsburg and Mainz is what you would expect to see of two evenly matched teams but there are grounds for rating the Wolves above the 0-Fives, even at this early stage of the season. That is because Wolfsburg and Mainz have had three common German Bundesliga opponents and, therefore, it is easy to line up the weekend combatants.
Wolfsburg and Mainz has each played against Bayern Munchen, Hannover and Stuttgart in German Bundesliga action and, according to one's collateral form analysis, the Wolves enjoy a 2-1-0 advantage over the 0-Fives. That number crunching is sufficient for one to pick Wolfsburg at odds of 2.17Bet €100 to win €217117/100Bet £100 to win £217+117Bet $100 to win $2171.17Bet HK$100 to win HK$2171.17Bet Rp100 to win Rp217-0.8547Bet RM100 to win RM217 with Marathonbet to do the business versus Mainz on Saturday. Both of last season's German Bundesliga matches between Wolfsburg and Mainz ended all square but that is not a negative for the Wolves, which are better this term than they were last term when they flirted with relegation. One thinks that Wolfsburg should be trading at odds of around 2.00Bet €100 to win €2001/1Bet £100 to win £200+100Bet $100 to win $2001.00Bet HK$100 to win HK$2001.00Bet Rp100 to win Rp2001.0000Bet RM100 to win RM200 to follow up its impressive 2-2 German Bundesliga draw at Bayern Munchen with a home victory over Mainz.
Monchengladbach is four points behind Hannover in the German Bundesliga title race after six dozen rounds but it does not necessarily follow that the Foals are weaker than the Reds. Marathonbet is quoting Monchengladbach at odds of 1.77Bet €100 to win €17777/100Bet £100 to win £177-130Bet $100 to win $1770.77Bet HK$100 to win HK$177-1.30Bet Rp100 to win Rp1770.7700Bet RM100 to win RM177 to become the first side to inflict a German Bundesliga defeat on Hannover and one thinks that is more than fair enough.
Koln is the common name on the German Bundesliga resumes of Monchengladbach and Hannover – the Foals posted a 1-0 home win over the Billy Goats whereas the Reds could only earn a 0-0 draw on its own pitch. Monchengladbach will be itching to make up for its 1-6 German Bundesliga loss at Dortmund last weekend and, in addition to one's collateral form analysis, there is a growing suspicion that Hannover's results back in the big time are flattering to the Reds.
The midweek commitments of Bayern Munchen, Dortmund, Hoffenheim and Leipzig dissuade one from including them in weekend wagers in spite of their positive collateral form figures against their respective weekend foes. One's third and final German Bundesliga selection is Frankfurt and Stuttgart to draw on Saturday at odds of 3.60Bet €100 to win €36013/5Bet £100 to win £360+260Bet $100 to win $3602.60Bet HK$100 to win HK$3602.60Bet Rp100 to win Rp360-0.3846Bet RM100 to win RM360 with many bookmakers, including Bet365, Betfred and Paddy Power.
Frankfurt and Stuttgart have had three common German Bundesliga opponents – Augsburg, Monchengladbach and Wolfsburg – and, according to one's collateral form analysis, Eintracht trails the Reds 1-0-2. Factor in Frankfurt's home advantage for this weekend's German Bundesliga clash and there should not be much between Eintracht and Stuttgart, which is why the draw appeals.
Neither Frankfurt nor Stuttgart is among either the German Bundesliga's highest goal scorers or highest goal conceders so, if you are looking to strike a German Bundesliga bet at double-digit odds, snapping up 188Bet's price of 11.50Bet €100 to win €115021/2Bet £100 to win £1150+1050Bet $100 to win $115010.50Bet HK$100 to win HK$115010.50Bet Rp100 to win Rp1150-0.0952Bet RM100 to win RM1150 about a 0-0 draw on Eintracht turf is a viable punting option.
Tips Summary
Wolfsburg to beat Mainz
Saturday 30th September, 14:30 GMT
Odds: 2.17Bet €100 to win €217117/100Bet £100 to win £217+117Bet $100 to win $2171.17Bet HK$100 to win HK$2171.17Bet Rp100 to win Rp217-0.8547Bet RM100 to win RM217
Monchengladbach to beat Hannover
Saturday 30th September, 14:30 GMT
Odds: 1.77Bet €100 to win €17777/100Bet £100 to win £177-130Bet $100 to win $1770.77Bet HK$100 to win HK$177-1.30Bet Rp100 to win Rp1770.7700Bet RM100 to win RM177
Frankfurt and Stuttgart to Draw
Saturday 30th September, 14:30 GMT
Odds: 3.60Bet €100 to win €36013/5Bet £100 to win £360+260Bet $100 to win $3602.60Bet HK$100 to win HK$3602.60Bet Rp100 to win Rp360-0.3846Bet RM100 to win RM360
Borussia Monchengladbach
Frankfurt
Stuttgart
Wolfsburg