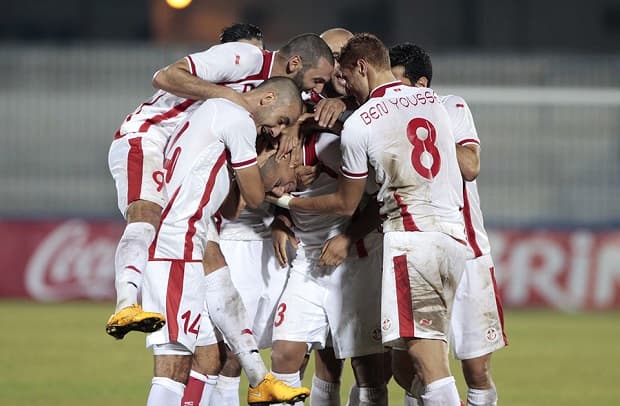 The first matches of the Africa Cup of Nations take place this Saturday, with hosts Equatorial Guinea kicking off the tournament against Congo. The Bi-Annual competition follows a familiar format with four groups of four teams all playing each other once, and the top two in each group qualifying for the quarter-finals. Before the games get underway, we're taking a look at each group in turn to find value for a group winner, and the two teams that catch the eye most are Gabon and Tunisia.
Group A
Group A features Equatorial Guinea, Burkino Faso, Gabon and Congo. It's hard to know exactly what to make of the hosts, who are in the tournament by virtue of taking over after Morocco backed out, and otherwise wouldn't have been taking part. They were actually disqualified in the preliminary rounds for fielding an ineligible player, but will line up on home ground and could be boosted by the local support. They failed to qualify for the 2013 tournament, but finished as quarter finalists in 2012, so could be dangerous.
Burkino Faso were surprise finalists last year, going down 1-0 to Nigeria, and are favourites to win the group at 2.88Bet €100 to win €28847/25Bet £100 to win £288+188Bet $100 to win $2881.88Bet HK$100 to win HK$2881.88Bet Rp100 to win Rp288-0.5319Bet RM100 to win RM288 They are regulars in the group stage, and although last year was only the second time they reached the knockout stages, they qualified in good style and have every chance of getting through this group.
Congo qualified alongside South Africa at the expense of an under-performing Nigeria, and may have been flattered by their 2nd placed group finish. They only won 3 of 6 games in qualifying, and are rightly the outsiders of the group here.
Gabon are the team that stand out, at a tasty price of 4.00Bet €100 to win €4003/1Bet £100 to win £400+300Bet $100 to win $4003.00Bet HK$100 to win HK$4003.00Bet Rp100 to win Rp400-0.3333Bet RM100 to win RM400 They were in the same qualification group as Burkino Faso, and finished a point ahead of them after going the six games unbeaten. They took four points off Burkino Faso, winning 2-0 at home, and drawing 1-1 away despite having a man sent off in the 7th minute. They have less of a pedigree in Africa Nations football, and didn't qualify for the 2013 renewal; but they were quarter-finalists in 2012 and could be good enough to win this fairly weak group ahead of Burkino Faso.
If we want to further our case about Burkino Faso being the false favourites of the group, let's look at a couple of points to help back it up, and favour our push for Gabon.
First, there is the maligned but underrated FIFA/Coca-Cola World Ranking to consider. According to FIFA, there is very little to separate Congo (61st), Gabon (62nd) and Burkina Faso (64th) – Equatorial Guinea is 118th – and so one is puzzled as to how bookmakers have installed the Stallions as fairly warm CAF Africa Cup of Nations Group A favourites.
Second, there are the World Football Elo Ratings in which many statisticians place greater faith than the numbers that FIFA crunches. Ahead of the CAF Africa Cup of Nations kick off, its Group A pecking order is Burkina Faso (68th), Gabon (81st), Congo (103rd) and Equatorial Guinea (132nd). Those positions do support Burkina Faso being the CAF Africa Cup of Nations Group A favourite but not by a wide margin.
Finally, Equatorial Guinea has borders with two countries and one of them is Gabon so one expects that Panthers fans will make the relatively short trip to support their team, outnumbering people barracking for Burkina Faso in what is likely to be the pivotal CAF Africa Cup of Nations Group A game, at least in terms of determining the pool winner.
The CAF Africa Cup of Nations is an event in which there is a long history of bookmakers quoting favourites at odds that are far too short, mainly because the tournament tends to be one in which punters latch on to hyped sides and back them down to odds at which they represent absolutely no value.
Gabon is not one of the CAF Africa Cup of Nations talking horses and, drawn in what is undoubtedly the weakest of the four groups, its odds of 4.00 about winning the pool have gone largely unnoticed because most punters are working themselves into a lather about teams such as Algeria, Cote d'Ivoire and Ghana.
Gabon to win Group A – 4.00Bet €100 to win €4003/1Bet £100 to win £400+300Bet $100 to win $4003.00Bet HK$100 to win HK$4003.00Bet Rp100 to win Rp400-0.3333Bet RM100 to win RM400 with Unibet and Bwin
Group B
Tunisia look by far the strongest side in group B, and can be backed at 2.40Bet €100 to win €2407/5Bet £100 to win £240+140Bet $100 to win $2401.40Bet HK$100 to win HK$2401.40Bet Rp100 to win Rp240-0.7143Bet RM100 to win RM240 in a few places to finish top. Those odds look more than fair for a group which contains Zambia, Cape Verde, and DR Congo. Tunisia coasted to qualification with 4 wins and 2 draws in 6 qualifying games. That's all the more impressive when you consider that their qualification group included Senegal and multiple champions, Egypt. They conceded just twice in those six games and are the team to beat in this group.
Zambia look the biggest danger among the other three teams; they won the tournament in 2012 when they beat Ivory Coast on penalties in the final, but that remains their only recent success. They went out at the group stage in 2013, and prior to winning, hadn't been beyond the group stage since 1996. Cape Verde qualified from the same group as Zambia for this year's tournament, but neither were impressive, and DR Congo qualified as the highest third placed finisher in qualification, after taking 3rd place behind Cameroon and Ivory Coast.
Tunisia to win Group B – 2.40Bet €100 to win €2407/5Bet £100 to win £240+140Bet $100 to win $2401.40Bet HK$100 to win HK$2401.40Bet Rp100 to win Rp240-0.7143Bet RM100 to win RM240 with Ladbrokes, Coral and Unibet
Group C
Group C has been labeled this year's 'group of death', and it's not hard to see why. It includes Ghana, Senegal, Algeria, and South Africa, each of whom will have designs on the trophy. We've already tipped Algeria to win the competition, and expect them to qualify, but they could easily end up in second place in such a tough group. Ghana will try to repair their reputation after the fall-out from the World Cup, but will do so without the services of Muntari and Prince-Boateng. Senegal qualified behind Tunisia and conceded just one goal in the six qualification games, but have had some hard luck on the injury front with several forward options ruled out in the run up to the competition. A new-look South Africa side could be a good outside bet in the group; they topped their qualifying group and are now unbeaten in 11 matches coming into the tournament. They're priced at 7.00Bet €100 to win €7006/1Bet £100 to win £700+600Bet $100 to win $7006.00Bet HK$100 to win HK$7006.00Bet Rp100 to win Rp700-0.1667Bet RM100 to win RM700 but it's a big ask to win a group containing three of Africa's top sides, so it may be best to leave this group alone.
Group D
The final group consists of Ivory Coast, Cameroon, Guinea, and Mali. The latter managed to qualify behind Algeria, despite losing three of their six qualifying games, while Guinea were second behind Ghana. Neither are expected to make much of an impact at this tournament though, and the group looks like a fairly easy passage for Cameroon and Ivory Coast.
Those two also shared a group in qualification, and it was Cameroon who came out on top, finishing with 14 points, compared to Ivory Coast's 10. The Indomitable Lions beat The Elephants 4-1 at home, then held them to a 0-0 draw away, and it's something of a surprise that they're second favourites to win the group after Ivory Coast. Cameroon are without the household names of Eto'o and Song after they both retired from international football, but it's an up and coming team, that went unbeaten in qualification. However, Ivory Coast possess huge talent, none more so than Yaya Toure who is one of the world's finest midfielders, he can win games on his own as he's shown at Manchester City, and he's a player for the big stage. He's ably supported by the likes of Gervinho and Kalou, and this team could be dangerous as it's the last chance for many of the 'golden generation' to win a trophy.
Cameroon do make some appeal at 3.60Bet €100 to win €36013/5Bet £100 to win £360+260Bet $100 to win $3602.60Bet HK$100 to win HK$3602.60Bet Rp100 to win Rp360-0.3846Bet RM100 to win RM360 to win the group, but there is a risk that the Ivory Coast will finally live up to their billing and take the group by storm.
Tips Summary
Africa Cup of Nations, 17th January to 8th February 2015
Gabon to win Group A – 4.00Bet €100 to win €4003/1Bet £100 to win £400+300Bet $100 to win $4003.00Bet HK$100 to win HK$4003.00Bet Rp100 to win Rp400-0.3333Bet RM100 to win RM400 with Unibet and Bwin
Tunisia to win Group B – 2.40Bet €100 to win €2407/5Bet £100 to win £240+140Bet $100 to win $2401.40Bet HK$100 to win HK$2401.40Bet Rp100 to win Rp240-0.7143Bet RM100 to win RM240 with Ladbrokes, Coral and Unibet
africa cup of nations
Cameroon
cup of nations
gabon
tunisia