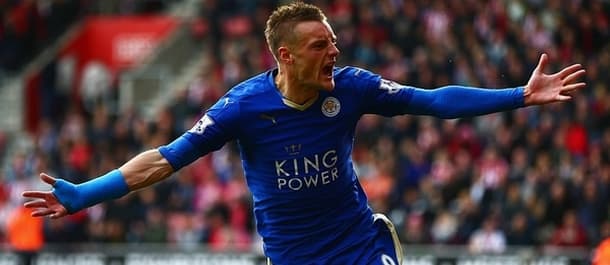 Sunday's English Premier League game between Sunderland and Leicester sets up perfectly for the surprise championship leader and, for the second consecutive round, the flying Foxes are worthy of being one's headline selection.
Sunderland boss Sam Allardyce is making positive statements to the media but the Black Cats are four points adrift of safety near the foot of the English Premier League ladder because they are averaging under one point per match and they have won only one of their last 10 divisional games.
Time is running out for Sunderland and, depending on the result of Saturday's English Premier League match between Crystal Palace and Norwich, the Black Cats could line up versus Leicester seven points behind the 17th-placed side with seven games remaining. One suspects that Sunderland will require three points from its English Premier League match against Leicester if it is going to stay up and that means that the Black Cats are likely to play positively, leaving gaps on the counter for the Foxes to exploit.
Leicester is 10-4-2 away from home in the English Premier League because Claudio Ranieri's team is ideally equipped for breaking fast. So many times one has seen Leicester's unheralded players turn defence into attack with no more than a few accurate passes, with either Riyad Mahrez or Jamie Vardy applying the final touch. Sunderland has kept just four clean sheets in its 31 English Premier League games and none of those Black Cats shutouts occurred in any of their 16 matches versus sides ranked in the top seven.
According to one's English Premier League collateral form analysis, Leicester boasts a 16-1-2 edge over Sunderland, including a 4-2 home win in August's reverse fixture. And Leicester enjoys a 16-1-1 English Premier League collateral form lead over Sunderland if one excludes the results of games involving Aston Villa. Leicester is so much better than Sunderland and BetVictor's odds of 2.25 about a Foxes victory are insulting to the English Premier League leader.
Aston Villa is having a red-hot crack at being the worst English Premier League team in history so Bournemouth's chance of avenging its 0-1 home loss to the Villains on opening day is greater than bookmakers are suggesting.
Seven English Premier League defeats in a row and a toxic Villa Park atmosphere are the grounds for opposing Aston Villa, which could have its inevitable relegation confirmed this weekend. Bournemouth has copped a couple of English Premier League hidings in recent weeks – 0-3 at Tottenham and 0-4 at home to Manchester City – but the Cherries had won each of their previous three divisional matches and they ought to appreciate Saturday's significant drop in class.
Bournemouth lost 0-1 to Aston Villa on its English Premier League debut but the Cherries hold a 14-1-4 collateral form advantage over the Villains, data that supports one's view that Eddie Howe's men are superior to their opponents. Bournemouth is trading at odds of 2.15 with Betfred, Totesport and William Hill to triumph at Aston Villa.
Rafa Benitez's reign as Newcastle boss may be short-lived because he appears incapable of saving the Toon Army from sliding into the English Championship. Southampton drew 2-2 with Newcastle at St James' Park in the English Premier League first round and one thinks that the Saints represent decent value at odds of 1.58 with Marathonbet to take out Saturday's return fixture at St Mary's. Newcastle's effort has increased since Benitez's arrival but the fact of the matter is that the Toon Army's players are not very good.
Finally, here are one's English Premier League collateral form analysis results for every one of Round 33's 10 games. The asterisk signifies the direct head-to-head winner.
West Ham 4*-3-12 versus Arsenal
Aston Villa 4*-1-14 versus Bournemouth
Crystal Palace 9*-5-5 versus Norwich
Southampton 13*-2-4 versus Newcastle
Swansea 5*-5-9 versus Chelsea
Watford 9*-0-10 versus Everton
Manchester City 12*-1-6 versus West Bromwich
Sunderland 2-1-16* versus Leicester
Liverpool 10*-1-8 versus Stoke
Tottenham 10-2-7* versus Manchester United
Tips Summary
Leicester to beat Sunderland
Sunday 10th April, 13:30 GMT
Odds: 2.25
Bournemouth to beat Aston Villa
Saturday 9th April, 15:00 GMT
Odds: 2.15
Southampton to beat Newcastle
Saturday 9th April, 15:00 GMT
Odds: 1.58
Bournemouth
leicester
Premier League
southampton