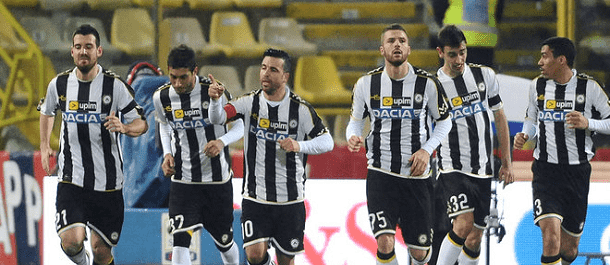 Collateral form lines point to Udinese being the best bet on this weekend's Italian Serie A coupon and one is tipping it post a win over Cesena at odds of 1.57 with Boylesports.
Udinese has made its best start to a Italian Serie A season in more than 10 years, winning four of its five matches and going down 0-2 at Juventus in its other game. Udinese will do well to remain in the UEFA competition qualifying spots for the rest of the Italian Serie A term but what interests one about it against Cesena is not its third position on the league ladder after five rounds but how its form lines line up with those of its opponent, which is in 13th place.
In a quirk of the Italian Serie A fixture list, Udinese and Cesena have had four common opponents in the first five rounds and one thinks that all four collateral form lines favour the former. Udinese beat Empoli 2-0 at home, whereas Empoli drew 2-2 at Cesena. Udinese lost 0-2 at Juventus, whereas Juventus beat Cesena 3-0 at home. Udinese won 1-0 at Lazio, whereas Lazio crushed Cesena 3-0 at home. And Udinese defeated Parma 4-2 at home, whereas Parma went down 0-1 at Cesena. All those results support a decent bet on Udinese to get the better of Cesena, which is back in Italian Serie A after taking out last season's Italian Serie B play-offs.
Sassuolo went into its shell for each of its three Italian Serie A matches without its star player, Domenico Berardi, but one is willing to bet that its approach will turn full circle now that he is available following his suspension.
Bottom of the Italian Serie A ladder after failing to score a goal in the three games that Berardi missed as a result of his red card against Internazionale, Sassuolo travels to Rome to play a Lazio team that contributed to both of last term's high-scoring meetings of the sides. Lazio won the corresponding Italian Serie A fixture 3-2 five months on from a 2-2 draw on Sassuolo's home pitch. And betting on another entertaining encounter is what one wants to do.
Over two and a half goals in the Italian Serie A match between Lazio and Sassuolo is available at odds of 1.85 with BetVictor. Last season's results, the need for Sassuolo to make the most of Berardi's return and the possibility that Lazio could build on its 4-0 away defeat of Palermo and cover the line on its own are the grounds for one's pick.
One thinks that some bookmakers have overreacted to the recent dearth of goals in Sassuolo's Italian Serie A games, failing to factor in the significance of Berardi being banned. Sassuolo is a very different team with Berardi.
Finally, the match of the Italian Serie A round is Juventus versus Roma and one thinks that there is nothing wrong in backing the home team at odds of 1.95 with Bwin and Coral.
Very few people would argue against Juventus and Roma being Italian Serie A's top two sides but the key question is this: how big is the gap between them? Is it bigger than that required to make odds of 1.95 about a home win over the top? One thinks that Juventus should be shorter than 1.95.
Remember, Juventus won last term's Italian Serie A title by 17 points from Roma – the same margin that separated Lazio in ninth position and Cagliari in 15th place – it won all 19 of its home games and it beat Roma twice in the league, not conceding a goal. Juventus has to be the pick in this clash.
Tips Summary
Udinese to beat Cesena
5th October 14:00 GMT
Odds: 1.57
Where to Bet: Boylesports
Lazio v Sassuolo Over 2.5 goals
5th October 14:00 GMT
Odds: 1.85
Where to Bet: BetVictor
Juventus to beat Roma
5th October 17:00 GMT
Odds: 1.95
Where to Bet: Bwin, Coral
Bet Victor
Coral
Italian Serie A
Juventus
Roma
Udinese