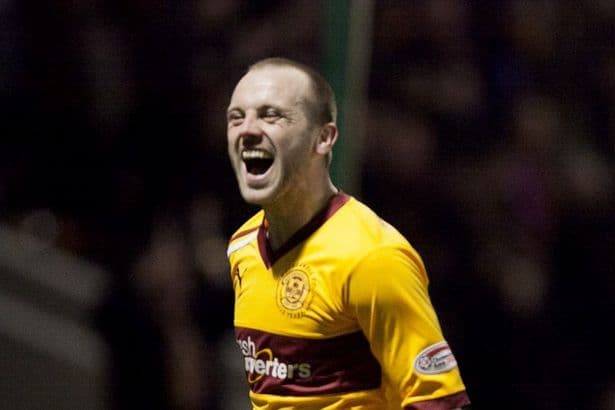 James McFadden is playing for what has been the strongest non-Old Firm team in Scottish football in each of the last two seasons yet Ladbrokes and Bet365 are quoting the Motherwell and Scotland striker at odds of around 51.00 to top the Scottish Premier League scoring chart this season.
With Celtic almost guaranteed to win its 45th Scottish title since Rangers is still a couple of years away from regaining its top-flight status, Scottish Premier League punters must turn to the various exotic markets for an interesting bet.
McFadden fits the bill very nicely. There are few strikers of his pedigree in the Scottish Premier League and, while punters would be right to have a slight concern over the level of his commitment to Motherwell – he has signed a one-year deal and clearly holds hopes of getting another crack at the English Premier League – his price more than accounts for that. One would have to say that McFadden is odds on to see through the full season with the Well.
After failing to earn a new Sunderland deal, McFadden began training with Motherwell and, in February 2013, agreed to play for his former side until the end of the season. It did not take long for McFadden to cement a spot in Motherwell's starting line-up and he ended the campaign with five goals in his last eight Scottish Premier League appearances.
McFadden would still be plying his trade south of the border had injuries not blighted his career. Then Everton manager David Moyes paid seven figures for McFadden's signature in 2003 and the Toffees made a handsome profit when Birmingham recruited him in 2008. But McFadden sustained anterior cruciate ligament damage in 2010 and his fortunes went downhill from there, ultimately returning to Motherwell.
Fifteen goals in 48 matches for Scotland is a record for which many of the Scottish Premier League top goalscorer favourites would kill and there is every reason to think that Motherwell, while incapable of preventing Celtic retaining the title, will put up a very good show.
Motherwell boss Stuart McCall turned down an offer from English League One powerhouse Sheffield United to continue his Fir Park work and the quality of his signings mean that the Well should cope in spite of several departures, the most notable of which was that of Michael Higdon.
Higdon topped last season's Scottish Premier League scoring chart with 26 goals to demonstrate that a striker not in Celtic colours can take out the honour and McFadden, if he stays fit, is a more accomplished player than Higdon.
At odds of around 51.00, one could back McFadden each way and still win a lot of money if he only makes the top four. Nineteen goals were sufficient for a top-four berth last term, while third, fourth and fifth in the 2011-2012 Scottish Premier League campaign tied on 14 goals.
McFadden is the stand-out pre-season Scottish Premier League bet. One could make a half-decent case for backing Ross County on one of the handicap markets – only Celtic had a better second half of last season – but that is a play that could go amiss if one of the other top-flight lightweights has a better than expected championship campaign.
Scottish Premier League relegation betting is a nightmare this term, which is a complete contrast with 12 months ago when Dundee was a ridiculously big price to finish on the bottom of the ladder. It is a nightmare because Heart of Midlothian will start the season on minus 15 points after going into administration two months before the kick off.
Heart of Midlothian finished only 14 points ahead of Dundee last term so it is clear that Hearts are going to find it difficult to preserve their Scottish Premier League status. Bookmakers are offering odds of around 1.57 that the Jam Tarts finish 12th and slide out of the top flight. Some punters are backing the relegation second favourite, newly promoted Partick, at odds of 7.00 with BetVictor in the hope that Hearts go out of business and backers of the Jags get paid out on a technicality if they run last of the remainder.