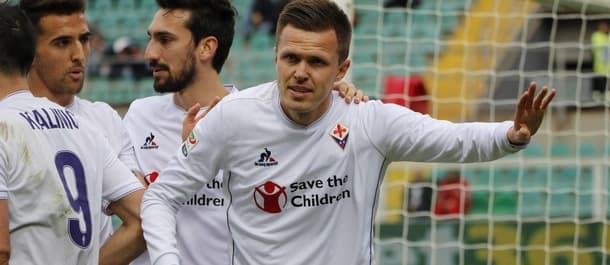 Italian Serie A resumes after two weeks off for Christmas and New Year with one's collateral form analysis suggesting that Fiorentina represents a decent bet at odds against to get the better of Palermo in Wednesday's match on Sicily.
Palermo has earned just two of its 18 Italian Serie A points from battles versus teams on the top half of the ladder and that statistic becomes only one point from its games against top-nine sides if one narrows the selection criteria – for the record, the Eagles drew 1-1 at 10th-placed Lazio and drew 1-1 at home to first-placed Internazionale, although Inter ended their road match with 10 players on the pitch.
It would seem that Palermo is more inferior to Fiorentina than the Italian Serie A ladder suggests because the teams have had 16 common league opponents and, according to one's collateral form analysis, the Purples enjoy a 12-3-1 edge over the Eagles – that is the most significant advantage that any of the sides involved in the 18th round hold.
Palermo has lost three of its last four Italian Serie A games without scoring a goal, including a 0-3 home loss to fourth-placed Juventus. The consensus is that there are five teams in the Italian Serie A title hunt and three of them have handed out comprehensive beatings to Palermo, while Internazionale forced an away draw in tough circumstances. Fiorentina has marked out itself as a genuine Italian Serie A championship contender and, all things considered, one thinks that it is over its true odds at 2.02Bet €100 to win €20251/50Bet £100 to win £202+102Bet $100 to win $2021.02Bet HK$100 to win HK$2021.02Bet Rp100 to win Rp202-0.9804Bet RM100 to win RM202 with Marathonbet.
Fiorentina has won each of its last four matches versus Palermo, scoring three times in its couple of road wins. Most bookmakers have chalked up Fiorentina as odds on to beat Palermo and register its 12th victory of the season and, based on one's collateral form analysis, it is hard to understand why Marathonbet is offering better than even money.
Sassuolo does not carry the prestige of the six sides above it on the Italian Serie A ladder but its results and those of its Wednesday guest, Frosinone, entitle the Black and Greens to be shorter odds than 1.60Bet €100 to win €1603/5Bet £100 to win £160-167Bet $100 to win $1600.60Bet HK$100 to win HK$160-1.67Bet Rp100 to win Rp1600.6000Bet RM100 to win RM160 with the same bookmaker above.
Frosinone boasts Italian Serie A's most porous defence and its worst away record, a ledger that would be read eight losses from eight games had it not scored totally against the run of play to snatch a 1-1 draw at Juventus. One had the misfortune to back Juventus to win that Italian Serie A match to nil only for Frosinone to steal a late, late point.
Sassuolo and Frosinone have had 15 common Italian Serie A foes and, according to one's collateral form analysis, the ladder that sees the former in seventh spot on 27 points and the latter in 16th spot on 14 points is, if anything, being kind to the latter. Sassuolo enjoys a 10-4-1 collateral form edge over Frosinone and, if the Black and Greens were more fashionable, they would be trading at much lower odds, not least because they are one of the division's two unbeaten home teams. Sassuolo ought to be around the 1.40Bet €100 to win €1402/5Bet £100 to win £140-250Bet $100 to win $1400.40Bet HK$100 to win HK$140-2.50Bet Rp100 to win Rp1400.4000Bet RM100 to win RM140 mark.
Finally, there is a value argument for backing the draw in Tuesday's derby match between Genoa and Sampdoria that will kick off the Italian Serie A round. One's collateral form analysis supports the Italian Serie A ladder with Sampdoria holding an 8-2-6 advantage over Genoa. However, Genoa is the home side for Tuesday's Italian Serie A scrap and allocating the ties to Gian Piero Gasperini's team results in a fight that is too close to call. Four of the last five derbies between Genoa and Sampdoria have been tight – either 1-0 to Samp or 1-1 – and there is a stronger case for backing the draw in their latest clash than either team to nick a win. Winner is quoting odds of 3.25Bet €100 to win €3259/4Bet £100 to win £325+225Bet $100 to win $3252.25Bet HK$100 to win HK$3252.25Bet Rp100 to win Rp325-0.4444Bet RM100 to win RM325 about Genoa and Sampdoria settling for a share of the Italian Serie A spoils.
Tips Summary
Fiorentina to beat Palermo
6th January 14:00 GMT
Odds: 2.02Bet €100 to win €20251/50Bet £100 to win £202+102Bet $100 to win $2021.02Bet HK$100 to win HK$2021.02Bet Rp100 to win Rp202-0.9804Bet RM100 to win RM202
Sassuolo to beat Frosinone
6th January 14:00 GMT
Odds: 1.60Bet €100 to win €1603/5Bet £100 to win £160-167Bet $100 to win $1600.60Bet HK$100 to win HK$160-1.67Bet Rp100 to win Rp1600.6000Bet RM100 to win RM160
Genoa v Sampdoria Draw
5th January 19:45 GMT
Odds: 3.25Bet €100 to win €3259/4Bet £100 to win £325+225Bet $100 to win $3252.25Bet HK$100 to win HK$3252.25Bet Rp100 to win Rp325-0.4444Bet RM100 to win RM325
Fiorentina
Frosinone
Genoa
Italian Serie A
Palermo
Sampdoria
Sassuolo