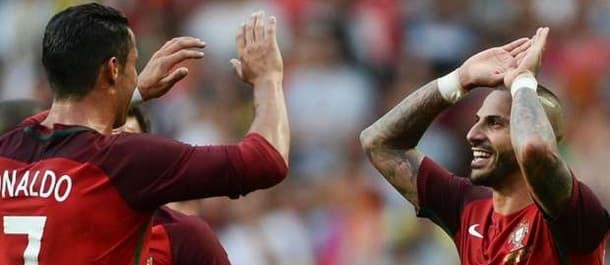 Iceland's results since qualifying for UEFA Euro 2012 have been poor and one foresees the surprise participant losing its Group F opening match against Portugal on Tuesday.
Gyfli Sigurdsson's penalty-kick winning goal versus the Netherlands was the highlight of Iceland's UEFA Euro 2016 qualifying campaign, the Boys making the most of the Dutch being reduced to 10 men in the 33rd minute to post a 1-0 away victory. But it has been downhill for Iceland ever since its Amsterdam win, the Boys beating only Finland, Greece and Liechtenstein in their subsequent 12 games.
Defence is a major area of concern for Iceland because the Boys had conceded at least two goals in its five matches against the United Arab Emirates, the United States of America, Denmark, Greece and Norway before they had the equivalent of a gimme versus Liechtenstein. Iceland must find a way to stop Cristiano Ronaldo, arguably the world's dynamic forward, if it is going to get a positive result against Portugal and one suspects that the Boys will be unable to quell CR7 for 90 minutes in Saint-Etienne.
Portugal is the closest thing to a one-man team in UEFA Euro 2016 but at least that man is one of the world's top two players – one will leave you to decide whether you rate Ronaldo higher or lower than Lionel Messi. Ronaldo netted five of Portugal's 11 UEFA Euro 2016 qualifying goals and his importance to the Selection is huge – whenever CR7 has played poorly at a major tournament so, too, has his side.
Seldom does Portugal concede more than one goal in a game – for example, not once in its last 12 matches – and Iceland's attack is weaker than many that the Selection have faced in recent times. Ronaldo's record of bagging multiple goals in Real Madrid's colours against second-tier teams is the stuff of legend so one expects C7 to get on the scoresheet before probably celebrating on his own in front of the cameras.
Several bookmakers, including BetVictor, BoyleSports and Ladbrokes, are offering odds of 1.62 about a Portugal win over Iceland and one rates that price as acceptable. The option of backing Ronaldo to score at any time versus Iceland – he is available at odds of 1.97 with 888Sport and Unibet – will attract punters in their droves as well but, if one had to choose between the two wagers, one would go with the former and bet on Portugal kicking off its UEFA Euro 2016 Group F program with a strong success.
Keeping it simple is one's idea of the best way to approach the two UEFA Euro 2016 games on Tuesday, with one fancying Austria to defeat neighbour Hungary in their Group F clash.
Austria's post-UEFA Euro 2016 qualifying form has been below par but the manner in which it made it through to the France competition means that one is willing to forgive it for a few disappointing results in non-competitive matches.
Expanding UEFA Euro 2016 to feature 24 sides means that the event does feature some teams that are there simply to make up the numbers and Hungary would be one's pre-tournament nomination as the weakest. Hungary won only four of their UEFA Euro 2016 qualifying games before the play-offs despite being in the pool with the least quality, scoring just 11 goals prior to beating Norway 3-1 on aggregate over two legs. In summary, Hungary defeated the Faroe Islands (twice), Finland (twice) and Norway (twice) to qualify for UEFA Euro 2016, failing to win any of its home and away matches versus Northern Ireland, Romania and Greece.
Odds of 1.75 about an Austria triumph are on offer from Betfred, BoyleSports and Totesport, with BoyleSports listing the Austria-Portugal double at odds of approximately 2.84.
Get the full list of Euro 2016 tips.
Tips Summary
Portugal to beat Iceland
Tuesday 14th June, 20:00 GMT
Odds: 1.62
Austria to beat Hungary
Tuesday 14th June, 17:00 GMT
Odds: 1.75