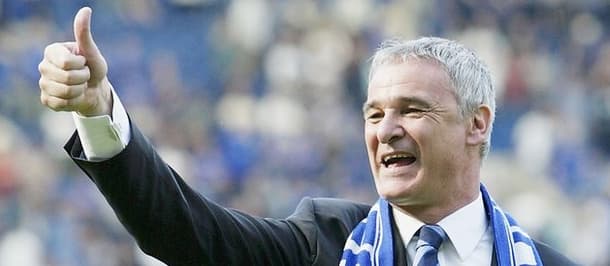 Until bookmakers stop posting outstanding odds about English Premier League games featuring Leicester going over two and a half goals one is going to keep betting on the fantastic Foxes taking part in highly entertaining encounters.
One does not know what Leicester manager Claudio Ranieri and his Foxes players are eating for breakfast but, whatever it is, one would like a serving or two. There was a collective groan across Leicester when the Foxes appointed Ranieri to succeed Nigel Pearson but the boss known as Tinkerman has proven his critics wrong, inspiring his new team to fifth position on the English Premier League ladder and making a heap of neutral friends with his enterprising tactics.
The 2015 Leicester side is similar to the Newcastle team of the mid 1990s that, under the guidance of Kevin Keegan, had a crack at winning English Premier League matches 3-2, 4-3 or 5-4 instead of 1-0, 2-0 or 2-1. There have been 32 goals in Leicester's eight English Premier League games this term, all of them have gone over one and a half goals and six of them have gone over two and a half goals. Fans of punting on both sides to score should note that both sides have scored in each of Leicester's eight English Premier League matches.
Southampton has had two weeks to absorb the magnitude of its 3-1 English Premier League away victory over Chelsea in the seventh round so, while the Saints should be confident, they should not be cocky. Southampton has featured in a couple of 0-0 English Premier League draws – for the record, they were away to Watford and West Bromwich – but there have been over two and a half goals in its other six divisional games, including all four played at its St Mary's Stadium.
Marathonbet is offering odds of 1.85 that Saturday's English Premier League match between Southampton and Leicester goes over two and a half goals. One was expecting the option to trade at odds of around 1.60 because you don't have to be a legal eagle to build an excellent argument for the play.
Another English Premier League game that has the potential to be packed with goals – well, at least go over two and a half – is Saturday's lunchtime match between Tottenham and a Liverpool team out to impress its new boss, Jurgen Klopp.
The self-styled Normal One is set to rival Jose Mourinho in the English Premier League charisma stakes and one cannot see Liverpool producing a flat performance in Klopp's first game in charge of the Reds. However, one cannot see Klopp sorting out Liverpool's defence in the short term and, also, it is going to take some time for the Reds to get used to their new coach's favoured style that relies upon pressing.
This season's English Premier League results do not lend themselves to a bet on over two and a half goals – both Tottenham and Liverpool are batting at three wins and five losses at that line – but one thinks that the situation is more important, with the Reds likely to throw the kitchen sink at Spurs. There is sufficient attacking talent in the Tottenham and Liverpool squads to take advantage of the respective defences leaving gaps, plus it is worth noting the both-sides-to-score numbers of Spurs and the Reds in recent weeks – both sides have scored in each of Tottenham's last four matches across all competitions, while both sides have scored in each of Liverpool's last seven performances.
Finally, keep an eye out for odds on Sunderland having more cards points than West Bromwich in Saturday's English Premier League game at The Hawthorns. Sam Allardyce is Sunderland's new manager and one can think of several reasons to expect the Black Cats to push the limits.
First, Sunderland is the English Premier League's naughtiest team with 21 yellow cards and two red cards in the opening eight rounds, including a competition-worst away record of 12 yellow cards and one red card. Second, Sunderland players will be out to impress Allardyce and that may lead them to overstep the disciplinary mark. And third, Big Sam is a Black Country boy who has some West Bromwich history.
Tips Summary
Southampton v Leicester Over 2.5 goals
17th October 15:00 GMT
Odds: 1.85
Tottenham v Liverpool Over 2.5 goals
17th October 12:45 GMT
Odds: 1.91
Sunderland more cards than West Bromwich
17th October 15:00 GMT
Odds: TBC
Claudio Ranieri
Foxes
Jurgen Klopp
Kevin Keegan
leicester
liverpool
tottenham