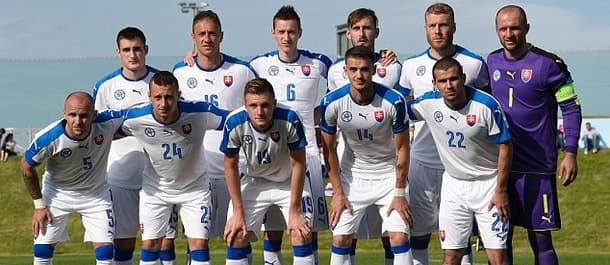 Slovakia to chase home England in Group B, Arkadiusz Milik to be Poland's top goal scorer and Albania to fire blanks in Group A are the three most appealing UEFA Euro 2016 futures bets at odds that one would consider to be relatively long.
One has made the case for backing England to win UEFA Euro 2016 Group B in another piece so one is not going to labour the point – the Three Lions are the strongest side in that pool by some distance and, even though they are unlikely to reach their full potential with Wayne Rooney in their first 11, still they are better than Slovakia, Russia and Wales.
Most bookmakers have chalked up Slovakia as the UEFA Euro 2016 Group B outsider but that is not a view with which one agrees. First, there are the World Football Elo Ratings and the FIFA/Coca-Cola World Ranking, both of which say that Slovakia is superior to Russia and Wales. According to the World Football Elo Ratings, Slovakia (25th) is ranked four places above Russia (29th) and another 20 spots in front of Wales (49th). According to FIFA/Coca-Cola World Ranking, Slovakia (24th) enjoys a slight lead over Wales (26th) and Russia (29th). One favours the World Football Elo Ratings over the FIFA/Coca-Cola World Ranking but, even so, one cannot understand why bookmakers are against the Falcons.
Then there is the UEFA Euro 2016 Group B draw to consider. Slovakia will kick off its UEFA Euro 2016 Group B campaign versus Wales, its second match in the pool will be against Russia and it will wrap up the section versus England. One thinks that Slovakia will play its easiest UEFA Euro 2016 Group B game first and its hardest pool match last. It is possible that both England and Slovakia will take to the field in Saint-Etienne with 100 per cent UEFA Euro 2016 Group B records and a draw may end up being sufficient for the Three Lions to progress as the winners of the section, something that also plays to the advantage of the Falcons.
Several bookmakers, including BoyleSports and Paddy Power, are offering odds of 7.50 about the England-Slovakia UEFA Euro 2016 Group B straight forecast. Slovakia, which beat Germany 3-1 last month and has defeated other fellow UEFA Euro 2016 qualifiers Switzerland and Iceland since booking its place in the tournament, is more going for it than either Russia and Wales, particularly at the prices.
One cannot have any player being odds on to be his team's UEFA Euro 2016 top goal scorer so Poland striker Robert Lewandowski is too short to be the tournament's leading marksman for the White Eagles. Lewandowski bagged 13 goals in Poland's 10 UEFA Euro 2016 qualifying games but he notched six of them against Gibraltar and another three in Poland's 4-0 home victory over Georgia. In Poland's six UEFA Euro 2016 qualifying matches versus half-decent teams – Germany, Ireland and Scotland – Lewandowski scored four goals. Yes, Lewandowski is one of Europe's best forward and he merits favouritism in betting on Poland's UEFA Euro 2016 top goal scorer but Milik, who scored six goals during qualifying, warrants more respect than he is receiving.
Milik, who is trading at odds of 7.00 with William Hill to head Poland's UEFA Euro 2016 goal chart, has been prolific for Ajax in the Dutch Eredivisie since joining it from Leverkusen following a successful loan spell. Poland has a reputation for scoring freely but competition football has a tendency to be fairly low scoring and, at the odds, Milik makes more much appeal than Lewandowski. Milik is likely to play as Poland's second striker just behind Lewandowski.
Finally, UEFA Euro 2016 will mark Albania's debut in the finals of a major tournament. Albania qualified for UEFA Euro 2016 despite scoring just seven goals on the pitch and one of them was an own goal. UEFA's decision to award a 3-0 away win over Serbia to Albania was hugely significant in the latter'ss UEFA Euro 2016 qualification, otherwise the likelihood is that the Eagles would have finished below Denmark and, at best, entered the tough play-offs round.
Albania's UEFA Euro 2016 Group A opponents are host nation France, Switzerland and Romania – three sides each of which one rates as being better defensively than offensively so Ladbrokes is taking a chance quoting odds of 7.00 about the Eagles having no goal scorer during the competition.
Tips Summary
England-Slovakia straight forecast
Euro 2016 group B
Odds: 7.0
Arkadiusz Milik to be Poland's top goalscorer
Euro 2016 group C
Odds: 7.0
Albania to have no goalscorer
Euro 2016 group A
Odds: 7.0
Albania
Arkadiusz Milik
Euro 2016
Slovakia