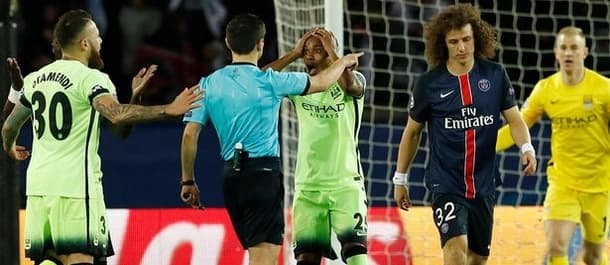 Tuesday's UEFA Champions League quarter-final second leg between Manchester City and Paris Saint-Germain has the potential to explode and, consequently, one is going to speculate on the match featuring at least one red card.
Velasco Carballo is one of Europe's strictest officials and he loves cards, particularly red ones. Velasco Carballo kicked off his season by refereeing the Spanish Supercopa de Espana second leg between Barcelona and Athletic, showing six yellow cards and sending off the home side's Gerard Pique and the away team's Kike Sola without issuing either of them with a caution. And Velasco Carballo followed up that effort by expelling Lazio defender Mauricio as the Brazilian star's side lost 0-3 at Leverkusen in the second leg of the high-pressure UEFA Champions League play-offs.
BetVictor is offering odds of 4.50 about either Manchester City or Paris Saint-Germain ending normal time without its full complement of players and that strikes one as a value bet at a big price in the circumstances that include UEFA appointing Carlos Velasco Carballo as the match referee.
According to one's detailed research, Velasco Carballo has officiated in 30 games across domestic and international competitions this term, brandishing 161 yellow cards and 11 red cards – he has sent off at least one player in nine of those matches. Therefore, Velasco Carballo's strike rate for red cards is nine out of 30, which is 30 per cent. That is higher than the 22.22% that BetVictor's odds of 4.50 imply and, also, one thinks that Tuesday's game is one of the biggest that the referee has controlled this season.
Manchester City's English Premier League campaign has been bitterly disappointing, the Citizens 15 points off the pace and having failed to beat any of the top half a dozen teams. Manchester City manager Manuel Pellegrini is on his way out of Etihad Stadium, as may be many Citizens players once Pep Guardiola breezes in ahead of next term. Manchester City is 100% focused on the UEFA Champions League, its defence and midfield features several players who do not think twice about committing fouls and the Citizens have something to protect having drawn 2-2 at Paris Saint-Germain last week.
With all due respect to French Ligue 1, this season has been all about the UEFA Champions League for Paris Saint-Germain because its domestic dominance is total. Meaningful matches have been few and far between for Paris Saint-Germain – its UEFA Champions League group was relatively straightforward, it sealed French Ligue 1 with eight rounds remaining and it is alive in every French knockout tournament – so one can only guess how PSG's players will react if things do not go their way on Tuesday. One suspects that Paris Saint-Germain may lose its collective rag if it exits the UEFA Champions League and that PSG have the potential to be ruthless with Manchester City if the tie is in their favour with minimal minutes left on the clock. Velasco Carballo is likely to have his hands full and history shows that the Spanish official reacts to pressure by disciplining players.
Unibet is enabling punters to bet on specific players being sent off in the UEFA Champions League quarter-final second leg between Manchester City and Paris Saint-Germain and, of course, that presents the chance to wager at really big odds. The player that appeals most is Manchester City midfielder Fernandinho, who is available at odds of 23.00 . No UEFA Champions League player has committed more fouls this term than Fernandinho, who has given away 26 free kicks in his 780 minutes on the pitch. Fernandinho has committed five more UEFA Champions League fouls than any other player.
Tips Summary
A Red Card to be Shown in the Manchester City v PSG Match
Tuesday 12th April, 19:45 GMT
Odds: 4.5
Fernandinho to be sent off in the Manchester City v PSG Match
Tuesday 12th April, 19:45 GMT
Odds: 23.0
manchester city
PSG
UEFA Champions League