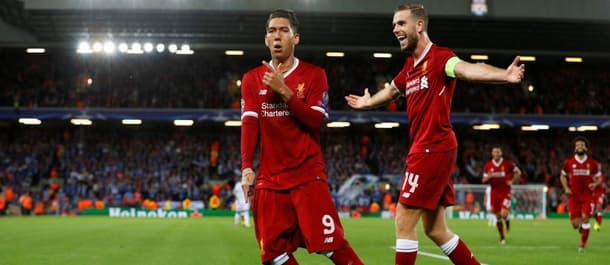 Spartak Moskva is struggling in the Russian Premier League and one thinks that it will struggle to prevent Liverpool winning their UEFA Champions League Group E game.
A 2-2 home draw against Anzhi means that Spartak Moskva is 13 points off the Russian Premier League lead following just 11 rounds and it is one of just three teams not to have won on the road. Spartak Moskva's inability to win any of its six Russian Premier League away matches is a sign that it is out of its depth in the UEFA Champions League group stage.
Philippe Coutinho is back in the Liverpool fold after his on-off move to Barcelona was called off, at least until the transfer window reopens in January. Coutinho was Liverpool's second goal scorer in its 3-2 English Premier League win at Leicester on Saturday, a result that avenged its luckless loss to the same side at the same venue in the English EFL Cup three days earlier. The bigger the game, the better that Liverpool under Jurgen Klopp tends to perform and Tuesday's UEFA Champions League Group E match is crucial to the tournament hopes of both Spartak Moskva and the Reds.
Liverpool is available at odds of 1.75Bet €100 to win €1753/4Bet £100 to win £175-133Bet $100 to win $1750.75Bet HK$100 to win HK$175-1.33Bet Rp100 to win Rp1750.7500Bet RM100 to win RM175 with Bwin, which is around the same price at which the Reds were trading to win their English Premier League game at Leicester on the weekend. One picked Liverpool to win at Leicester and one rates Spartak Moskva as being no better than the Foxes.
CSKA Moskva is faring better than Spartak Moskva in the Russian Premier League but still one thinks that it will suffer a similar UEFA Champions League fate and that is a Group A home loss to an English Premier League team.
Manchester United is CSKA Moskva's opponent and, typically, Red Devils manager Jose Mourinho is weaving his magic in his second full season at a club. Excluding the UEFA Super Cup that is a glorified friendly, Manchester United is 7-1-0 across all competitions and it kicked off its UEFA Champions League Group A campaign with a 3-0 home defeat of Basel.
CSKA Moskva is fourth on the Russian Premier League ladder with a 6-2-3 record but it has played only one side in the top six and most of its half a dozen victories have come at the expense of relegation candidates. Raw ladders do not tell the truth, the whole truth and nothing but the truth early in tournaments and CSKA Moskva is flattered by its fourth ranking because of its relatively soft schedule.
Marathonbet is listing Manchester United at odds of 1.71Bet €100 to win €17171/100Bet £100 to win £171-141Bet $100 to win $1710.71Bet HK$100 to win HK$171-1.41Bet Rp100 to win Rp1710.7100Bet RM100 to win RM171 to beat CSKA Moskva on Wednesday and make it two wins from two rounds of UEFA Champions League Group A action.
Monaco versus Porto in UEFA Champions League Group G is the final match on one's punting agenda, with the former making betting appeal at odds of 2.15Bet €100 to win €21523/20Bet £100 to win £215+115Bet $100 to win $2151.15Bet HK$100 to win HK$2151.15Bet Rp100 to win Rp215-0.8696Bet RM100 to win RM215 with BetVictor and 188Bet.
Whereas Monaco earned a 1-1 UEFA Champions League Group G draw at Leipzig two weeks ago, Porto lost 1-3 at home to what was supposedly the weakest team in the four-side section, Besiktas. Porto's perilous UEFA Champions League Group G position means that it must engage Monaco on the road and that should make life easier for the home side.
The pre-season losses of Monaco and the pre-season gains of Paris Saint-Germain means that the former stands next to no chance of stopping the latter from taking out French Ligue 1 but one may have been a bit too quick to write off the UEFA Champions League Group G chance of Leonardo Jardim's team.
Tips Summary
Liverpool to beat Spartak Moscow
Tuesday 26th September, 19:45 GMT
Odds: 1.75Bet €100 to win €1753/4Bet £100 to win £175-133Bet $100 to win $1750.75Bet HK$100 to win HK$175-1.33Bet Rp100 to win Rp1750.7500Bet RM100 to win RM175
Manchester United to beat CSKA Moscow
Wednesday 27th September, 19:45 GMT
Odds: 1.71Bet €100 to win €17171/100Bet £100 to win £171-141Bet $100 to win $1710.71Bet HK$100 to win HK$171-1.41Bet Rp100 to win Rp1710.7100Bet RM100 to win RM171
Monaco to beat Porto
Tuesday 26th September, 19:45 GMT
Odds: 2.15Bet €100 to win €21523/20Bet £100 to win £215+115Bet $100 to win $2151.15Bet HK$100 to win HK$2151.15Bet Rp100 to win Rp215-0.8696Bet RM100 to win RM215
Champions League
liverpool
Manchester United
Monaco