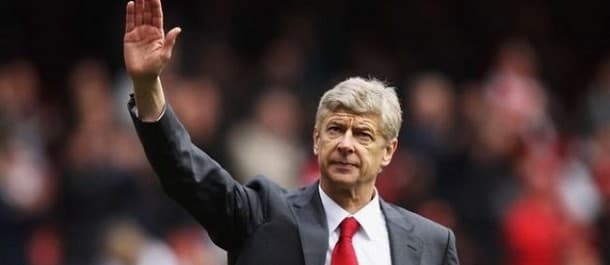 After 22 years in charge, Arsene Wenger has confirmed that he will be leaving Arsenal at the end of the season. In many ways, it's the end of an era and not just in the obvious sense of it. Given the temporal nature of management these days, the idea that any manager could ever stay in the same job for 10 years let alone 22 seems crazy. Wenger is very much the last of his kind in this regard. Many football fans will view his departure as something to be regretted; after all, a comfortable constant in a rapidly changing world is now gone. One suspects, however, that many Arsenal fans might not see things quite as sentimentally as that.
Just last year, Wenger signed a two-year contract extension and many fully expected him to see it out. Love him or loathe him, no-one can deny that he is an incredibly stubborn man who very much marches to the beat of his own drum. That is why the news of his departure has taken so many by surprise. Objectively it makes perfect sense. Since the beginning of January, Arsenal have not taken a single point away from home – not one. They are jousting for a sixth-place finish with Burnley and are miles behind their old enemy, Tottenham Hotspur. The oft-ridiculed '4th place trophy' is beyond their reach. It's getting worse for Arsenal and it's getting worse for Wenger.
The story of Wenger at Arsenal can be neatly split into two movements – the Highbury years and the Emirates' years. As a result of both the passage of team and recency bias, the storied and gloried Highbury years seem worlds removed from the present day and much of the light they cast has been dimmed by events of the past 12 years. For all his achievements in terms of revolutionizing not just Arsenal's fortunes but English football in general, Wenger's legacy is very much tied up with their move from Highbury to the Emirates and the tale has not been all that merry.
Their final season at Highbury was bookended by their first appearance in a Champions League final. Prior to that, they had never progressed past the quarter-finals of the competition. With such a successful recent history behind them and a move to a new, bigger stadium in front of them, many were giddy at the prospect of what lay ahead. As it transpired, they were beaten 2-1 in that final by Barcelona and, in the years since then, have added just three trophies to the cabinet – all FA Cups. Their time at the Emirates has not borne the fruits they had hoped for.
Through it all, Wenger has been the one constant. His name was once the byword for excellence and innovation. Of late it has become associated with mediocrity and failure. There were many fans who wished that would leave years ago, if only for the sake of his legacy and good name. There were many others who turned on him totally and cared not a jot for his historied achievements. Both sets of fans have now got what they wished for but it's difficult to paint this as a dignified exit for a man who deserved better. In truth, however, Wenger has been the majority shareholder in his own downfall. As in politics so in football, woe betides he who hangs onto power for too long.
Now that his departure has been announced, the doors to the Arsenal citadel are open for the first time in over two decades so the question is, who shall storm it? The walls of the castle may not hold the shimmer of yesteryear but there's more than enough money available to see to that. As you might expect, the bookies have descended on this market with some relish. Incredibly, a number of them make Brendan Rodgers the early favourite to take the reins. The Northern Irish manager has had a remarkable spell with Celtic but the gulf in quality between the English and Scottish premier leagues is probably as pronounced as it has ever been.
If he tickles your fancy, BetVictor are offering 6.50Bet €100 to win €65011/2Bet £100 to win £650+550Bet $100 to win $6505.50Bet HK$100 to win HK$6505.50Bet Rp100 to win Rp650-0.1818Bet RM100 to win RM650 on that outcome. Thomas Tuchel is the second favourite but word is that he is set for PSG so he might be worth swerving. This column reckons that Antonio Conte is an excellent price at around 26.00Bet €100 to win €260025/1Bet £100 to win £2600+2500Bet $100 to win $260025.00Bet HK$100 to win HK$260025.00Bet Rp100 to win Rp2600-0.0400Bet RM100 to win RM2600 from Betway but there are so many quality names in the mix at decent prices that it looks as if there's money to be made. Interesting bolters include Giovanni van Bronckhorst at 34.00Bet €100 to win €340033/1Bet £100 to win £3400+3300Bet $100 to win $340033.00Bet HK$100 to win HK$340033.00Bet Rp100 to win Rp3400-0.0303Bet RM100 to win RM3400 with BetVictor, Domenico Tedesco at 26.00Bet €100 to win €260025/1Bet £100 to win £2600+2500Bet $100 to win $260025.00Bet HK$100 to win HK$260025.00Bet Rp100 to win Rp2600-0.0400Bet RM100 to win RM2600 from 888Sport and Julian Nagelsmann at 26.00Bet €100 to win €260025/1Bet £100 to win £2600+2500Bet $100 to win $260025.00Bet HK$100 to win HK$260025.00Bet Rp100 to win Rp2600-0.0400Bet RM100 to win RM2600 with BetVictor.
Arsenal
Arsene Wenger
Next Manager