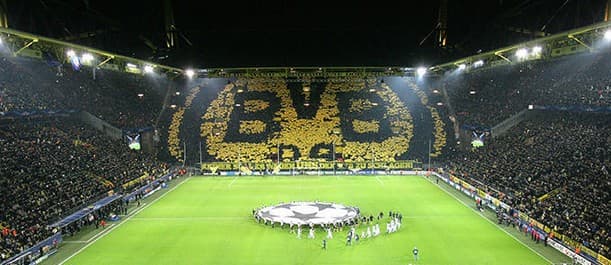 The UEFA Europa League is already underway in earnest, with the third qualifying round ties in the balance after the first legs. There may be one or two shocks in theses early rounds, but the line up for the competition proper is more or less predictable, and the big guns are ready and waiting for the group stages to begin.
Borussia Dortmund suffered an awful season last year, spending a lot of time in the Bundesliga relegation zone, but they recovered sufficiently to reach the final of the German Cup and finish 7th in the league. They have plenty of Champions League experience but will compete in the Europa this season, and they are worth backing to go all the way.
Dortmund have to get through two qualifying rounds before they can start thinking about the group stage, while the third-placed Champions League group teams will also drop into the latter stages of the competition. That makes this a difficult market to evaluate, and it's worth having a couple of teams on your side for the duration of the tournament. Let's take a look at the market leaders:
Borussia Dortmund – 10.00Bet €100 to win €10009/1Bet £100 to win £1000+900Bet $100 to win $10009.00Bet HK$100 to win HK$10009.00Bet Rp100 to win Rp1000-0.1111Bet RM100 to win RM1000 with BoyleSports, Totesport and BetVictor
Borussia Dortmund are Champions League regulars and under new coach Thomas Tuchel, they will be fully focused on getting back to the promised land next season. This competition now offers a route into the elite tournament, and also offers the chance of a meaningful trophy in the new man's first season in charge, so we can expect them to take the Europa League seriously.
They were given a boost with the news that winger Marco Reus intends to stay in Dortmund despite attracting attention from some of Europe's top clubs, and they have still got a fantastic squad. Tuchel said he was pleased with his side's fighting qualities in the 1-0 away win at Austrian side Wolfsberger in the first leg of their qualification game, and they can be expected to finish the tie at home next week. They'll face one more play-off game to reach the group stage, but will fear no-one. They are also a team who you would fancy against any side dropping from the Champions League later on, and the German team have a lot in their favour.
Tottenham – 17.00Bet €100 to win €170016/1Bet £100 to win £1700+1600Bet $100 to win $170016.00Bet HK$100 to win HK$170016.00Bet Rp100 to win Rp1700-0.0625Bet RM100 to win RM1700 with William Hill, Paddy Power and Ladbrokes
The biggest English Challenge will come from Spurs and Liverpool, but one suspects that both will be focused more on breaking into the hallowed top four, than making waves in this competition. They were knocked out by Fiorentina in the round of 32 last season, and they haven't really strengthened yet this summer. Harry Kane will be expected to lead the line, but this is only his second season after breaking through last year, and there's a lot of expectation on young shoulders. They may well be too occupied with league position to be a prospective bet in this competition.
Napoli – 17.00Bet €100 to win €170016/1Bet £100 to win £1700+1600Bet $100 to win $170016.00Bet HK$100 to win HK$170016.00Bet Rp100 to win Rp1700-0.0625Bet RM100 to win RM1700 with William Hill, Totesport and BetVictor
Napoli have lost the services of Rafa Benitez, and many in Italy feel he under-achieved with the squad he had at his disposal last season. They did reach the semi-final of this competition, but were surprisingly knocked out by Dnipro, and they weren't too far away in the league, but the lack of a champions league place was still seen as failure.
They can be a contender in the Europa League again this season but league position is also vital, and if they run into trouble domestically they might take their eyes off Europe.
Liverpool – 17.00Bet €100 to win €170016/1Bet £100 to win £1700+1600Bet $100 to win $170016.00Bet HK$100 to win HK$170016.00Bet Rp100 to win Rp1700-0.0625Bet RM100 to win RM1700 with BoyleSports, Ladbrokes and BetVictor
Brendan Rodgers has recently been talking in the media about having two teams next season, with one side specifically for the Europa league. He thinks that his squad is capable of managing it, but it immediately sounds the warning alarms from a betting point of view. The notion that some of Liverpool's best players may be held back from Europa action to concentrate on the league, is one that can only end badly.
The Reds have added some awesome striking talent in Benteke, Firmino and Ings, so if they bring out the big guns later in the competition they'll be a force, but there is enough doubt to put us off backing them for now.
Athletic Bilbao – 19.00Bet €100 to win €190018/1Bet £100 to win £1900+1800Bet $100 to win $190018.00Bet HK$100 to win HK$190018.00Bet Rp100 to win Rp1900-0.0556Bet RM100 to win RM1900 with Paddy Power
Spanish sides have a great record in this competition, with Sevilla taking the trophy for the last two years, and this season's representatives include Athletic Bilbao and Villarreal. Bilbao finished 7th in La Liga to qualify for this tournament, and they'll be aiming to do a bit better than the round of 32 position they managed last year, when they were knocked out by Torino.
They've only brought in free signings so far this summer and will need to improve the squad further before the transfer window slams shut.
Villarreal – 21.00Bet €100 to win €210020/1Bet £100 to win £2100+2000Bet $100 to win $210020.00Bet HK$100 to win HK$210020.00Bet Rp100 to win Rp2100-0.0500Bet RM100 to win RM2100 William Hill, Totesport and BetVictor
Villarreal make more appeal at a slightly bigger price, and they outperformed Bilbao in both La Liga and the Europa League last season. They finished in 6th position in the domestic table, and reached the last 16 of this competition last year, going out 5-2 on aggregate to eventual winners, Sevilla.
The Yellow Submarine has been busy bringing in new face over the summer, with Argentinian goalkeeper, Barbosa, coming in from Sevilla, defender Victor Ruiz from Valencia, midfielder Samu Castillejo from Malaga, and forward Leo Baptistao from Atletico Madrid. There are also plenty of rumours circulating that they have shown an interest in £11 million want-away Spurs striker Roberto Soldado, and they obviously have money to spend.
With our main bet on Borussia Dortmund, Villarreal offer a great alternative at a tasty price.
Tips Summary
To Win the Europa League:
Borussia Dortmund – 10.00Bet €100 to win €10009/1Bet £100 to win £1000+900Bet $100 to win $10009.00Bet HK$100 to win HK$10009.00Bet Rp100 to win Rp1000-0.1111Bet RM100 to win RM1000 with BoyleSports, Totesport and BetVictor
Villarreal Each Way – 21.00Bet €100 to win €210020/1Bet £100 to win £2100+2000Bet $100 to win $210020.00Bet HK$100 to win HK$210020.00Bet Rp100 to win Rp2100-0.0500Bet RM100 to win RM2100 William Hill, Totesport and BetVictor
Borussia Dortmund
UEFA Europa League
UEFA Europa League 2015/16
Villarreal