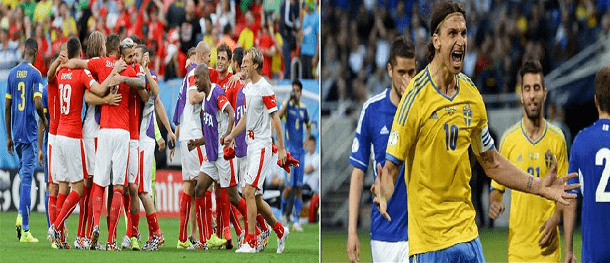 Qualifying for UEFA Euro 2016 kicks off this week so one has had a look at the various futures markets and come up with some bets to keep one entertained for the next 18 months.
One would have to go a long way to find a more frequently overrated international football team than England so one's first port of call was to investigate how bookmakers view UEFA Euro 2016 Group E in which the Three Lions are bundled with Estonia, Lithuania, San Marino, Slovenia and one of the FFIFA World Cup seeds, Switzerland. England's UEFA Euro 2016 Group E campaign gets under way in Switzerland on Monday.
England drew with Costa Rica and lost to Italy and Uruguay in the FIFA World Cup and, before the action kicked off in Brazil, the Three Lions drew with Ecuador and Honduras. That is not the form of a team that commands support at odds of 1.53Bet €100 to win €15353/100Bet £100 to win £153-189Bet $100 to win $1530.53Bet HK$100 to win HK$153-1.89Bet Rp100 to win Rp1530.5300Bet RM100 to win RM153 with Coral to finish top of UEFA Euro 2016 Group E.
Undoubtedly, Switzerland is the UEFA Euro 2016 Group E bet at odds of 4.00Bet €100 to win €4003/1Bet £100 to win £400+300Bet $100 to win $4003.00Bet HK$100 to win HK$4003.00Bet Rp100 to win Rp400-0.3333Bet RM100 to win RM400 with Betfair Sportsbook. According to the FIFA/Coca-Cola World Ranking, Switzerland is the ninth best side and England is the 20th. Yes, one agrees that the FIFA statisticians do not live in the real world and, sometimes, their order does not tally with that everyone else on the planet, but 11 positions is a decent margin for error.
Switzerland performed okay in the FIFA World Cup, reaching the round of 16 and getting within a couple of minutes of taking subsequent runner-up Argentina to a penalty shootout. Would England have managed 118 minutes against Argentina without conceding a goal and/or going behind? Probably not.
What clinches the Switzerland bet is its home form and how it performed versus Ecuador and Honduras during the FIFA World Cup, the two teams which England faced on neutral territory in the immediate lead up to the tournament.
Since losing 1-3 to England in Basel four years ago – the score was 0-1 before the Three Lions had the advantage of playing versus 10 men – Switzerland has won six and drawn two of its home qualifying matches for major competitions, plus it has defeated Brazil and Germany in home friendly games. Remember, England could not beat Poland, Montenegro or Ukraine away from home on route to the FIFA World Cup.
Then there are the collateral form lines featuring Ecuador and Honduras. Switzerland defeated Ecuador 2-1 and Honduras 3-0 in the FIFA World Cup, whereas England drew with both sides in the United States of America prior to settling in Brazil for a tournament that went wrong for the Three Lions.
Switzerland did not deserve to be one of the FIFA World Cup seeds and it did not achieve anything extraordinary in the event itself. However, it does deserve to be rated higher than England in betting on the UEFA Euro 2016 Group E group winner, not least because it gets first crack at the Three Lions in Basel on Monday. Three points from that match and Switzerland will be in pole position to win the section.
Other UEFA Euro 2016 long-term bets that appeal are Sweden to top Group G at odds of 3.00Bet €100 to win €3002/1Bet £100 to win £300+200Bet $100 to win $3002.00Bet HK$100 to win HK$3002.00Bet Rp100 to win Rp300-0.5000Bet RM100 to win RM300 with Bet365 and Ladbrokes, and Scotland to qualify for the event at odds of 3.50 with Bwin.
Sweden is up against the might of Austria, Liechtenstein, Moldova, Montenegro and Russia in UEFA Euro 2016. One does not rate Russia at all highly and, like England, it looks like a false favourite or, at the very least, an opposable market leader. In Zlatan Ibrahimovic, Sweden has the best player in Group G and, really, it should be much shorter, particularly because it hosts Russia next month.
Poland is the second favourite for UEFA Euro 2016 Group D behind FIFA World Cup winner Germany. Scotland could lay claim to being the rightful second favourite, though, as the Tartan Army marched to a 1-0 friendly victory in Poland five months ago. Scotland is the clear value compared to taking noticeably shorter odds about either Poland or Ireland.
Tips Summary
Switzerland to top Euro 2016 Qualifying Group E
Odds: 4.00Bet €100 to win €4003/1Bet £100 to win £400+300Bet $100 to win $4003.00Bet HK$100 to win HK$4003.00Bet Rp100 to win Rp400-0.3333Bet RM100 to win RM400
Where to Bet: Betfair Sportsbook
Sweden to top Euro 2016 Qualifying Group G
Odds: 3.00Bet €100 to win €3002/1Bet £100 to win £300+200Bet $100 to win $3002.00Bet HK$100 to win HK$3002.00Bet Rp100 to win Rp300-0.5000Bet RM100 to win RM300
Where to Bet: Bet365, Ladbrokes
Scotland to qualify from Euro 2016 Qualifying Group D
Odds: 3.50Bet €100 to win €3505/2Bet £100 to win £350+250Bet $100 to win $3502.50Bet HK$100 to win HK$3502.50Bet Rp100 to win Rp350-0.4000Bet RM100 to win RM350
Where to Bet: Bwin
Betfair
Bwin
England
Euro 2016
Group E
Group G
Ladbrokes
odds
Swede
Switzerland
Tips