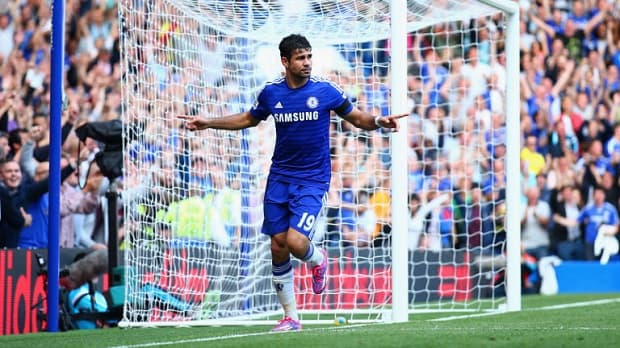 The Capital One Cup Final is set to be played this Sunday 1st of March, and gives Chelsea and Tottenham Hotspur the chance to claim the first silverware of the 2014/15 season. We recommended backing Chelsea to lift the trophy prior to their semi-final with Liverpool, and we're happy with odds of 1.85Bet €100 to win €18517/20Bet £100 to win £185-118Bet $100 to win $1850.85Bet HK$100 to win HK$185-1.18Bet Rp100 to win Rp1850.8500Bet RM100 to win RM185 considering that most bookies now go as short as 1.36Bet €100 to win €1369/25Bet £100 to win £136-278Bet $100 to win $1360.36Bet HK$100 to win HK$136-2.78Bet Rp100 to win Rp1360.3600Bet RM100 to win RM136 on the Blues to reign victorious at Wembley.
To supplement our bet on Chelsea, we're also adding a couple of speculative bets from some of the other markets available to give us a decent interest in the live match. Most bookies will accept bets on any manner of things during the game, from the amount of goals to be scored, to the first or last goalscorer, to the amount of red and yellow cards in the match. A couple of bets stand out for us at very tempting prices: Diego Costa to score the first goal; and for there to be more than 3.5 goals in the match.
First Goalscorer
This is a simple enough market to understand – you're betting on the scorer of the first goal in the match – usually own goals don't count, so if a defender is unlucky enough to put through his own net, it won't affect your bet and it will roll on to the next goal. You're also protected in this market if your selected player doesn't start the match, and if a goal is scored before he comes onto the pitch, most bookies will refund the stake. That's unlikely to affect our selection though, because if Diego Costa is fit, he will surely spearhead the Chelsea attack.
Diego Costa – 4.50Bet €100 to win €4507/2Bet £100 to win £450+350Bet $100 to win $4503.50Bet HK$100 to win HK$4503.50Bet Rp100 to win Rp450-0.2857Bet RM100 to win RM450 with Paddy Power, William Hill and Betfair
This will be Diego Costa's first final in a Chelsea shirt and he'll want to mark it with a goal. He's a man for the big ocassion, and looks a very tempting price to open the scoring at Wembley. He's had a great first season in the Premier League and is currently joint top of the goal scoring charts with Sergio Aguero, on 17 goals. His brash and aggressive style of play has divided opinion in the English game, and there was controversy in the semi-final second leg against Liverpool, when his 'stamp' on Liverpool player, Emre Can, earned him a three-match ban. He missed the games against Manchester City, Aston Villa and Everton, but returned to play a part against PSG in the Champions League, and Burnley in the controversial 1-1 draw at the weekend. He's yet to regain the scoring touch in those two games though, and will be desperate to add to his scoring tally this weekend with the world watching.
Here are the odds on some of the other likely candidates for first goalscorer in the match:
Eden Hazard – 7.00Bet €100 to win €7006/1Bet £100 to win £700+600Bet $100 to win $7006.00Bet HK$100 to win HK$7006.00Bet Rp100 to win Rp700-0.1667Bet RM100 to win RM700 with Paddy Power, Coral and Bet365
Harry Kane – 8.00Bet €100 to win €8007/1Bet £100 to win £800+700Bet $100 to win $8007.00Bet HK$100 to win HK$8007.00Bet Rp100 to win Rp800-0.1429Bet RM100 to win RM800 with Boylesports
Oscar – 9.50Bet €100 to win €95017/2Bet £100 to win £950+850Bet $100 to win $9508.50Bet HK$100 to win HK$9508.50Bet Rp100 to win Rp950-0.1176Bet RM100 to win RM950 with 888Sport
Christian Eriksen – 15.00Bet €100 to win €150014/1Bet £100 to win £1500+1400Bet $100 to win $150014.00Bet HK$100 to win HK$150014.00Bet Rp100 to win Rp1500-0.0714Bet RM100 to win RM1500 with Boylesports
Harry Kane also stands out as a possibility, and the young Spurs striker must feel like he has the world at his feet at the moment, as he's on a phenomenal run. He simply can't stop scoring, and even though it took him until the 95th minute against West Ham at the weekend, he still found a way to get on the scoresheet and snatch a point for his team. We just wonder how many chances he'll get against Chelsea with the scores at 0-0, and they may not start to commit men forward until they go behind. Like Diego Costa, this will be Kane's first Wembley final for the first team, and he seems destined to have a say in the match at some point, but that may just be a heroic equalizer rather than the opener.
Over 3.5 Match Goals
This market is essentially a bet on how many goals will be scored by both teams put together. Obviously there can't be half a goal, but the market is set up like this so that four goals means a winning bet and three goals is a loser.
Over 3.5 Goals – 3.25Bet €100 to win €3259/4Bet £100 to win £325+225Bet $100 to win $3252.25Bet HK$100 to win HK$3252.25Bet Rp100 to win Rp325-0.4444Bet RM100 to win RM325 with Bet365
When you think of Wembley finals it's easy to conclude that it will be a tight game with few goals, but that certainly hasn't been the case in the last couple of seasons. Manchester City beat Sunderland 3-1 in last year's showpiece, and the year before Swansea ran out 5-0 winners against Bradford. There is an argument that this year's final is much more evenly balanced than either of those two, but to counter that suggestion is the recent record between Spurs and Chelsea, which is littered with goals. Five of the last seven times that these teams have met over the last two seasons, have seen matches with four or more goals, so odds of 3.25Bet €100 to win €3259/4Bet £100 to win £325+225Bet $100 to win $3252.25Bet HK$100 to win HK$3252.25Bet Rp100 to win Rp325-0.4444Bet RM100 to win RM325 are good value for a similar scenario.
Spurs have shown in recent games – particularly at the weekend in the 2-2 draw with West Ham – that they are vulnerable when their defence is closed down high up the pitch. That's something that Jose Mourinho sides excel at, and he makes sure that his wide players are equally adept at the 'ugly' side of the game. The likes of Willian and Oscar have developed their careers under 'The Special One', while other talented players such as Arjen Robben and Juan Mata have discovered that he has no time for passengers. A big part of Chelsea's game plan will be to force Spurs into mistakes, and that will suit Diego Costa in his quest for goals as well.
What Spurs also showed against the Hammers is that they have a never-say-die attitude, and it wasn't the first time they've won or drawn games with late goals. Chelsea miss the midfield presence of Matic for this one, after his sending off against Burnley, and he will be a big miss in front of the back four. That will give Spurs hope that they can find the back of the net, and with Kane in such blistering form it's hard to argue. Recent encounters between the two teams have resulted in 5-3, 4-0, 2-2, 4-2, and 5-1 scorelines, and anything similar would make this a cup final to remember.
Tips Summary
Capital One Cup Final – Sunday 1st March
First Goalscorer – Diego Costa – 4.50Bet €100 to win €4507/2Bet £100 to win £450+350Bet $100 to win $4503.50Bet HK$100 to win HK$4503.50Bet Rp100 to win Rp450-0.2857Bet RM100 to win RM450 with Paddy Power, William Hill and Betfair
Over 3.5 Match Goals – 3.25Bet €100 to win €3259/4Bet £100 to win £325+225Bet $100 to win $3252.25Bet HK$100 to win HK$3252.25Bet Rp100 to win Rp325-0.4444Bet RM100 to win RM325 with Bet365
capital one cup
Chelsea
cup final
Diego Costa
harry kane
league cup
spurs