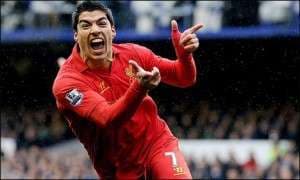 English Premier League punters should dance to a Mersey beat when betting on this weekend's latest round of matches, with Everton and Liverpool representing two of the better bets.
Everton is trading at odds of 1.67 with Paddy Power and Sky Bet to beat Swansea for the third time in three games this season, while Liverpool is available at odds of 1.45 with BetVictor to do the English Premier League double over a Cardiff team that may play into the hands of the Reds.
Roberto Martinez's Everton has had the wooden on his former side, Swansea, ever since the Swans returned to England's top flight but particularly so this term. Everton won 2-1 at Swansea's Liberty Stadium just before Christmas, scoring all three goals because Bryan Oviedo put the ball into his own net between Seamus Coleman and Ross Barkley strikes. Everton and Swansea met at Goodison Park in the English FA Cup last 16 and, although the Swans recovered well from conceding inside the first five minutes, the Toffees triumphed 3-1.
Everton ought to be confident of collecting another three English Premier League point in its push for fifth place on the end-of-season ladder. Everton's English Premier League home form is equal to that of third-placed Arsenal and the Toffees would probably be one of only two top-flight teams with unbeaten records had Tim Howard not conceded a penalty kick and received a red card midway through the first half against Sunderland. Everton ended up losing that match 0-1.
Swansea carried one's support for its English Premier League home game versus West Bromwich and the Swans dominated the first half before letting their feet off the gas after the break, much to the annoyance of Garry Monk. That match may have knocked the stuffing out of Swansea, which has been playing better than its raw results suggested. But now Swansea has gone seven games across all competitions since celebrating long and hard after defeating Cardiff 3-0.
Speaking of Cardiff, the Bluebirds look like opponents made to order for Liverpool as the Reds continue to challenge for their first title in the English Premier League era. With eight English Premier League matches to go, Cardiff is three points adrift of safety so it has to make the most of its home games, starting with Saturday's one against Liverpool. That means that Cardiff cannot adopt a cautious approach versus Liverpool – it must have a crack at the Reds and everyone knows that the visitors are lethal on the break.
No English Premier League side has scored anything like the number of away goals as Liverpool – the Reds have bagged 34, with the neat best effort being Manchester City's 28 from one less match – and one can only imagine how good the Reds are feeling following their 3-0 thrashing of Manchester United at Old Trafford. Liverpool could have won 6-0.
Finally, Chelsea and Arsenal lock horns in the match of the English Premier League round at Stamford Bridge on Monday. The reverse English Premier League fixture ended goalless but, given the state of affairs in the title race, one has to think that return clash will be a great deal more open.
Chelsea's English Premier League fixture list contains only two very tricky dates between now and the end of the season – Monday's home game against Arsenal and next month's trip to Liverpool. Chelsea must see Monday's match as a terrific opportunity to put the acid on its championship rivals, all of which have tougher runs home. So one should expect Jose Mourinho to instruct Chelsea to play positively.
One should expect Arsene Wenger to set up Arsenal similarly because, realistically, it is an English Premier League game that the Gunners have to win if they are going to win the title. Yes, a draw would keep Arsenal in the hunt but the English Premier League ladder suggests that the Gunners have to close the gap on Chelsea to one point with a match up their sleeve if they are going to win the four-team race.
Bookmakers are split over how many goals they think Chelsea and Arsenal will score in their English Premier League blockbuster. Several bookmakers, including Bet365 and Coral, are offering odds of 2.05 about over two and a half goals. Other bookmakers are as low as 1.85. Back the overs.