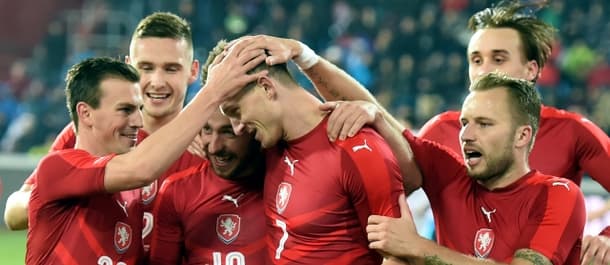 The Czech Republic and Turkey met en route to UEFA Euro 2016 so one has reviewed their two preliminary meetings to come up with a wager for their Group D clash on Tuesday.
The Czech Republic beat Turkey 2-1 in Istanbul in October 2014 when the teams combined for just five corner kicks. Turkey avenged its home loss with a 2-0 away victory over the Czech Republic 12 months later in a game that had only seven corner kicks. And neither the Czech Republic nor Turkey forced more than three corner kicks in their UEFA Euro 2016 Group D games against Croatia and Spain.
As things stand Czech Republic almost certainly require a win here to take them to the four points which will be likely to take them through to the next stage. It may be enough to finish 2nd in the pool if Spain beat Croatia, but the four point mark should be enough to qualify as a third best finisher. Turkey also require the win after two defeats from two games so far, and three points may see them squeeze through as a third placed finisher. The win market makes little appeal so corners are the way to go.
Marathonbet is listing odds of 1.71 about the UEFA Euro 2016 Group D match between the Czech Republic and Turkey having under 10 and a half corner kicks, odds that appear worth snapping up.
Ukraine and Poland are another couple of UEFA Euro 2016 combatants that have recent history having run into each other during qualifying for the 2014 FIFA World Cup. The disciplinary data from those two matches and the early stages of the UEFA Euro 2016 tournament point to a bet on Ukraine collecting more bookings points – 10 per yellow card and 25 per red card than Poland in their Group C showdown.
In March 2013 Ukraine defeated Poland 3-1 in Warsaw in a game that featured five Ukrainian yellow cards and one Polish yellow card. Seven months later Ukraine vanquished Poland 1-0 in Kharkiv in a match included four Ukrainian yellow cards and two Polish yellow cards. Five Poland players are walking a UEFA Euro 2016 disciplinary tightrope whereas Ukraine cannot qualify for the knockout stage.
Bookmakers are slow to price up cards markets on UEFA Euro 2016 games but, if Ukraine is available at odds of 1.50 or bigger to have more booking points than Poland nearer kick-off time, then step up to back the Ukrainians.
Northern Ireland may progress to the UEFA Euro 2016 last 16 even if it loses its Group C match versus Germany. One hopes that UEFA officials reconsider allowing 24 sides to qualify for the competition because the difference between the top teams and the bottom teams is too vast and the expanded tournament's format has resulted in negative football.
One suspects that Northern Ireland will play negatively versus Germany and such tactics lend themselves to a wager on the Germans to beat the Northern Irish without conceding a goal. Germany is likely to enjoy more than 65 per cent ball possession against Michael O'Neill's limited Northern Ireland team that may struggle to register a meaningful effort on target. BetVictor is laying odds of 1.85 about Germany, one of UEFA Euro 2016's genuine title contenders, winning to nil versus a Northern Ireland side that is making up the numbers and not playing expansive football, either.
Various UEFA Euro 2016 commentators have fallen in love with Spain but the Spaniards have proved very little in getting the better of the Czech Republic and Turkey in their first two Group D games. What looked like UEFA Euro 2016's group of death has been a major disappointment, with Spain and Croatia outclassing the Czech Republic and Turkey even though the ladder does not reflect that. A draw between Spain and Croatia would result in those teams finishing first and second respectively in UEFA Euro 2016 Group D, shutting out the Czech Republic even if it consigns Turkey to its third defeat. Spain against Croatia is the toughest of Tuesday's four UEFA Euro 2016 matches on which to source a play but several bookmakers, including BetVictor and Ladbrokes, are offering odds of 3.10 about a draw.
Tips Summary
Czech Republic v Turkey – Under 10.5 Corners
Tuesday 21st June, 20:00 GMT
Odds: 1.71
Germany to win to Nil
Tuesday 21st June, 20:00 GMT
Odds: 1.85
Ukraine to have more Booking Points than Poland
Tuesday 21st June, 17:00 GMT
Estimated Odds: 1.5
Spain and Croatia to Draw
Tuesday 21st June, 17:00 GMT
Odds: 3.1
Croatia
Czech Republic
Germany
Spain
Turkey
UEFA Euro 2016