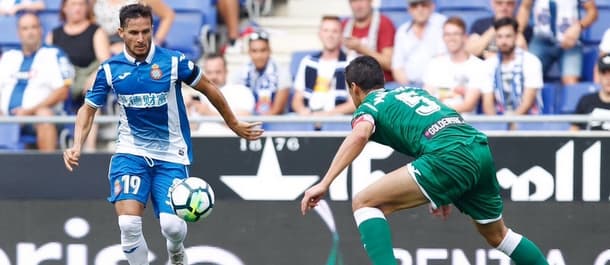 Leganes is above Atletico Madrid and Real Madrid on the Spanish Primera Division ladder after two rounds of action and one thinks that the Cucumbers Growers can stay ahead of the capital crew with a home victory over Getafe on Friday.
No Spanish Primera Division team fired off more attempts on target in the first two rounds than Leganes, which was good value for its 1-0 home defeat of Alaves and 1-0 away triumph over Espanyol. For the record, Leganes had 17 attempts on target in its Spanish Primera Division wins over Alaves and Espanyol, ranking it ahead of Sociedad (15), Real Madrid (14), Barcelona (13) and every other side in the league.
Getafe failed to score in its two Spanish Primera Division games against Athletic and Sevilla, its poor pre-season form carrying over into the serious business. Back in the Spanish big time this term, Getafe is one of four Spanish Primera Division teams yet to rustle the onion bag and that is despite having more attempts than the other three sides.
With BetStars and Coral listing Leganes at odds of 2.10Bet €100 to win €21011/10Bet £100 to win £210+110Bet $100 to win $2101.10Bet HK$100 to win HK$2101.10Bet Rp100 to win Rp210-0.9091Bet RM100 to win RM210 , those bookmakers rate the Cucumbers Growers on par with Getafe. One thinks that Leganes is superior to Getafe so, therefore, the Cucumber Growers should be trading at odds more like 1.90Bet €100 to win €1909/10Bet £100 to win £190-111Bet $100 to win $1900.90Bet HK$100 to win HK$190-1.11Bet Rp100 to win Rp1900.9000Bet RM100 to win RM190 or 2.00Bet €100 to win €2001/1Bet £100 to win £200+100Bet $100 to win $2001.00Bet HK$100 to win HK$2001.00Bet Rp100 to win Rp2001.0000Bet RM100 to win RM200 . Kick off the Spanish Primera Division's third round with a win wager on Leganes.
One's other Spanish Primera Division picks both pertain to under two and a half goals, with the matches of interest being Sevilla versus Eibar and Athletic against Girona.
Sevilla is on four Spanish Primera Division points but the White and Reds have been shot shy, having just 15 attempts in their two games – only Betis has had fewer. Eibar has converted just one of its 27 attempts in its two Spanish Primera Division matches versus Malaga and Athletic but the Gunners have been defensively, leaking only one goal.
Each of the last four meetings of Sevilla and Eibar has gone under two and a half goals, including the two clashes in the Spanish Primera Division last season that ended 2-0 in favour of the White and Reds and 1-1. Sevilla's reputation is that of a high-scoring Spanish Primera Division team so that explains why Marathonbet is offering odds of 2.20Bet €100 to win €2206/5Bet £100 to win £220+120Bet $100 to win $2201.20Bet HK$100 to win HK$2201.20Bet Rp100 to win Rp220-0.8333Bet RM100 to win RM220 about one's suggested bet. Clearly there is a lot of data that supports backing under two and a half goals at those odds.
Whereas Sevilla and Eibar will do battle in the Spanish Primera Division on Saturday, Sunday is the day on which Athletic and Girona are likely to feature in a low-scoring game. Under two and a half goals is available at odds of 1.99Bet €100 to win €19999/100Bet £100 to win £199-101Bet $100 to win $1990.99Bet HK$100 to win HK$199-1.01Bet Rp100 to win Rp1990.9900Bet RM100 to win RM199 with Marathonbet and that rates as a decent play.
Athletic's Spanish Primera Division campaign has begun with a 0-0 draw at home to Getafe and a 1-0 win at Eibar. With all due respect to Getafe and Eibar, neither is a Spanish Primera Division heavyweight and yet Athletic struggled to hit the scoreboard against them. Just Barcelona has allowed fewer Spanish Primera Division attempts this term than Girona and, remember, the newly promoted side has faced Atletico Madrid already. One thinks that Girona will play conservatively in its first Spanish Primera Division away game since rejoining the top flight so wager low on goals.
Tips Summary
Leganes to beat Getafe
Friday 8th September, 20:00 GMT
Odds: 2.10Bet €100 to win €21011/10Bet £100 to win £210+110Bet $100 to win $2101.10Bet HK$100 to win HK$2101.10Bet Rp100 to win Rp210-0.9091Bet RM100 to win RM210
Sevilla v Eibar – Under 2.5 goals
Saturday 9th September, 17:30 GMT
Odds: 2.20Bet €100 to win €2206/5Bet £100 to win £220+120Bet $100 to win $2201.20Bet HK$100 to win HK$2201.20Bet Rp100 to win Rp220-0.8333Bet RM100 to win RM220
Bilbao v Girona – Under 2.5 goals
Sunday 10th September, 15:15 GMT
Odds: 1.99Bet €100 to win €19999/100Bet £100 to win £199-101Bet $100 to win $1990.99Bet HK$100 to win HK$199-1.01Bet Rp100 to win Rp1990.9900Bet RM100 to win RM199
Athletic Bilbao
Eibar
Girona
La Liga
Primera Division
Sevilla