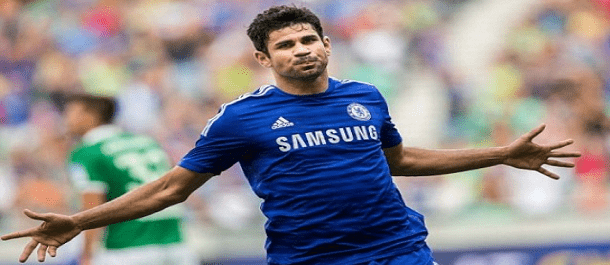 Either Cristiano Ronaldo or Lionel Messi has been the UEFA Champions League top goal scorer in each of the last seven editions but one thinks that there is a value bet away from the favourites in the market on this season's tournament.
Since Kaka topped the UEFA Champions League goal chart at the end of the 2006-2007 competition – he scored 10 times for title winner Milan – it has been Ronaldo, Messi, Messi, Messi, Messi, Ronaldo and Ronaldo on the honour roll. And bookmakers are not taking any chances with Ronaldo and Messi, quoting them at odds of 4.00Bet €100 to win €4003/1Bet £100 to win £400+300Bet $100 to win $4003.00Bet HK$100 to win HK$4003.00Bet Rp100 to win Rp400-0.3333Bet RM100 to win RM400 and 6.00Bet €100 to win €6005/1Bet £100 to win £600+500Bet $100 to win $6005.00Bet HK$100 to win HK$6005.00Bet Rp100 to win Rp600-0.2000Bet RM100 to win RM600 respectively.
Dutched odds of 2.40Bet €100 to win €2407/5Bet £100 to win £240+140Bet $100 to win $2401.40Bet HK$100 to win HK$2401.40Bet Rp100 to win Rp240-0.7143Bet RM100 to win RM240 about either Ronaldo or Messi being this term's UEFA Champions League top goal scorer may be enticing to some punters but one favours taking the long odds about the predatory striker who scored eight goals in last season's tournament to finish third alongside Messi.
The predatory striker is Diego Costa, the finisher on whom Chelsea spent 32 million British pounds to acquire him from Spanish Primera Division champion and UEFA Champions League runner-up Atletico Madrid. Costa scored eight goals in last term's UEFA Champions League and, before one says that he should have outperformed Messi because Atletico Madrid reached the final and Barcelona did not get past the quarter-finals, one should note that Costa played 580 minutes in the competition and Messi played 630 minutes.
Costa is an old-fashioned goal poacher and the millions that Chelsea splashed out to lure him from the Vincente Calderon to Stamford Bridge looks money extremely well spent. Costa has scored in each of Chelsea's first three English Premier League matches, including topping and tailing its 6-3 road win over Everton that was not like the Chelsea to which one has become accustomed. Chelsea looks capable of going goal for goal with the likes of Manchester City domestically and Real Madrid internationally provided that Costa stays fit.
According to bookmakers, Chelsea is the hottest favourite for any of the eight UEFA Champions League groups and the history books show that the tournament's top goal scorer makes hay long before the knockout stage. That Chelsea has been grouped with Maribor, Schalke and Sporting should enable the Blues to score heavily in its six group games, particularly against a Maribor side that copped a few hidings in UEFA Europa League matches last season. Costa is available at 21.00Bet €100 to win €210020/1Bet £100 to win £2100+2000Bet $100 to win $210020.00Bet HK$100 to win HK$210020.00Bet Rp100 to win Rp2100-0.0500Bet RM100 to win RM2100 with a number of bookmakers including Betfred, BetVictor and SkyBet. Incidentally, SkyBet are paying out 1/4 odds each way for a top 4 places, with the others paying out on 3 places.
In all honesty, trying to pick the UEFA Champions League winner at this point in the proceedings is a thankless task, not least because unlike, say, a tennis competition, one has absolutely no clue as to how the knockout draw will pan out.
However, one UEFA Champions League side that one is keen to keep on one's right side is Leverkusen, which has started its domestic and international campaigns really well under new coach Roger Schmidt. Leverkusen has scored 21 goals in its six competitive games, scoring at least twice in every match. Schmidt is one of the world's most innovative coaches and Leverkusen's players have bought into his methods right away. Schmidt transformed Salzburg into one of Europe's most dynamic teams and, with greater talent at his disposal at Leverkusen, the sky really is the limit for his new side.
Leverkusen is attractively priced at odds of 1.73Bet €100 to win €17373/100Bet £100 to win £173-137Bet $100 to win $1730.73Bet HK$100 to win HK$173-1.37Bet Rp100 to win Rp1730.7300Bet RM100 to win RM173 with BetVictor to qualify from UEFA Champions League Group C and odds of 3.40Bet €100 to win €34012/5Bet £100 to win £340+240Bet $100 to win $3402.40Bet HK$100 to win HK$3402.40Bet Rp100 to win Rp340-0.4167Bet RM100 to win RM340 with Boylesports to top the pool that includes Benfica, Monaco and Zenit as well. Benfica and Monaco are on a downward trend and, while Zenit is probably Russia's best team, the St Petersburg-based side should not strike fear into Leverkusen. And for speculative punters, there are worse bets than Leverkusen at odds of 101.00Bet €100 to win €10100100/1Bet £100 to win £10100+10000Bet $100 to win $10100100.00Bet HK$100 to win HK$10100100.00Bet Rp100 to win Rp10100-0.0100Bet RM100 to win RM10100 with BetVictor to be the UEFA Champions League's highest scoring team.
Tips Summary
Diego Costa to be UCL Top Scorer
16th September
Odds: 21.00Bet €100 to win €210020/1Bet £100 to win £2100+2000Bet $100 to win $210020.00Bet HK$100 to win HK$210020.00Bet Rp100 to win Rp2100-0.0500Bet RM100 to win RM2100
Where to Bet: Betfred, BetVictor, SkyBet
Leverkusen to qualify/win their group
16th Setember
Odds: 1.73Bet €100 to win €17373/100Bet £100 to win £173-137Bet $100 to win $1730.73Bet HK$100 to win HK$173-1.37Bet Rp100 to win Rp1730.7300Bet RM100 to win RM173 / 3.40Bet €100 to win €34012/5Bet £100 to win £340+240Bet $100 to win $3402.40Bet HK$100 to win HK$3402.40Bet Rp100 to win Rp340-0.4167Bet RM100 to win RM340
Where to Bet: BetVictor, Boylesports
Leverkusen to be UCL top scorer @ 101.00Bet €100 to win €10100100/1Bet £100 to win £10100+10000Bet $100 to win $10100100.00Bet HK$100 to win HK$10100100.00Bet Rp100 to win Rp10100-0.0100Bet RM100 to win RM10100 with BetVictor
Champions League
Chelsea
Diego Costa
Messi
Ronaldo
SkyBet
Top Scorer
UEFA