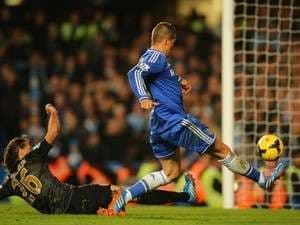 Manchester City can lay claim to being the world's best club team at the moment and, therefore, it is worth backing the Citizens to beat Chelsea in the English Premier League game between the championship contenders at the Etihad Stadium.
Only three points separates Manchester City and Chelsea at the top of the English Premier League ladder, which is why bookmakers have marked up the Citizens at a shade of odds on. However, the gap on the pitch is greater than the raw league standings suggest, particularly at the Etihad Stadium where Manchester City has scored 42 goals and conceded just eight goals in winning each of its 11 top-flight matches.
Chelsea manager Jose Mourinho is a leopard who will never change his spots and that means that the Blues will adopt negative tactics away from home against one of their main rivals. Chelsea played for – and got – goalless draws at Arsenal and Manchester United, while the Blues have drawn 1-1 at Tottenham and lost 0-1 at Everton this term as well.
Scoring fewer than two goals is unlikely to be sufficient for Chelsea to leave the Etihad Stadium with something to show for its 90 minutes of toil. Manchester City has scored at least two goals in 10 of its 11 English Premier League home games – Crystal Palace, take a bow for limiting the title favourite to only one goal – and the Citizens have bagged a brace or more in 29 of their 37 games across all competitions, including in each of their last seven matches.
Manchester City is available at odds of 1.87 with BetVictor to defeat Chelsea and avenge its 1-2 loss in the reverse fixture when Blues striker Fernando Torres had Stamford Bridge jumping with a last-minute home winner.
Newcastle said au revoir to Yohan Cabaye earlier this week, with the France international returning to his home country to link up with Paris Saint-Germain. One cannot blame Cabaye for leaving Newcastle because he is joining a team that is in a position to win domestic silverware and challenge for European honours. But Cabaye's departure leaves Newcastle vulnerable to quote Magpies boss Alan Pardew verbatim.
Obviously, Pardew has crunched the numbers because Newcastle has a dreadful English Premier League record without Cabaye, winning only four of its 20 top-flight games minus him since August 2011 and losing 12 of those matches. That is not the statistic that Newcastle fans want to see ahead of the big Tyne-Tees derby between the Magpies and in-form Sunderland.
Gus Poyet has lifted Sunderland off the canvas and the Black Cats will arrive at St James's Park having qualified for the English Capital One Cup final and taken seven points from their last three English Premier League games. Confidence is high in the Sunderland camp and Poyet's positive attitude means that the Black Cats are likely to take the match to Newcastle even though they are playing on enemy territory.
Sunderland is trading at odds of 4.33 with Bet365, and that looks over the top given Newcastle's record sans their recently departed Frenchman. More conservative punters can get odds of 2.00 with William Hill that Sunderland does not lose the derby.
Finally, Cardiff's English Premier League game at home to Norwich is a must-win match for the Bluebirds and they appeal at odds of 2.30 with BetVictor. One is willing to draw a big black line through Cardiff's recent losses to Manchester City and Manchester United and focus on the three other games that it has played under Ole Gunnar Solskjaer, two of which resulted in victory. And then there is the small matter of Norwich's away form to consider, with the Canaries only scoring once in their last four road matches and, generally, being hopeless away from Carrow Road.
Cardiff's home form in the English Premier League is better than Norwich's away form in the same competition so, with the Bluebirds spending money to improve their roster before the transfer window slams shut, they are worth a bet provided that their odds stay above the 2.15 mark.