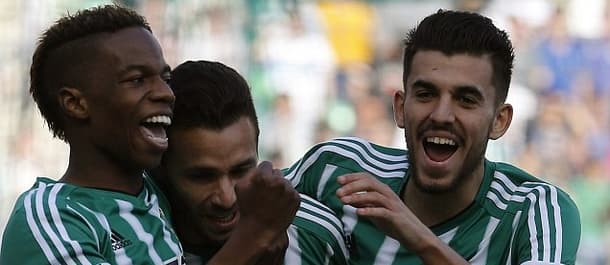 Betis beat Vallecano in the seventh round of Spanish Primera Division matches and one rates the Green and Whites as the best value on the card for the reverse set of fixtures.
Neutral Spanish Primera Division fans have a soft spot for Vallecano because many of its games are high scoring – for example, 18 of its 25 league matches have gone over two and a half goals, including its incredible 2-10 defeat at Real Madrid – but Rayo are not one of the top flight's top teams and they would be in all sorts of trouble towards the foot of the ladder had they not gorged on the minnows. Vallecano has earned only 25 points from its 25 Spanish Primera Division games and 16 of them have come at the expense of the five sides below it on the ladder – Rayo have beaten just one team ranked higher than their 15th place and that was a 3-0 home victory over Celta last month. Vallecano has scored at least two goals in each of its last six Spanish Primera Division matches – none of which it has lost – but, all things considered, Rayo's record does not stack up.
Betis is above Vallecano on the Spanish Primera Division ladder and, even though the Green and Whites are 2-5-5 at home, their league-worst home record still reads favourably compared to Rayo's 1-4-7 away numbers. Vallecano's Spanish Primera Division defensive statistics are awful – 51 goals conceded in 25 games, including multiple goals on the road in nine of their 12 away matches – and mean that no punter can trust Rayo whenever they get on a bus. Furthermore, according to one's Spanish Primera Division collateral form analysis, Betis enjoys a 10-3-6 lead over Vallecano, a lead that stands at 9-1-3 if one ignores the lowest section of the ladder. Betis is trading at completely acceptable odds of 2.25 with Marathonbet to record a Spanish Primera Division home win over Vallecano under caretaker coach Juan Merino, the former Green and Whites stopper who stepped into the breach when Pepe Mel was given his marching orders.
Malaga would be one's nomination as the most underrated Spanish Primera Division side and the Anchovies make one's short list for Round 26 at odds of 3.58 with Marathon to defeat Sociedad on Saturday. Malaga is two points and three rungs below Sociedad on the Spanish Primera Division ladder but the Anchovies boasts a 11-2-6 collateral form edge over Real, including markedly better results against the league's top four teams and a 3-1 home victory in October's reverse fixture, even having the audacity to increase their lead after being reduced to 10 players in the 71st minute.
The Spanish Primera Division six-game form ladder says that Sociedad are the league's third hottest side but Real have benefitted from a relatively soft recent schedule. Overall, one does not rate Sociedad as highly as Malaga.
Gary Neville is experiencing a rollercoaster ride in his first managerial job. Valencia is below Sunday's opponent Athletic on the Spanish Primera Division ladder but one's collateral form analysis suggests that the Bats are a team for big occasions. According to one's Spanish Primera Division collateral form analysis, Valencia holds a 9-1-8 advantage over Athletic but the Bats lead the Lions 6-1-0 based on their respective results versus the top seven.
It has been a hard gig to back Valencia during Neville's reign but the Bats are temptingly offered at odds of 2.38 with Boylesports to get the better of Athletic. Both sides have UEFA Europa League commitments in midweek, although Valencia's tie against Rapid Wien is not in the balance whereas Athletic has a meaningful match versus Marseille.
Finally, here are one's Spanish Primera Division collateral form analysis results for every one of Round 26's 10 games. The asterisk signifies the direct head-to-head winner.
Eibar 10*-2-7 versus Las Palmas
Real Madrid 10*-4-5 versus Atletico Madrid
Getafe 7*-4-8 versus Celta
Gijon 6*-5-8 versus Espanyol
Betis 10*-3-6 versus Vallecano
Sociedad 6-2-11* versus Malaga
Villarreal 12-3-4* versus Levante
Valencia 9-2-8* versus Athletic
Deportivo 11*-1-7 versus Granada
Barcelona 14-1-4* versus Sevilla
Tips Summary
Betis to beat Vallecano
27th February 19:30 GMT
Odds: 2.25
Malaga to beat Sociedad
27th February 21:05 GMT
Odds: 3.58
Valencia to beat Athletic
28th February 15:00 GMT
Odds: 2.38
Athletic
betis
malaga
Sociedad
Spanish Primera
valencia
Vallecano