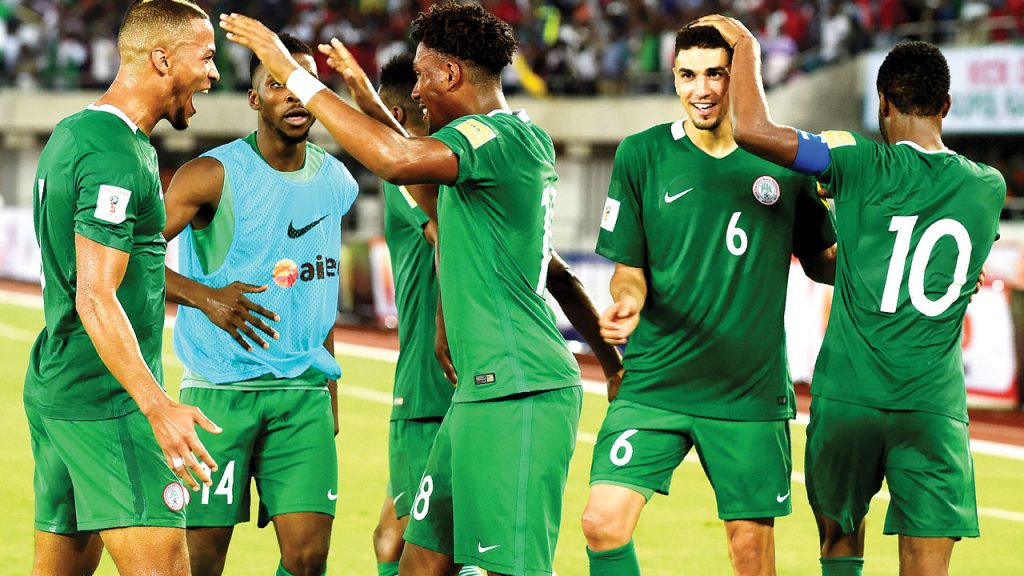 Nigeria reached the knockout stage of the 2014 FIFA World Cup and one thinks that the Super Eagles are overpriced to be one of the two teams to emerge from the 2018 FIFA World Cup group D that also houses Argentina, Croatia and Iceland.
According to both the FIFA World Ranking and the World Football Elo Ratings, Nigeria is the weakest link in FIFA World Cup group D but, unlike the section's two favourites, Argentina and Croatia, the Super Eagles are rising up the respective lists. Nigeria qualified for the FIFA World Cup without losing a match in spite of being placed in the same section as Algeria, Cameroon and Zambia in what, according to most impartial observers, the most taxing CAF pool.
Nigeria coach Gernot Rohr, who led Bordeaux to the 1996 UEFA Cup final, has improved the Super Eagles considerably during his two years at the helm, promoting several young players and implementing a counter-attacking strategy that ripped Argentina apart in a recent friendly clash in Russia. Yes, Argentina lined up against Nigeria without Lionel Messi but he was the only significant absentee for the two-time FIFA World Cup champion and, despite being gifted a two-goal lead, the CONMEBOL powerhouse ended up losing 2-4 and deservedly so. Nigeria will fear none of its FIFA World Cup group D foes, the Super Eagles have the perfect tactics to capitalise on both Argentina and Croatia forcing the issue versus them and defensively minded Iceland is likely to view its encounter with Africans as the pool game that it must win if it is going to qualify for the round of 16.
Can the Super Eagles Spring a Surprise?
Argentina made it to the 2014 FIFA World Cup final but it was unimpressive in reaching the title decider and it was a joke that the FIFA Golden Ball panel voted Messi ahead of Thomas Muller, Arjen Robben and the other seven nominees. Argentina was in real danger of missing out on a FIFA World Cup for the first time since 1970 before Messi scored three goals in his side's come-from-behind 3-1 away victory over Ecuador in the final round of the CONMEBOL competition. The pressure on Messi will be greater than ever before because, rightly or wrongly, many people believe that he cannot be the greatest player of all time unless he leads Argentina to FIFA World Cup glory in the way that Diego Maradona did in 1982. Russia represents the last chance for this generation of Argentina players to win football's biggest prize and one is not interested in backing Messi and friends to deliver the goods at fairly short odds in FIFA World Cup group D.
Like Argentina, Croatia's squad is ageing so players such as Luka Modric, Ivan Rakitic and Mario Mandzukic will feel that the 2018 FIFA World Cup represents their last shot at glory. With that will come pressure and time and time again one has seen Croatia implode at major tournaments. Indeed, Croatia did its best to stuff up qualifying for the FIFA World Cup, losing its way midway through its UEFA campaign and sacking manager Ante Cacic with one pool match remaining. Croatia beat Greece 4-1 on aggregate to take out one of UEFA's play-off ties but not before it had missed out on direct qualification by finishing behind unfancied Iceland.
Iceland got as far as the UEFA Euro 2016 quarter-finals but the structure of that competition rewarded negative play in the first stage. Iceland will have to come out of its shell much more in FIFA World Cup group D than it did against Austria, Hungary and Portugal two years ago and, while one would be foolish to write off the Icelanders making it to the round of 16, they are opposable in this company.
Nigeria to reach the FIFA World Cup knockout stage is the best group D-related bet. Playing Croatia first, Iceland second and Argentina third is the best possible FIFA World Cup group D programme for Nigeria and one can only imagine what will be going through the heads of Messi et al if they need to get the better of a Super Eagles outfit that they lost to by two clear goals in Russia in November 2017.