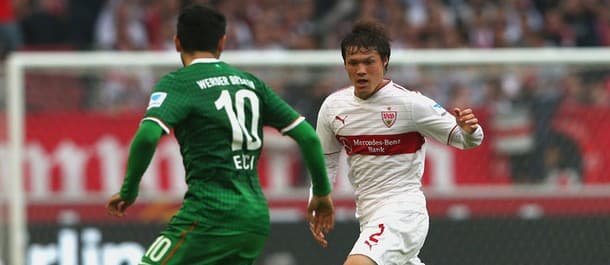 Over two and a half goals in the game between Bremen and Stuttgart is the best bet on the German Bundesliga coupon, with many bookmakers, including 888sport, Bwin and Ladbrokes, listing the option at the odds of 1.60Bet €100 to win €1603/5Bet £100 to win £160-167Bet $100 to win $1600.60Bet HK$100 to win HK$160-1.67Bet Rp100 to win Rp1600.6000Bet RM100 to win RM160.
Bremen bust millions of multiple bets by beating Mainz 2-1 on the road in the last German Bundesliga round and now it returns home to play a Stuttgart side that has featured in even more high-scoring matches this season than it has.
Stuttgart's 10 German Bundesliga games have had an average of 3.70 goals, with five of them going over two and a half goals, including its unforgettable 5-4 win at Frankfurt two weeks ago in which it trailed 0-1, led 3-1 and trailed 3-4 before two late goals wrapped up three precious points.
Bremen's 10 German Bundesliga matches have had an average of 3.60 goals, with seven of them going over two and a half goals and only one of them featuring under two goals. It is clear that appointing former Bremen defender Viktor Skrypnyk to the coach's position has had an immediate positive effect – he has overseen back-to-back victories – but the team's fundamental weaknesses remain and are not going away any time soon. Bremen will continue to leak goals until Skrypnyk has the opportunity to bring in new players and get rid of old ones. Quite simply, Bremen does not have the cattle.
Bremen and Stuttgart have the worst defences in the German Bundesliga, whereas their respective attacks are middle of the road. One has to be on over two and a half goals when Bremen and Stuttgart go head to head on Saturday.
One thinks that the German Bundesliga game between Frankfurt and Bayern Munchen will go over two and a half goals but the bookmaking fraternity is thinking along the same lines and, therefore, there is no value in the available odds.
A German Bundesliga option that does appeal, though, is a bet on Hoffenheim extending its impressive home run in league matches with a victory over low-scoring Koln.
The days of Hoffenheim being the entertainers of the German Bundesliga are long gone, with its 10 league games having had an average of 2.40 goals. But Hoffenheim supporters are not complaining because their side has won four, drawn five and lost one of its 10 German Bundesliga matches and it has collected 11 points from a possible 15 on its own pitch.
Koln has a German Bundesliga win over Dortmund to its credit but the reality is that its three league victory has been at the expense of the teams positioned 15th, 17th and 18th on the 18-side ladder, whereas Hoffenheim is flying high in fourth place. BetVictor and Bwin are offering odds of 1.87Bet €100 to win €18787/100Bet £100 to win £187-115Bet $100 to win $1870.87Bet HK$100 to win HK$187-1.15Bet Rp100 to win Rp1870.8700Bet RM100 to win RM187 about Hoffenheim beating Koln when one was expecting that bookmakers would be quoting a home win at around 1.70Bet €100 to win €1707/10Bet £100 to win £170-143Bet $100 to win $1700.70Bet HK$100 to win HK$170-1.43Bet Rp100 to win Rp1700.7000Bet RM100 to win RM170.
Finally, Wolfsburg gets one's seal of approval at odds of 1.67Bet €100 to win €16767/100Bet £100 to win £167-149Bet $100 to win $1670.67Bet HK$100 to win HK$167-1.49Bet Rp100 to win Rp1670.6700Bet RM100 to win RM167 with Boylesports to maintain its position at the top of the German Bundesliga six-game form ladder with a home win over a Hamburg side that has scored just four league goals.
Increasingly common knowledge is that one can almost bank on Wolfsburg scoring in any given match – its German Bundesliga record is one blank in its last 36 games – so one has to be interested when it comes up against a Hamburg team that has failed to score in six of its 10 German Bundesliga matches and not scored more than one goal in any of those games.
Credit to Wolfsburg for not panicking when it got off to a disappointing start because since it has not looked back since losing 1-4 at Everton in UEFA Europa League Group H.
Tips Summary
Bremen v Stuttgart Over 2.5 goals
8th November 17:30 GMT
Odds: 1.60Bet €100 to win €1603/5Bet £100 to win £160-167Bet $100 to win $1600.60Bet HK$100 to win HK$160-1.67Bet Rp100 to win Rp1600.6000Bet RM100 to win RM160
Where to Bet: 888sport, Bwin, Ladbrokes
Hoffenheim to beat Koln
8th November 14:30 GMT
Odds: 1.87Bet €100 to win €18787/100Bet £100 to win £187-115Bet $100 to win $1870.87Bet HK$100 to win HK$187-1.15Bet Rp100 to win Rp1870.8700Bet RM100 to win RM187
Where to Bet: BetVictor, Bwin
Wolfsburg to beat Hamburg
9th November 14:30 GMT
Odds: 1.67Bet €100 to win €16767/100Bet £100 to win £167-149Bet $100 to win $1670.67Bet HK$100 to win HK$167-1.49Bet Rp100 to win Rp1670.6700Bet RM100 to win RM167
Where to Bet: Boylesports
Boylesports
Bremen
Bundesliga
Bwin
Koln
Stuttgart
Wolfsburg