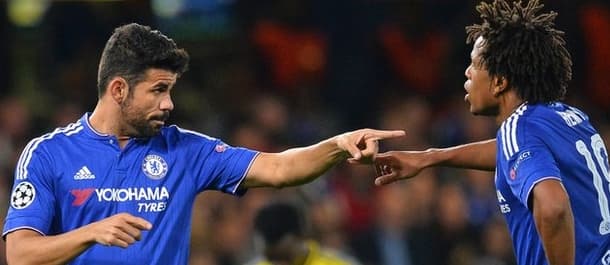 One advises playing the value card in the sixth round of English Premier League matches and that means getting with Chelsea, Stoke and Crystal Palace at their inflated odds.
Something akin to normal service was resumed on Wednesday when Chelsea pumped Maccabi Tel Aviv 4-0 in UEFA Champions League Group G action at Stamford Bridge. One is not going to pretend that everything is fine and dandy with Chelsea because obviously it is not but one is not convinced that the Blues have gone from champs to chumps, either. And one needs to take into account the form of its upcoming English Premier League opponent, Arsenal, as well because one could argue that the Gunners have serious problems of their own.
There is no getting away from the fact that Manchester City outplayed Chelsea in their English Premier League clash at Etihad Stadium last month. But Chelsea was on course to beat Swansea in its English Premier League opener at Stamford Bridge before Thibaut Courtois was sent off and the Blues did beat West Bromwich at The Hawthorns despite playing most of the second half with 10 men after John Terry's red card.
Then there is the form of Arsenal to consider. There is no sugar-coating Arsenal's result versus Dinamo Zagreb in UEFA Champions League Group F on Wednesday – yes, the Gunners were away from home but their opponent had required the away-goals rule to get past Molde in one of the qualifying rounds and Fola Esch had forced a 1-1 draw in Croatia also. Arsenal boss Arsene Wenger is coming under pressure for his inactivity in the transfer market before the summer window shut and one is inclined to think that the Gunners have as many pressing issues as Chelsea, if not more than the Blues.
Betting is all about sourcing value and, frankly, one cannot understand how Betfred and Totesport have come up with odds of 2.50Bet €100 to win €2503/2Bet £100 to win £250+150Bet $100 to win $2501.50Bet HK$100 to win HK$2501.50Bet Rp100 to win Rp250-0.6667Bet RM100 to win RM250 about Chelsea getting back on its English Premier League horse with a home win over Arsenal on Saturday. Are Betfred and Totesport aware of the amazing home record of Jose Mourinho-coached sides in domestic leagues? Odds of 2.50Bet €100 to win €2503/2Bet £100 to win £250+150Bet $100 to win $2501.50Bet HK$100 to win HK$2501.50Bet Rp100 to win Rp250-0.6667Bet RM100 to win RM250 are a gross overreaction – Chelsea should be 2.10Bet €100 to win €21011/10Bet £100 to win £210+110Bet $100 to win $2101.10Bet HK$100 to win HK$2101.10Bet Rp100 to win Rp210-0.9091Bet RM100 to win RM210.
Nine points and 16 positions separate Stoke and Leicester in the English Premier League standings but five games is a very small sample size and one can make a case – believe it or not – that the Potters are superior to the Foxes.
Stoke and Leicester have had one common English Premier League foe – the Potters drew 2-2 at Tottenham, whereas the Foxes drew 1-1 at home to Spurs. That collateral form line favours Stoke, it has home advantage for Saturday's derby and Leicester's English Premier League schedule in the opening five rounds has been as soft as butter after five minutes in a microwave – home to Aston Villa, Sunderland and Tottenham and away to Bournemouth and West Ham.
Leicester's second spot on the English Premier League ladder is extremely flattering and one would not betting that the Foxes end the season below Stoke. The same bookmakers as above are offering odds of 2.50Bet €100 to win €2503/2Bet £100 to win £250+150Bet $100 to win $2501.50Bet HK$100 to win HK$2501.50Bet Rp100 to win Rp250-0.6667Bet RM100 to win RM250 about Stoke defeating Leicester and the Potters make a tasty cross-bookmaker bet with Chelsea.
Finally, one feels that Crystal Palace is entitled to more respect from bookmakers going into its English Premier League derby at Tottenham on Sunday. Tottenham has beaten only relegation favourite Sunderland in its five English Premier League matches and Spurs are three points behind Crystal Palace even though one thinks that the Eagles have had a more demanding program than their London rivals.
One loves that Crystal Palace does not stand on ceremony, irrespective of its opposition, and the Eagles took four points from its two English Premier League games against Tottenham last term – they really ought to have taken six.
Many bookmakers, including BetVictor and Unibet, are quoting Crystal Palace at odds of 4.30Bet €100 to win €43033/10Bet £100 to win £430+330Bet $100 to win $4303.30Bet HK$100 to win HK$4303.30Bet Rp100 to win Rp430-0.3030Bet RM100 to win RM430 to get the better of Tottenham and one feels that the Eagles are the best English Premier League outsiders by quite some distance.
Tips Summary
Chelsea to beat Arsenal
19th September 12:45 GMT
Odds: 2.50Bet €100 to win €2503/2Bet £100 to win £250+150Bet $100 to win $2501.50Bet HK$100 to win HK$2501.50Bet Rp100 to win Rp250-0.6667Bet RM100 to win RM250
Stoke to beat Leicester
19th September 15:00 GMT
Odds: 2.50Bet €100 to win €2503/2Bet £100 to win £250+150Bet $100 to win $2501.50Bet HK$100 to win HK$2501.50Bet Rp100 to win Rp250-0.6667Bet RM100 to win RM250
Palace to beat Spurs
20th September 13:30 GMT
Odds: 4.30Bet €100 to win €43033/10Bet £100 to win £430+330Bet $100 to win $4303.30Bet HK$100 to win HK$4303.30Bet Rp100 to win Rp430-0.3030Bet RM100 to win RM430
Arsene Wenger
Chelsea
English Premier League
leicester
Stoke
The Hawthorns
Thibaut Courtois
UEFA Champions League Group