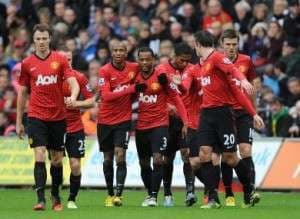 The UEFA Champions League quarter-final draw paired Bayern Munchen with Manchester United and prompted bookmakers to list the Red Devils at odds of 7.00 to win the first leg of the clash between the teams that contested the 1999 final.
Bayern Munchen is running away with the German Bundesliga and increasingly it is looking likely to go through its domestic league campaign without losing a match. And its only two defeats so far this term have occurred in games that one could forgive Bayern for dropping their guard. Dortmund beat Bayern 4-2 in the German Super Cup and Manchester City beat FC Hollywood 3-2 in a UEFA Champions League match that really did not matter to the holders.
No-one disputes that Bayern Munchen should be the favourite for its UEFA Champions League quarter-final first leg versus Manchester United. But should Bayern be trading at odds of 1.57 to win at Old Trafford? That is the question that punters must answer before betting on the blockbuster.
Surely bookmakers have gone too far in offering odds of 7.00 about Manchester United beating Bayern Munchen and making odds of 4.50 available about a draw. After all, this is a Manchester United side, albeit one under the management of the out-of-his-depth David Moyes, playing at home in a UEFA Champions League quarter-final first leg. Never before has Manchester United been quoted at such long odds at home.
One would think looking at the market on the UEFA Champions League quarter-final first leg that bookmakers have framed their odds based on Manchester United going down to 10 men inside the first 10 minutes. Yes, Bayern Munchen is a good team but it was on back foot at the Emirates Stadium until Arsenal goalkeeper Wojciech Szczesny had to take an early bath in the first leg of the last-16 tie. Arsenal missed a ninth-minute penalty and it was on top until, according to Gunners boss Arsene Wenger, Nicola Rizzoli ruined the game by dismissing Szczesny for bringing down Arjen Robben. And comparing apples with apples, Manchester United obliterated Leverkusen 5-0 on the road, whereas Bayern drew 1-1 at the same venue. There are reasons to support Manchester United.
Only three times has Manchester United lost a home first leg of a European tie. Bayern Munchen was the first away side to down Manchester United in such a match 13 years ago, winning 1-0 courtesy of an 85th-minute Paulo Sergio goal as the Red Devils pushed forward in search of a priceless goal of their own. Milan beat Manchester United in similar circumstances four years later, Hernan Crespo notching the Rossoneri's late goal. And Bilbao defeated Manchester United 2-3 two years ago, deservedly winning the UEFA Europa League game.
The Rags To Riches column is all about highlighting roughies that are not only overpriced but also capable of getting the job done. One does not rate Moyes and thinks that Manchester United will not scale any great heights until the Red Devils board admit that it, under the direction of Alex Ferguson, got it horribly wrong in appointing the former Everton manager. But even the presence of Moyes in the Manchester United dugout does not justify the Red Devils being as big as 7.00 to beat Bayern Munchen and 4.50 to obtain a draw.
Dutching Manchester United to defeat Bayern Munchen at odds of 7.00 with 888sport and Unibet and draw at odds of 4.50 with Bwin and Boylesports produces a potential dividend of 2.74. Alternatively, one could back the draw and save on a Manchester United win. One would have 8.57 units on the draw and 1.43 units on a Manchester United win, with the odds of return being 3.86 in the event of a draw and 1.00 in the event of a Manchester United win. That sounds like a plan.
The UEFA Champions League quarter-finals kick off on 1 April and one is hoping that Bayern Munchen does not make Moyes and his Manchester United look silly on April Fools' Day.