Internazionale v Lazio – 31st March – 19:30 BST
Internazionale and Lazio is one of the marquee matches of the Italian Serie A round and it throws up the best betting opportunity because of the odds available about a home win.
For any number of reasons, Internazionale should be odds on to register an Italian Serie A home win over Lazio but the bookmaking fraternity is offering odds against about the Black and Blues. The most basic analysis, which involves referring to the Italian Serie A ladder, pits third-ranked Internazionale versus sixth-ranked Lazio with eight points separating the sides. Even allowing for the fact Lazio has played one Italian Serie A game fewer than Internazionale, the league ladder says the Black and Blues should be odds on. Then there is the Italian Serie A result when Lazio hosted Internazionale in October and the match ended 3-0 in favour of the visiting Black and Blues. Finally, there is one's detailed Italian Serie A collateral form analysis that sees Internazionale boast an 8-4-7 advantage over Lazio, including progressive counts of 4-0-0 and 6-3-1.
Internazionale is 9-2-2 in its 13 Italian Serie A home games and the Black and Blues have posted San Siro successes over Napoli once and Milan twice, including a 3-2 derby victory before the recent international break. Lazio is 5-3-5 on its Italian Serie A travels, the White and Sky Blues have failed to earn a point in their five matches against Juventus, Napoli and Internazionale regardless of venue and they are yet to record a league road win over a team ranked higher than 12th. Internazionale is the best bet on the coupon.
TOP TIP! – Internazionale to beat Lazio @ 2.38 with Betway
Get the best odds in the Italian Serie A with our selected bookmakers below.
Atalanta v Parma – 31st March – 11:30 BST
TOP TIP! – Atalanta to beat Parma @ 1.60
Atalanta has been a good friend to astute Italian Serie A punters over the last few months and one is keen to back the Goddess to get the better of Parma in their next assignment at @ 1.60 with Bet365.
Qualifying for the UEFA Champions League remains Atalanta's aim and, after allowing Chievo to leave Bergamo with a 1-1 draw prior to the short sojourn, the Goddess must bounce back to winning ways versus Parma if they are going to remain in the race for one of Italian Serie A's top four spots. Atalanta pummelled Parma 3-0 in October's reverse Italian Serie A fixture and, according to one's collateral form analysis, the Goddess enjoys a 12-1-6 lead over Parma, including progressive counts of 2-1-0, 5-1-1 and 6-1-2.
Parma is 12th on the Italian Serie A ladder and relatively safe from relegation but that is only because it picked up so many points before Christmas. Parma has won just two of its nine Italian Serie A games since the turn of the year and it is 1-1-9 against sides ranked higher than eighth.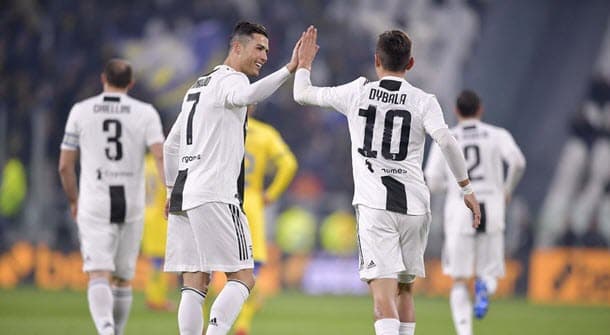 Juventus v Empoli – 30th March – 17:00 BST
TOP TIP! – Juventus to beat Empoli @ 1.30
One's third and final Italian Serie A selection was a coin flip between Juventus to defeat Empoli and Sampdoria to draw with Milan, with one erring on the side of caution and picking the Old Lady to rack up another home victory at 1.30 with Black Type.
According to one's Italian Serie A collateral form analysis, Juventus holds an 18-1-0 edge over Empoli so, even without Cristiano Ronaldo, one expects the Old Lady to prevail at home to their weekend opponents. For the record, Atalanta is the Italian Serie A team blotting Juventus's copybook.
COLLATERAL FORM FIGURES
Chievo 4-5-10
Udinese 8-3-8
Juventus 18-1-0
Sampdoria 8-4-7
Parma 6-1-12
Fiorentina 7-4-8
Frosinone 5-4-10
Roma 4-3-12
Bologna 8-3-8
Internazionale 8-4-7
Feel free to us know what you think of our tips. Click the button below and Share on Facebook or Twitter and tell us if you agree or disagree with our selections!
Atalanta
Empoli
Internazionale
Italian Serie A
Juventus
Lazio
Parma