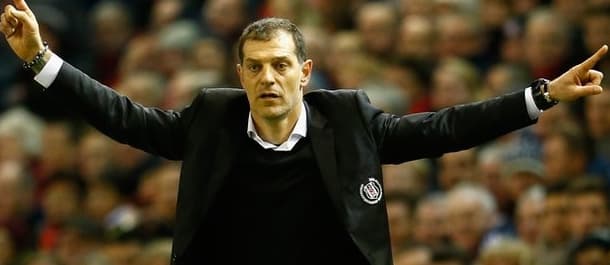 West Ham has appointed Slaven Bilic to succeed Sam Allardyce going into one of its most important seasons ever and it is one of those decisions that could end in tears very quickly.
Never is there a good time to experience relegation from the English Premier League but, with West Ham moving from the Boleyn Ground to the Olympic Stadium at the end of next season, it would be a financial disaster if the Hammers christened their new home in the English Championship.
West Ham finished last term's English Premier League in relegation form – the Hammers were 1-1-3 over their last five divisional matches, 2-2-6 over their last 10 such games, 2-5-8 over their last 15 such fixtures and 3-7-10 over their last 20 such assignments. West Ham would have been relegated from the English Premier League for sure if it had not collected 31 points from its first 19 matches because it accrued just 16 points in its last 19 games.
Allardyce won more matches as West Ham than he lost but that was not sufficient for him to win the hearts and minds of Hammers fans, many of whom were hostile to his appointment from his first day at the Boleyn Ground. One thinks that West Ham overachieved under Allardyce and that, based on their respective managerial records, Bilic is not in the same class as Big Sam. Sure, West Ham supporters will warm to Bilic immediately because he played for the Hammers and he is a colourful character but will they love him if their team finds itself near the bottom of the English Premier League ladder? One thinks that West Ham's vociferous fans could turn on Bilic quickly if the Hammers perform poorly.
Journalists love Bilic because he is a walking headline so one can understand why members of the Fourth Estate have expressed excitement about his arrival at West Ham. But professional sport is about winning and Bilic's coaching record, particularly in club football, is really not good.
One does not care about Bilic's winning numbers as Croatia manager because there is little correlation between football at international and domestic level. Different skill sets are required, most notably the ability to identify and acquire talent, as well as manage day-to-day expectations.
Bilic has coached two sides outside Croatia and one rates both his spells in charge of Lokomotiv Moskva and Besiktas as disappointing. Bilic led Lokomotiv Moskva to its worst season since the formation of the Russian Premier League – Loko finished ninth with a 12-7-11 record, statistics that resulted in him getting the sack at the end of the term. Besiktas hired Bilic off the back of his Lokomotiv Moskva dismissal and the Black Eagles did not progress under him, posting back-to-back Turkish Super Lig third-place finishes and failing to win a cup competition before they decided to part ways. Bilic is a manager whose reputation is better than it really deserves to be.
Some bookmakers are betting on the next English Premier League manager to leave his post and Bilic, available at odds of 26.00Bet €100 to win €260025/1Bet £100 to win £2600+2500Bet $100 to win $260025.00Bet HK$100 to win HK$260025.00Bet Rp100 to win Rp2600-0.0400Bet RM100 to win RM2600 with BetVictor, is the most attractive of the coaches quoted at big prices. West Ham struggled throughout the second half of last season's English Premier League under Allardyce and one can find no logical reason as to why the Hammers should perform much better under Bilic. One was not surprised that West Ham appointed Bilic – it wanted to install a manager whom its fans would like – but one would not have made that decision if one was the decision maker.
Millions of English Premier League viewers around the world are deathriding West Ham because of the disrespectful way in which its fans treated Allardyce, one of the tournament's most reliable coaches. The pressure will be on Bilic from West Ham's first English Premier League match and, if the Hammers are in relegation trouble ahead of their move to the Olympic Stadium, one can see the Boleyn Ground board wasting no time at all in changing managers. Money talks, you see.
Tips Summary
Slaven Bilic next Premier League manager to leave
Odds: 26.00Bet €100 to win €260025/1Bet £100 to win £2600+2500Bet $100 to win $260025.00Bet HK$100 to win HK$260025.00Bet Rp100 to win Rp2600-0.0400Bet RM100 to win RM2600
Where to Bet: BetVictor
Boleyn Ground
Fourth Estate
Lokomotiv Moskva
Olympic Stadium
Sam Allardyce
Slaven Bilic
West Ham