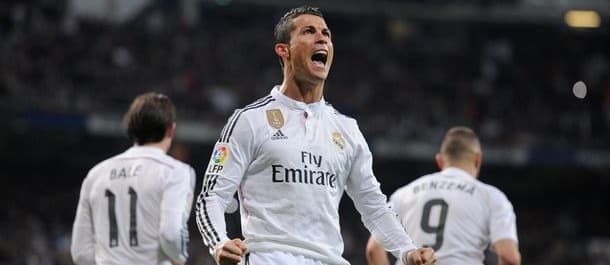 Bilbao is one of the Spanish Primera Division's famous names but it is having a season to forget and bookmakers are being too kind in their assessment of Athletic's chance of gaining anything from its home match versus Real Madrid on Saturday.
Relegation out of the Spanish Primera Division is not going to befall Bilbao even though its performances have not been great this season. Bilbao has lifted itself up to 10th spot on the Spanish Primera Division ladder and, backed by great supporters, it is always likely to pick up sufficient points at home to poor teams to stay well clear of the drop zone.
But Real Madrid is not a poor team and Bilbao's record in its four Spanish Primera Division games versus the league's big three sides is, frankly, appalling. Atletico Madrid won 4-1 at Bilbao in December, Antoine Griezmann helping himself to a second-half hat-trick. Barcelona beat Bilbao 2-0 at the Camp Nou in September and completed the Spanish Primera Division double with a 5-2 win on the road in February. And Real Madrid thrashed Bilbao 5-0 at the Santiago Bernabeu in October, Cristiano Ronaldo scoring a penalty-less hat-trick.
Usually bookmaker deter punters from backing Real Madrid to win Spanish Primera Division matches but BetVictor's odds of 1.50Bet €100 to win €1501/2Bet £100 to win £150-200Bet $100 to win $1500.50Bet HK$100 to win HK$150-2.00Bet Rp100 to win Rp1500.5000Bet RM100 to win RM150 about the Meringues proving that their 5-0 home win over Bilbao was not a fluke are too good to ignore. The odds would be shorter if bookmakers were not blinded by Bilbao's famous name because every other piece of data is negative.
Villarreal stuffed up thousands, perhaps millions of multi bets when its second-string team held Real Madrid to a 1-1 Spanish Primera Division draw at the Santiago Bernabeu last weekend. It would be sod's law if Villarreal failed to win at odds on when it hosts Celta but one is willing to take that risk in light of odds of 1.91Bet €100 to win €19191/100Bet £100 to win £191-110Bet $100 to win $1910.91Bet HK$100 to win HK$191-1.10Bet Rp100 to win Rp1910.9100Bet RM100 to win RM191 being available from many bookmakers, including Boylesports and William Hill.
One has written about this previously but it is well worth reiterating how good Villarreal is when it comes to playing the Spanish Primera Division's lesser lights: the Yellow Submarine have won nine of their 12 league home games but they have come a cropper when entertaining Barcelona (0-1), Real Madrid (0-2) and Valencia (1-3). Eighth-placed Celta does not belong in that company and Villarreal won the reverse Spanish Primera Division fixture 3-1 in October thanks in large to Moi Gomez's two goals in two minutes.
More about Sunday's Spanish Primera Division game between Villarreal shortly but the last of one's basic selections is Malaga to accrue three points from its visit to Granada.
Granada is last but one in the Spanish Primera Division because it has won only one of its last 21 league matches and that was 1-0 at home to 10-man Elche in February. Odds of 2.65Bet €100 to win €26533/20Bet £100 to win £265+165Bet $100 to win $2651.65Bet HK$100 to win HK$2651.65Bet Rp100 to win Rp265-0.6061Bet RM100 to win RM265 with BetVictor about seventh-placed Malaga, a team that has beaten Barcelona, Getafe and Valencia in three of its last five Spanish Primera Division games are too big.
With regards to Spanish Primera Division exotics, one goes back to the match between Villarreal and Celta. Sixteen of Villarreal's 25 Spanish Primera Division games have gone under two and a half goals, a figure that only two sides have exceeded, one of which is Celta – 17 of the Vigo-based team's 25 league matches have gone under two and a half goals, including a division-high 10 of its 13 away games.
A low-scoring Villarreal defeat of Celta is how we see the Spanish Primera Division match panning out so either back under two and a half goals at odds of 1.87Bet €100 to win €18787/100Bet £100 to win £187-115Bet $100 to win $1870.87Bet HK$100 to win HK$187-1.15Bet Rp100 to win Rp1870.8700Bet RM100 to win RM187 with BetVictor or, if you fancy a more speculative flutter, dutch 1-0 and 2-0 home wins at crunched odds of 4.44Bet €100 to win €44486/25Bet £100 to win £444+344Bet $100 to win $4443.44Bet HK$100 to win HK$4443.44Bet Rp100 to win Rp444-0.2907Bet RM100 to win RM444 with the same firm.
Tips Summary
Real Madrid to beat Bilbao
7th March 17:00 GMT
Odds: 1.50Bet €100 to win €1501/2Bet £100 to win £150-200Bet $100 to win $1500.50Bet HK$100 to win HK$150-2.00Bet Rp100 to win Rp1500.5000Bet RM100 to win RM150
Where to Bet: BetVictor
Villarreal to beat Celta
8th March 18:00 GMT
Odds: 1.91Bet €100 to win €19191/100Bet £100 to win £191-110Bet $100 to win $1910.91Bet HK$100 to win HK$191-1.10Bet Rp100 to win Rp1910.9100Bet RM100 to win RM191
Where to Bet: Boylesports, William Hill
Malaga to beat Granada
7th March 21:00 GMT
Odds: 2.75Bet €100 to win €2757/4Bet £100 to win £275+175Bet $100 to win $2751.75Bet HK$100 to win HK$2751.75Bet Rp100 to win Rp275-0.5714Bet RM100 to win RM275
Where to Bet: BetVictor
Villarreal to beat Celta 1-0/2-0
8th March 18:00 GMT
Odds: 4.44Bet €100 to win €44486/25Bet £100 to win £444+344Bet $100 to win $4443.44Bet HK$100 to win HK$4443.44Bet Rp100 to win Rp444-0.2907Bet RM100 to win RM444 (Dutched)
Where to Bet: BetVictor
BetVictor
Celta
Elche
Granada
Real Madrid
Spanish Primera