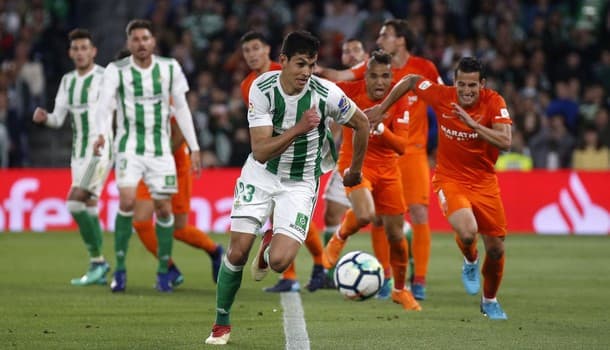 Only Barcelona and Real Madrid have beaten Betis at home in Spanish Primera Division action this year and one expects the Green and Whites to kick off their title campaign by posting their sixth straight victory over Levante.
With the obvious exception of Sevilla supporters, Betis was the second favourite team of most Spanish Primera Division fans because of its enterprising brand of football that resulted in its 38 league matches featuring 121 goals, almost equally divided between the Green and Whites and their opponents. Betis has been scoring goals for fun in several pre-season preliminaries, including a last-start thrashing of Las Palmas by a 4-0 margin on its home turf.
Levante finished nine rungs and 14 points below Betis on last term's Spanish Primera Division ladder, although the Frogs did prevent Barcelona from going through unbeaten, defeating Barca 5-4 in a Round 37 classic that will live long in the memory. Levante has not pulled up any trees while preparing for its Spanish Primera Division program and there is both head-to-head and collateral form that supports opposing the Frogs against Betis in Seville on Friday.
Get the best odds on La Liga with our highest-rated bookies:
In last season's Spanish Primera Division, Betis smashed Levante 4-0 at home in September before winning 2-0 on the road in February. English Premier League side Bournemouth encountered both Betis and Levante in the last few weeks – the Green and Whites registered a 2-0 away victory over the Cherries but the Frogs lost 3-4 to Eddie Howe's men at a neutral venue. It is easy to get carried away with Round One wagers but Betis does look worth backing at odds of 1.67 with Black Type.
Sociedad's friendly results have been very disappointing so, unless La Real have been trying to lull Villarreal into a false sense of security ahead of their Spanish Primera Division clash on Saturday, the visitors are likely to experience a Round One loss versus the Yellow Submarine. Since beating Osasuna 3-2 in late July, Sociedad has lost to Zaragoza, Athletic, Alaves and Stuttgart with its latest game producing a 1-1 draw with Freiburg. Sociedad ended up 12th on the Spanish Primera Division ladder last term but La Real had one of the league's least impressive road records.
Villarreal, which defeated Bremen 3-2 in Germany last week, spanked Sociedad 4-2 in last season's corresponding Spanish Primera Division fixture en route to finishing fifth on the ladder and qualifying for the UEFA Europa League. Villarreal did lose Rodri to Atletico Madrid during the summer break but the Yellow Submarine have recruited well, including luring Santi Cazorla back to the club at which he made his name. Gerard Moreno is in Villarreal colours again, and they can be backed at a tasty 2.1 with BetVictor.
One could make a case for Huesca getting something out of its Spanish Primera Division debut at Eibar – the promoted team beat its Round One host 2-1 in a warm-up game – but one's third and final pick is Girona to defeat Valladolid at a decent price of 1.8 with Betway.
The Spanish Primera Division fixture computer did not throw up a blockbuster of a Round One opener, particularly in light of Valladolid losing the two players who scored most of their goals in Spain's second tier last term. Girona and Valladolid were Spanish Segunda Division contemporaries two seasons ago and the White and Reds won the game in Catalonia 2-1. The City Football Group owns a healthy percentage of Girona and its major partner is the Girona Football Club, which Pere Guardiola leads. Yes, Pere is Pep's brother.
Recommended Bets
Real Betis to beat Levante
Friday 17th August, 21:15 BST
Odds: 1.67
Villarreal to beat Real Sociedad
Saturday 18th August, 19:15 BST
Odds: 2.1
Girona to beat Valladolid
Friday 17th August, 19:15 BST
Odds: 1.8
Girona
La Liga
Primera Division
Real Betis
Villarreal