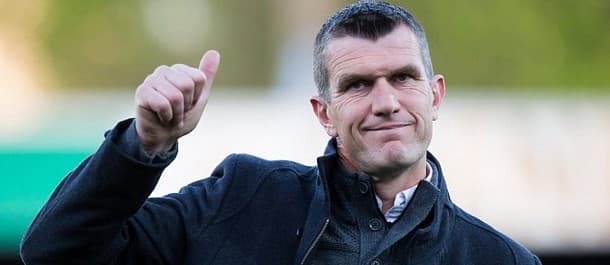 For decades, Brentford's main claim to fame among English football fans was that its Griffin Park ground had a public house on every corner, which meant that Bees supporters had several places to drown their sorrows after a home defeat.
But Brentford fans are hitting the bottle to celebrate good times more frequently these days and a major reason for that is the progressive thinking of its owner, Matthew Benham, a professional gambler who has a clear vision of how to get to the top of professional football without breaking the bank.
Brentford is not Benham's only football team, you see. Last year, Benham invested more than six million British pounds in Danish Superligaen side Midtjylland and, with one round to go, it has wrapped up its first-ever championship and qualified for the lucrative UEFA Champions League.
Benham's first move after becoming Midtjylland's owner was to appoint Rasmus Ankeren as its chairman. Ankeren, a former player who has written best-selling books and spoken to big audiences around the world on performance development, does not fit the stereotypical mould of a football club chairman. Ankeren promised Benham that he would challenge the accepted ways of running a football club and put Midtjylland on the map. Ankeren and Benham hit it off from their first chat.
Mathematical modelling and data analysis is at the heart of Midtjylland's approach – and glory. Ankeren has gone on the record to state that Midtjylland coach Glen Riddersholm will never lose his job based on his team's raw results; he will be judged on whether he achieves certain key performance indicators which, over the long term, the chairman and his like-minded owner believe are more indicative of success.
Brentford made international headlines when, in February, it announced that Bees boss Mark Warburton would leave at the end of the English Championship season even if it ended with the London club gaining promotion to the English Premier League for the first time. Journalists who knew nothing about Benham, Ankeren and Midtjylland wrote stories that Brentford was crazy and many former professional players, also ignorant of the facts, were highly critical as well.
This week, Brentford appointed Marinus Dijkhuizen as the successor to Warburton. Dijkhuizen has enjoyed managerial success in his native Netherlands – for example, he coached Montfoort to back-to-back promotions and he led Excelsior to third place in the Dutch Eerste Divisie, which resulted in elevation via the play-offs to the Dutch Eredivisie – and clearly he is on the same wavelength as Benham and Ankeren.
Benham, Ankeren and Dijkhuizen may not be big names but the English Championship side in which they are involved is on the rise and worth supporting in ante-post betting markets, not least because England's second division looks the most wide open competition out of all the well known leagues. It is odds of 11.00Bet €100 to win €110010/1Bet £100 to win £1100+1000Bet $100 to win $110010.00Bet HK$100 to win HK$110010.00Bet Rp100 to win Rp1100-0.1000Bet RM100 to win RM1100 the field in the English Championship and, with all due respect to Hull, the Tigers are not the first team that one would like to back as a title favourite.
Brentford made the English Championship play-offs in its first season in England's second tier since Benham, who has made millions out of betting on football, became its owner. Brentford won half of its 46 English Championship games one term after finishing second in English League One and one would have to be a fool to bet against the Bees making more strides next season. Certainly one expects Brentford to kick off at shorter odds than those that are available currently.
Coral has marked Brentford at odds of 10.00Bet €100 to win €10009/1Bet £100 to win £1000+900Bet $100 to win $10009.00Bet HK$100 to win HK$10009.00Bet Rp100 to win Rp1000-0.1111Bet RM100 to win RM1000 to take out the English Championship and that is about the mark at which one thinks that the Bees will settle so one is keen to support them at odds of 17.00Bet €100 to win €170016/1Bet £100 to win £1700+1600Bet $100 to win $170016.00Bet HK$100 to win HK$170016.00Bet Rp100 to win Rp1700-0.0625Bet RM100 to win RM1700 with Bet365, Betfred and Totesport. For punters who want a bet that is a little less speculative then BetVictor is offering odds of 2.62Bet €100 to win €26281/50Bet £100 to win £262+162Bet $100 to win $2621.62Bet HK$100 to win HK$2621.62Bet Rp100 to win Rp262-0.6173Bet RM100 to win RM262 that Brentford makes the English Championship top six. That seems like a decent play about a Brentford team that finished fifth last time out and finds itself competing against three relegated sides in Burnley, Hull and Queens Park Rangers that are not scary.
Tips Summary
Brentford to win the Championship – 17.00Bet €100 to win €170016/1Bet £100 to win £1700+1600Bet $100 to win $170016.00Bet HK$100 to win HK$170016.00Bet Rp100 to win Rp1700-0.0625Bet RM100 to win RM1700
Brentford to finish Top 6 – 2.62Bet €100 to win €26281/50Bet £100 to win £262+162Bet $100 to win $2621.62Bet HK$100 to win HK$2621.62Bet Rp100 to win Rp262-0.6173Bet RM100 to win RM262
Where to Bet: Bet365, Betfred, BetVictor, Totesport
brentford
Danish Superligaen
Griffin Park
Marinus Dijkhuizen
Matthew Benham
Midtjylland
Rasmus Ankeren